Harvard's 361st Commencement continued well into the later afternoon, with graduates, alums, family, friends, and faculty joining in the festivities.
Radcliffe grad, Class of 1944
The oldest Radcliffe class represented at Commencement was 1944 — 15 years more recent than the Class of 1929, represented by 103-year-old George Barner of Kennebunk, Maine.
In the shade of a tent behind Hollis Hall at lunchtime, Frances Downing Vaughan '44 was aware of the disparity. "I'm only 90," she said.
Vaughan lives in Cambridge, within walking distance of her alma mater. "I can't think of a greater place to grow old in," she said.
Vaughan remembers a wartime college era when Harvard boys were scarce and you met them at social gatherings called "jolly-ups." At Radcliffe, she remembers the 10 p.m. curfews and the standard fashion of "socks and shoes, sweaters and pearls."
A longtime poet — "I was a writer by age 7" — Vaughan is at work on her first book, "90 at 90."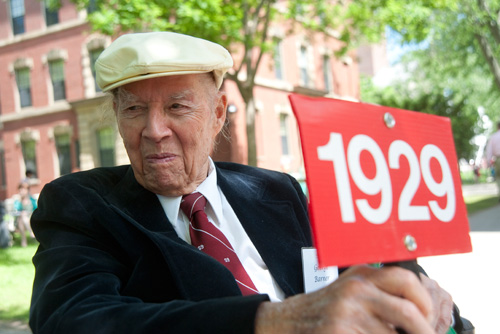 Overwhelmed by ceremony
Chen Zhang was still trying to process the sweep of his Harvard experience on Thursday afternoon as he made his way to the Harvard Divinity School (HDS) campus from Tercentenary Theatre.
His undergraduate commencement at Stanford University, which was held in the school's football stadium, had a more informal, West Coast vibe, he said. That ceremony included a healthy amount of "wacky dancing," and an appearance by the school's mascot, the Stanford Tree. In contrast, Zhang was overwhelmed by Harvard's elaborate ceremony, and by its pomp and circumstance. "I really, really liked this, maybe more so than my own."
His experience at HDS, and its environment of inclusion also overwhelmed Zhang. While some students will go on to the ministry, academia, education, or, like himself, to a joint law and social work degree program with the aim of a career in public service, everyone at HDS, he said, was encouraged "to pursue their diverse interests within a common set of curricula."
"HDS is really a unique community; I don't know of any other place that caters to both the secular and the religious worlds so effectively."
In the world of work, amid change
As she waited in a long line to enter the tent behind Longfellow Hall for her official diploma ceremony, Justina Wang reflected on her time at the Harvard Graduate School of Education (HGSE) and the importance of her degree. Since mid-May, Wang has been putting her master's in education from the Education Policy and Management program to good with the Chicago Public Schools system as a positive behavioral support specialist. She headed to the job as soon as she was done with her finals, and made a quick return trip to Harvard for Commencement.
"All of these things we have been talking about [at HGSE] have been playing out in the real world," said Wang, who only regretted one thing about her time at Harvard. "I wish," she said, "it could have been longer."
To kick off the diploma ceremony, HGSE Dean Kathleen McCartney took the podium, encouraging students to cheer for the faculty and staff at HGSE, and their families and friends, which they did with verve. She then offered some parting thoughts.
"You are now a member of a community like no other I know. You will take sustenance from this place, for it will serve as your intellectual home now and always," said McCartney, Gerald S. Lesser Professor in Early Childhood Development. Recalling the words of a departing student, she told the new graduates that they "have to hit the ground listening," in order to be ready to answer important calls to action, like the fight against bullying.
"Our job as educators and parents is to support our children and their efforts to create community standards where they work and play," she said. That work will require modeling the way forward by building open and inclusive environments where different opinions and constructive dialogue are welcome, and where "we forgive and ask for forgiveness."
"And then," she continued, "we need to talk honestly about these efforts with the children in our lives."
'Inspired by the Harvard experience'
Jesus Manuel Alvarado Rivera emerged from under the tent where he had just received his Harvard Law School (HLS) degree with a megawatt smile and a death grip on his new L.L.M. diploma.
"It's done. It feels real now," said the beaming graduate, who pointed to the document and praised the HLS faculty as both amazing teachers and educators and great human beings. "It's a great place to be," said Rivera, who will head back to his native Puerto Rico to work for a law firm for several years, and then hopefully for Puerto Rico's executive branch, developing policy. "I definitely have been inspired by the Harvard experience."
Voices of experience
The oldest Harvard College graduate to attend Commencement this year was 103-year-old retired archaeologist Donald F. Brown '30 of Stowe, Mass. (He turns 104 on Nov. 26.) For the occasion he wore a baseball cap with the legend, "My life is in ruins." Just 24 days younger: George Barner '29, a retired lawyer living in Kennebunk, Maine, will turn 104 on Dec. 20. "I just go along with the change of time," said Barner, who waited in the shade of Harvard Yard for the Alumni Procession to begin. He attributes his good health to never smoking and to a lifetime of playing tennis. Barner's family had a regulation court in his hometown of Webster City, Iowa. He gave the sport up in his 90s, "when I had trouble moving backwards without falling." But so far, in life, he is still moving forward. Said Barner in parting, "I will see you next year."
Table talk
Two luncheon tents behind Hollis and Stoughton halls were reserved for "Division I" classes — those from 1921 to 1956. General Curtis R. LeMay's banker was there, along with a graduate in his 90s who still runs a sawmill, a former Jesuit (Class of 1951) who was keeping a conversation on Blaise Pascal alive, and graduate of that era whose Philippines boyhood was darkened by the Japanese occupation. At one table sat Donald F. Brown '30, age 103, the oldest man at Commencement 2012. Just past noon you could hear the Harvard University Band approaching for its traditional serenade of the oldest classes. Brown sat up straight in his wheelchair and waved his arms like a maestro. "That's his medicine for the soul – his music," said Brown's daughter, Alyson Toole. A chair away was her brother, Christopher Brown, marveling that his father could be at a graduation exercise 82 years after his own graduation. How is he doing so well?  "I think it was that comet," said the younger Brown, referring to the 1908 airburst of a comet fragment over Siberia the year his father was born. "Cosmic dust must have landed on my dad."
— Corydon Ireland and Colleen Walsh