JUNE 2011
Surgeons at Harvard-affiliated Brigham and Women's Hospital perform face transplant surgery.
JULY 2011
The city of Boston launches bike-sharing program Hubway, and University officials ink a deal to bring the program to Harvard's main campus and to sponsor five of Boston's Hubway stations.
AUGUST 2011
Harvard becomes the first institution of higher education in the world to achieve 50 Leadership in Energy and Environmental Design (LEED) certifications.
The Harvard School of Public Health is awarded a $10 million grant from the National Cancer Institute. The grant will fund a new research center to study the relationship between obesity and cancer.
SEPTEMBER 2011
The Harvard community commemorates the 10th anniversary of the terror attacks of Sept. 11, 2001, with an installation in Harvard Yard, candlelight vigils, panel discussions, and an evening of remembrance at Sanders Theatre.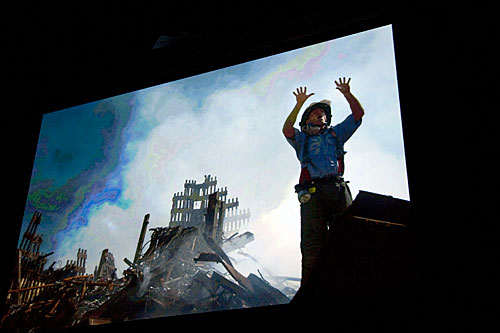 College Dean Evelynn M. Hammonds announces plans for substantial enhancements to undergraduate social spaces across campus, including the Mather Multimedia Lab, the Eliot House Grille, the Student Organization Center at Hilles, the Cabot Café, and the Quad Grille in Pforzheimer House.
Dozens of students, professors, and others turn out for "Ask What You Can Do: Inspiring Public Service" at Harvard Kennedy School's John F. Kennedy Jr. Forum. The talk is a kickoff not just for the new semester but for HKS's 75th anniversary, which is celebrated throughout the year.
The University announces that Professor of Organismic and Evolutionary Biology and Molecular and Cellular Biology Hopi Hoekstra and Professor of Astronomy David Charbonneau have been named recipients of the inaugural Fannie Cox Prize for Excellence in Science Teaching, which was created to recognize outstanding teaching in introductory science courses.
Nine researchers from across Harvard receive more than $15 million in special National Institutes of Health grants designed to foster innovative research with the potential to propel fields forward and speed the translation of research into improved public health.
Three Harvard faculty members — Roland Gerhard Fryer Jr., Robert M. Beren Professor of Economics; Markus Greiner, associate professor of physics; and Matthew Nock, professor of psychology — whose research ranges from the spatial organization of ultra-cold atoms to the effect of racial differences in America to the psychology of suicide and self-injury, are among the recipients of this year's MacArthur Foundation "genius" grants.
The School of Engineering and Applied Sciences' (SEAS) Science & Cooking Public Lecture Series returns to campus. The series features highly popular talks by guest chefs from around the world.
OCTOBER 2011
Rita E. and Gustave M. Hauser donate $40 million to support excellence and innovation in learning and teaching at Harvard. The gift will launch an initiative for learning and teaching and serve as a catalyst for transforming students' educational experiences University-wide. The fund will enable the University to marshal its considerable intellectual resources to engage a new generation of students with pioneering teaching practices, building on the long history of educational reform at Harvard. The new gift combines the Hausers' passions for technology, a global outlook, and teaching and learning with a desire to make an impact on both a University-wide and global scale.
Faculty, students, alumni, and staff celebrate the 375th anniversary of Harvard's founding, undeterred by rain that often falls in sheets and turns much of Tercentenary Theatre's turf to mud. In her remarks, President Faust makes three birthday wishes: that Harvard create a future that graduates of the past would be proud of; that people at Harvard work together to serve the University's greatest goals, "to teach, to learn, to expand the realms of knowledge"; and that Harvard continue to be committed "to open access and inquiry."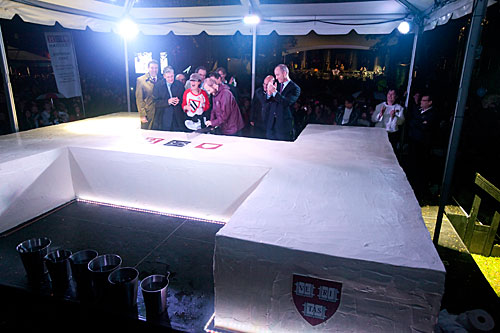 The Graduate School of Design celebrates its 75th anniversary with an exhibition and special alumni weekend festivities.
Seven Harvard alumni are recognized with 2011 Nobel prizes: The Nobel Prize in economics is awarded to Christopher A. Sims of Princeton University and to Thomas J. Sargent of New York University, both of whom earned a Ph.D. in economics from Harvard's Graduate School of Arts and Sciences (GSAS) in 1968. Sims also graduated magna cum laude in mathematics from Harvard College in 1963. Liberian President Ellen Johnson Sirleaf, a Harvard Kennedy School alumna, is a co-winner of the 2011 Nobel Peace Prize. Saul Perlmutter '81, Brian P. Schmidt, Ph.D. '93, and Adam G. Riess, Ph.D. '96, win the Nobel Prize in physics. For the Nobel Prize in physiology or medicine, the late Ralph M. Steinman, M.D. '68, is honored posthumously.
Harvard announces that it will rename its historic New College Theatre building Farkas Hall in recognition of the generosity of alumnus Andrew L. Farkas '82.
The Harvard Art Museums announce a gift of 38 drawings, paintings, and sculpture from Didi and David Barrett's 20th-century American collection of self-taught, folk, and outsider art, expanding the museums' holdings of American contemporary art in a new direction.
Harvard Divinity School announces a $2.7 million gift from the Robert H.N. Ho Family Foundation to support and expand its program in Buddhist ministry studies. The gift will fund the Buddhist Ministry Initiative — the first of its kind at a divinity school within a research university.
NOVEMBER 2011
Harvard senior James McAuley is awarded a prestigious Marshall Scholarship. As a Marshall Scholar, McAuley receives two years of graduate study in the United Kingdom at the university of his choice.
Several hundred demonstrators set up equipment on the Harvard campus to express their support for the Occupy movement.
The Harvard football team (9-1, 7-0 Ivy) concludes another Ivy League championship season with a 45-7 thrashing of Yale in the 128th edition of The Game. Tim Murphy, the Thomas Stephenson Family Head Coach for Harvard Football, becomes the School's all-time winningest football coach with an overall record of 120-59 in his 18th season with the program.
Harvard officially launches the Harvard Innovation Lab with a ribbon-cutting ceremony and remarks by President Faust, Boston Mayor Thomas M. Menino, and Business School Dean Nitin Nohria. The i-lab, as it's called, is designed to foster team-based and entrepreneurial activities and to deepen interactions among students, faculty, entrepreneurs, and the Boston community. It supports Menino's innovation agenda by encouraging and supporting entrepreneurship and creativity.
Mark Zuckerberg returns to campus to recruit computer science and engineering students for jobs and internships at Facebook, the popular social networking site that he created when he was a Harvard undergraduate.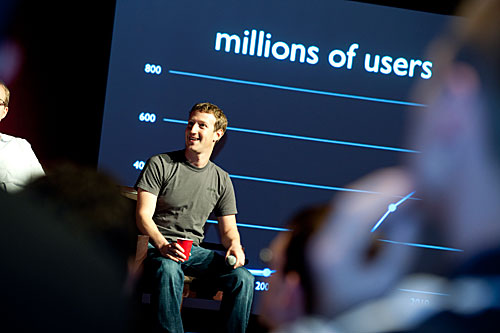 Seniors Brett Rosenberg of Chappaqua, N.Y., Spencer Lenfield of Paw Paw, Mich., Samuel Galler of Boulder, Colo., and Victor Yang of Lexington, Ky., are named 2012 Rhodes Scholars.
Along with the aforementioned undergraduates, Matthews Mmopi, a recent Harvard graduate from South Africa, and David Obert, a second-year Harvard Medical School (HMS) student, are also selected as Rhodes Scholars, and will join the College's four U.S. Rhodes winners at the University of Oxford next fall.
DECEMBER 2011
Seven hundred and seventy-two students are notified of admission to the Harvard College Class of 2016 through the reinstated Early Action program.
Donald Ingber, the Judah Folkman Professor of Vascular Biology at HMS, and founding director of the Wyss Institute for Biologically Inspired Engineering, is awarded the 2011 Holst Medal.
Singer Lionel Richie receives the Harvard Foundation's inaugural Peter J. Gomes Humanitarian Award for his contributions to breast cancer research and beyond.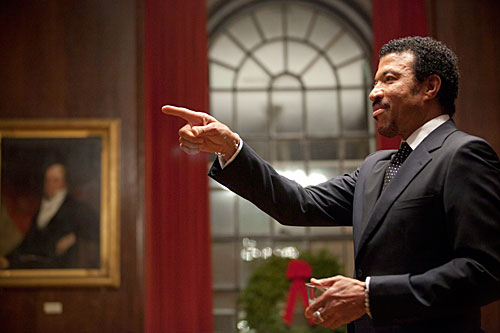 JANUARY 2012
President Faust visits India in an effort to further Harvard's ever-expanding involvement in the country and in South Asia over the past several years, a trend catalyzed by Harvard's South Asia Initiative, which was founded in 2003 to foster the University's engagement in the region. India ranks fourth in the number of students a country sends to Harvard, with 232 studying at the University in 2011-12. Harvard has approximately 1,500 alumni in India.
Nine nonprofits receive Harvard Allston Partnership Fund grants totaling $100,000 to support programs in the Allston-Brighton community.
Nine hundred students travel to emerging market economies as part of a new supplement to Harvard Business School's long-standing curriculum, called Field Immersion Experiences for Leadership Development, or FIELD. In teams of six, the students fan out across a dozen locations — from Cape Town and Mumbai, to Shanghai and Warsaw, to Istanbul and Buenos Aires — to tackle business challenges with real companies.
Wintersession 2012 at the College offers nearly 150 activities — from financial education to participatory performance art. College officials also expand the length of the period during which students may optionally return to campus from eight to 12 days.
As part of its 375th anniversary, Harvard launches a lecture series that brings programs to every branch of Boston and Cambridge public libraries. President Faust gives the inaugural address of the new John Harvard Book Celebration. "This lecture series is an incredible opportunity for residents and families all across Boston to interact with some of the world's brightest minds at their own neighborhood library," says Boston Mayor Menino.
Tech-savvy undergraduates at SEAS help to develop an algorithm that could speed hurricane relief efforts in the future. The work is part of a January competition held by SEAS's Institute for Applied Computational Science.
Hasty Pudding Theatricals honors actors Claire Danes and Jason Segel as Woman and Man of the Year.
President Faust travels to Davos-Klosters, Switzerland, to attend the World Economic Forum, anchoring a panel on innovation titled "The Education-Employment-Entrepreneurship Nexus." Faust also hosts an event for 200 Harvard alumni and friends attending the global forum.
FEBRUARY 2012
Pop sensation Lady Gaga launches the Born This Way Foundation during an Askwith Forum sponsored by the Harvard Graduate School of Education. Also in attendance are special guests Oprah Winfrey and U.S. Secretary of Health and Human Services Kathleen Sebelius. The nonprofit organization is partnering with Harvard's Berkman Center for Internet & Society to address issues of self-confidence, anti-bullying, mentoring, and career development through research, education, and advocacy, in large part by harnessing the power of the Internet.
Harvard GSAS Dean Allan M. Brandt, who pioneered a new approach to curricular development with the launch of the Graduate Seminars in General Education, announces that he will step down as GSAS dean this spring owing to health considerations. Richard Tarrant, Pope Professor of the Latin Language and Literature, will serve as interim dean while the search for Brandt's replacement takes place. Tarrant previously served as acting dean from 1995 to 1996.
Wynton Marsalis continues his two-year lecture series at Harvard with an exploration of root styles of American music in Sanders Theatre.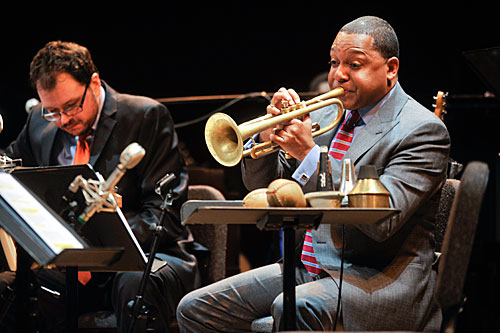 Eight all-star Harvard faculty gather at Sanders Theatre for Harvard Thinks Big 2012, an undergraduate-organized event in which each faculty member speaks for 10 minutes on big questions related to topics like happiness, stem cell growth, runaway obesity, and the exploding American prison population.
Faust and Provost Alan Garber share reflections on the Harvard libraries, and outline changes to the fragmented system of 73 libraries.
Two from Harvard are awarded 2011 National Humanities Medals by President Barack Obama: economist and philosopher Amartya Sen, Thomas W. Lamont University Professor; and historian Robert Darnton, Carl H. Pforzheimer University Professor and University librarian. Harvard Overseer Emily Rauh Pulitzer, founder and chair of The Pulitzer Foundation for the Arts, is also honored as a recipient of the National Medal of the Arts.
The University announces the launch of the President's Innovation Challenge, which, in conjunction with the i-lab, encourages students from across the University to find entrepreneurial solutions to pressing social problems. By leveraging the resources available at the i-lab — from programs to mentors — the challenge gives students concerned about global issues an opportunity to translate ideas into action.
FAS Dean Michael D. Smith launches the first of two faculty panel discussions led by Professor Maya Jasanoff on the future of the Faculty of Arts and Sciences at 400. The events mark the second year of the Conversations@FAS series, which considers innovative teaching and learning across the faculty.
MARCH 2012
Harvard resumes a connection with the Army Reserve Officers' Training Corps (ROTC) that started in 1916, giving, for the first time since 1971, an Army ROTC unit an office on campus. The official physical presence marks another step in Harvard's reconnection with the military that began a year ago.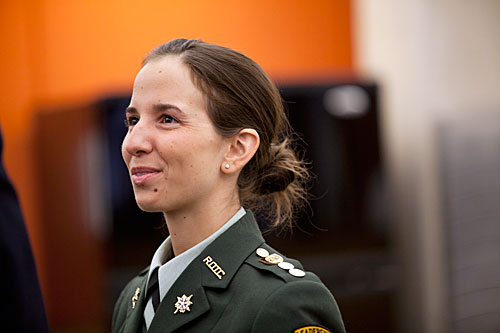 Letters and email notifications of admission to Harvard College are sent to 2,032 students, 5.9 percent of the applicant pool of 34,302. More than 60 percent of the families of students admitted to the Class of 2016 who will enter this coming August will benefit from an unprecedented $172 million in undergraduate financial aid, paying an average of $12,000 per year for tuition, room, board, and fees combined.
A storybook season comes to an end for the Harvard men's basketball team with a 79-70 loss to Vanderbilt in the NCAA Division 1 Men's Championship Basketball Tournament. The game marks the team's first appearance in "The Big Dance" since 1946, and caps a 26-5 season in which the Crimson won their first outright Ivy League championship in program history.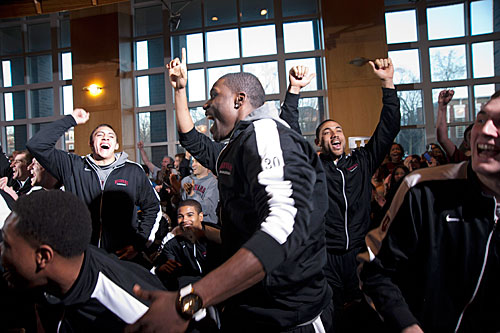 Well-known Boston business executive, philanthropist, and Harvard Corporation member Joseph J. O'Donnell '67, M.B.A. '71, and his wife, Katherine A. O'Donnell, donate $30 million to the University.
President Faust appoints Lizabeth Cohen, an eminent scholar of 20th-century American social and political history and interim dean of the Radcliffe Institute for Advanced Study since last July, dean of the institute.
SEAS Associate Professor of Electrical Engineering Robert J. Wood receives the Alan T. Waterman Award from the National Science Foundation (NSF). The annual award, the NSF's most prestigious honor, recognizes an outstanding researcher under the age of 35 in any field of science or engineering that the NSF supports.
David Hempton is named dean of Harvard Divinity School, effective July 1. Hempton, the Alonzo L. McDonald Family Professor of Evangelical Theological Studies at the Divinity School, succeeds William A. Graham, who last September announced his intention to step down from the post at the end of this academic year.
The women's basketball team becomes the first program in Ivy League history to record a victory in the Women's National Invitational Tournament when it knocked off Hofstra, 73-71. Led by All-Ivy League first-team honorees Brogan Berry and Christine Clark, and second-team selection Victoria Lippert, the Crimson finished the year with an 18-12 record and earned the program's third postseason appearance in four years.
APRIL 2012
Former secretary of state Henry Kissinger '50, A.M. '52, Ph.D. '54, returns to campus for a Sanders Theatre talk to reflect on the art of statecraft and foreign policy. "I've spent all my life thinking about these problems," says Kissinger, who served during the Nixon and Ford administrations and who oversaw the end of the Vietnam War, the opening up of China, and America's Cold War policy of détente with the Soviet Union.
President of Brazil Dilma Rousseff arrives at Harvard to witness the signing of a five-year agreement with the government of Brazil to eliminate financial barriers for talented Brazilian science students pursuing undergraduate and graduate studies at Harvard.
Jonathan L. Walton, Professor of Religion and Society at Harvard Divinity School, is named Pusey Minister in the Memorial Church and Plummer Professor of Christian Morals, effective July 1. He succeeds the beloved Rev. Professor Peter J. Gomes, who died in February 2011.
After nabbing the National Book Award in November, John Cogan University Professor of the Humanities Stephen Greenblatt wins the 2012 Pulitzer Prize for general nonfiction.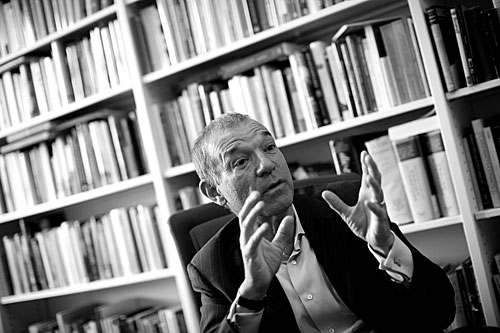 The University announces plans to refurbish the Science Center plaza, with the goal of transforming the site from a pedestrian walkway into a vibrant meeting space for Harvard student, faculty, and staff events, and the surrounding community. Part of the Common Spaces program, the renewal project includes installation of a permanent bamboo grove and several new trees for shade, as well as a hard surface throughout, which will allow for a variety of programming options. New seating and tables will be installed.
Arts First, the annual festival showcasing student and faculty creativity at Harvard, celebrates its 20th year with four days of nonstop art. Highlights include the presentation of the 2012 Harvard Arts Medal to Tommy Lee Jones '69 in a ceremony featuring John Lithgow '67 and the Boston premiere at Widener Library of David Michalek's "Slow Dancing," an outdoor installation featuring large-scale, slow-motion video portraits of dancers.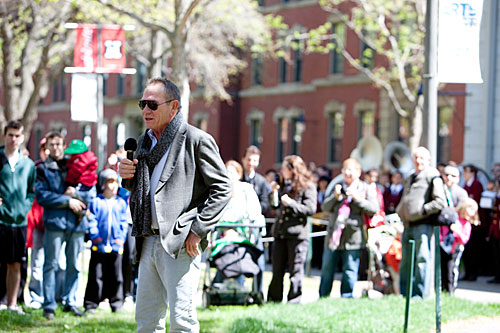 Also during Arts First, a group of students, led by Boylston Professor of Rhetoric and Oratory and poet Jorie Graham, present a communal recitation of poetry that draws from hundreds of years of poets at Harvard titled "Over the Centuries: Poetry at Harvard (A Love Story)."
MAY 2012
Harvard and the Massachusetts Institute of Technology announce the launch of edX, a transformational partnership in online education. Through edX, the two institutions will collaborate to enhance campus-based teaching and learning and build a global community of online learners. EdX will build on both universities' experience in offering online instructional content. The technological platform recently established by MITx, which will serve as the foundation for the new learning system, was designed to offer online versions of MIT courses featuring video lesson segments, embedded quizzes, immediate feedback, student-ranked questions and answers, online laboratories, and student-paced learning. Certificates of mastery will be available for those motivated and able to demonstrate their knowledge of the course material.
Nearly 81 percent of students admitted to the Class of 2016 choose to matriculate at Harvard College. The last time the yield on admitted students reached 80 percent was in 1971 for the Class of 1975. The yield for the Class of 2015 was 75.9 percent.
Leverett Professor of Mathematics Benedict Gross, Agassiz Professor of Zoology Farish Jenkins, Rabb Professor of Anthropology Arthur Kleinman, Cabot Professor of Aesthetics and the General Theory of Value Elaine Scarry, and Samuel H. Wolcott Professor of Philosophy Alison Simmons receive Harvard College Professorships in recognition of their dedication to undergraduate teaching.
Harvard College Dean Hammonds, FAS Dean Smith, Quincy co-masters Deb and Lee Gehrke, alumni, and students break ground on the Old Quincy House Test Project. The initiative, which is scheduled to run through the 2012-13 academic year, will provide students with a 21st-century residential experience and will inform Harvard's efforts to renew the entire House system.