On Monday evening, Harvard Forest Senior Ecologist Elizabeth Crone held her audience at the Arnold Arboretum's Weld Hill Research Building classroom in rapt attention.  It could have been a college course in theoretical ecology with a touch of sugar maple research.
Instead, it was the latest public lecture by a Harvard researcher during the Cambridge Science Festival.
Crone, who leads a team of researchers at Harvard Forest, has been studying the reproduction of sugar maples and pollination strategies, including the kinds of bees that visit flowers in tree canopies.  During the lecture, she outlined her team's research, which points to a correlation between the amount of seeds a tree sets the previous fall — sugar maples are mast seeders, producing heavy seed production followed by years of larger seed crops — and the sugar content of the sap produced.  Given last fall's heavy seed crop and analysis of maple syrup production, she said, syrup production could be light this year.
"The idea that Harvard has everything from maple syrup to the genomes of plants covered is a reminder of the collective power of the plant resources at Harvard," said Ned Friedman, director of the Arnold Arboretum, who invited Crone to share her research as part of the festival.  In addition to work at Harvard Forest and the Arboretum, University specialists conduct important research on plant life in the Department of Organismic and Evolutionary Biology and at Harvard University Herbaria.
"Basic science has an implication on the economy of states … we're talking about science having a societal impact," added Friedman.  "And sharing the science and its impact is part of our job, what we, as academics, should always be doing."
It's that spirit of sharing — both research and excitement — that is the hallmark of Cambridge Science Festival.
The 10-day festival taps researchers, scientists and innovators across Cambridge to share their love of science, technology, engineering, and math at nearly 100 events geared to people of all ages.  The Massachusetts Institute of Technology and Harvard are among the festival's founding sponsors. And this year, more Harvard affiliates than ever before are sharing their research with the public.
"Harvard faculty, researchers, and students are involved all the way through the festival," said P. A. D'Arbeloff, director of the Cambridge Science Festival.  "It's exciting to see how its has taken off organically in Harvard departments."
Harvard researchers joined forces with stand-up comedians to explain episodes of the history of science at the Harvard Museum of Natural History.  Last Friday night, researchers at the Harvard-Smithsonian Center for Astrophysics set up a cluster of telescopes offering passersby a chance to look at the stars in the urban sky and learn that you really could see the rings of Saturn in the city with the right equipment and a little guidance.  And Harvard affiliates, including HMNH staff, participated in the opening Science Carnival.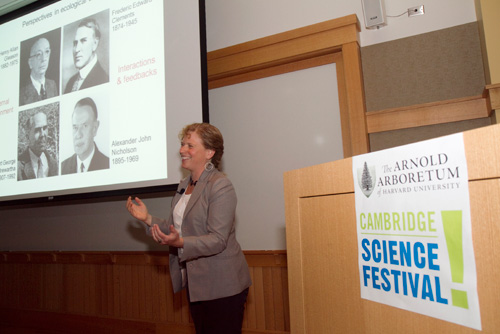 "All kinds of people are walking up to Harvard researchers and learning about science," said D'Arbeloff.
Cambridge resident Bragadees Madambakkampa was one of them. He happened to stumble on the Harvard Smithsonian Center for Astrophysics' urban stargazing in Harvard Square last Friday.   "I was pleasantly surprised to find telescopes pointed at Venus, Mars, and Saturn at Brattle Square," he posted on the Cambridge Science Festival's Facebook page. "Thank you so much, I'm proud to call Cambridge home."
"There's tremendous value for residents who get a glimpse inside local universities and learn about the remarkable research that's happening there and its important for universities to explain their science to a broader audience," said D'Arbeloff.  "Plus, who knows where the next great Eric Landers will come from," she added.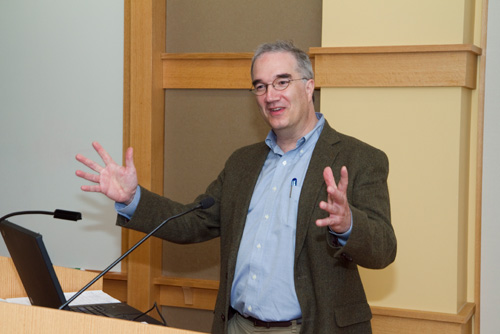 Upcoming Harvard events at the Cambridge Science Festival:
On Friday, from 7:30 to 9:30 p.m. at First Parish in Cambridge, Harvard Square, David Haig, professor of biology and Edward Glaeser, director of the Rappaport Institute for Greater Boston and Fred Eleanor Glimp Professor of Economics, will join faculty from MIT and BU for "Big Ideas for Busy People," Cambridge's fast-paced answer to "Ted Talks," where prominent researchers deliver five-minute talks and take five minutes of questions.
Also on Friday, the MIT/Harvard Center for Ultracold Atoms opens its doors to sixth- and ninth-graders to learn about experimental physics.
On Saturday, Svante Paabo will discuss human pre-history at 2 p.m. in Science Center B.
Also on Saturday, Harvard-Smithsonian Center for Astrophysics scientists at Rocket Day will teach children about solar physics projects and launch 30 to 50 bottle rockets in Danehy Park.
See the full festival schedule here.