At Harvard and in Washington, as a statesman, professor, and author, Henry Kissinger '50, A.M. '52, Ph.D. '54, has spent more than half a century thinking about and shaping foreign policy. At Sanders Theatre on Wednesday, the former secretary of state reflected on the art of statecraft — what he called the "hobby that became my profession."
"I've spent all my life thinking about these problems," said Kissinger, who served during the Nixon and Ford administrations and who oversaw the end of the Vietnam War, the opening up of China, and America's Cold War policy of détente with the Soviet Union.
But that doesn't mean he has all the answers now, as he told the audience in a discussion of his life's work.
"I know more now, and I probably have a more balanced and slightly less self-confident view," he said. But "when you are in office, you have to act under pressure, you have to act as if you're sure of what you're doing, because you don't get rewarded for your doubts."
The event was one of several held this academic year to highlight the experiences of prominent alumni during Harvard's 375th anniversary celebration. As one of Harvard's "most legendary graduates," Kissinger was a natural choice for inclusion, said Harvard President Drew Faust.
"Dr. Kissinger remains an adviser to leaders around the world, a distinctive voice engaged in the profound challenges facing the United States and the world today," she said.
The talk was moderated by Graham Allison, the Douglas Dillon Professor of Government and director of the Belfer Center for Science and International Affairs, who was joined on stage by Harvard University Distinguished Service Professor Joseph Nye and Jessica Blankshain, a doctoral student in political economy and government at the Harvard Kennedy School.
Kissinger also took questions from the audience, graciously responding even to those that were critical of his record. ("No one had a bigger interest in ending the war [in Vietnam] than the people who were in office") and advising one undergraduate on an ongoing feud between Adams and Kirkland Houses. ("I support Adams House," said the former Adams House resident.) The liveliness of the discussion belied Kissinger's 88 years; he hardly seemed ready to retire from the debate.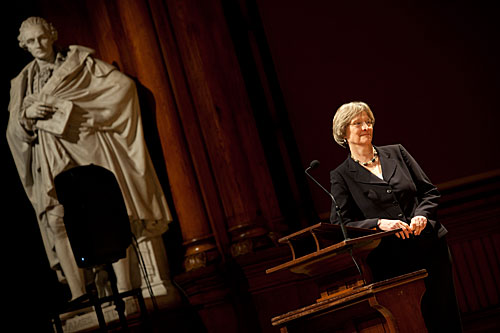 "A fellow student once called Henry Kissinger's work here 'a conversation with himself on some of humanity's deepest questions,'" Faust told the crowd. "Harvard was fortunate to have been a formative part of that conversation, and we are very fortunate to continue that conversation today."
Kissinger's thinking on issues of war and peace dates to his time at Harvard, where he arrived in the fall of 1947 as a transfer sophomore, fresh from military service and propelled by the GI Bill.
"Coming back to this country in 1947 was a second immigration," said Kissinger, a German who had lived in the United States for only five years before being drafted during World War II.
Though he had applied late and soon tested the dean's tolerance by keeping his cocker spaniel in his dorm room ("an early testament to the new student's talent for diplomacy," Faust joked), Kissinger quickly stood out at the College.
His senior thesis, which tackled questions of statesmanship and philosophy, won him honors — and at 388 pages, inspired a new 150-page limit for all government concentrators.
After earning his doctorate at Harvard, Kissinger stayed on as a faculty member, with appointments in the Government Department and the Center for International Affairs. He left for Washington in 1969 to serve as assistant to President Nixon for national security affairs, and soon discovered that his role in government would be quite different from that of a scholar or observer.
"The outsider can pick his topic," Kissinger said. "He can work on it for as long as he wants. He can choose the best possible vision of it, and he has the option of changing his mind.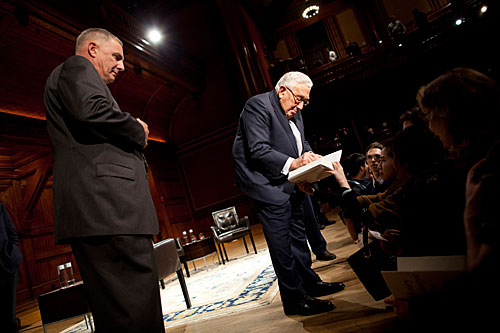 "None of these options exist for the statesman," he continued. "Issues present themselves, and they have to be dealt with in a finite period of time. … For a statesman, the choices are irrevocable."
For a secretary of state, the desire to make a contribution to peace "is inherent to the job," said Kissinger, who received the Nobel Peace Prize in 1973. But that desire must be balanced with a reasoned discussion of how to end wars responsibly, a hard task in Vietnam mirrored by more recent challenges in Iraq and Afghanistan.
Kissinger also touched on U.S.-China relations, a topic he dissected in his most recent book, "On China," published last year. Thanks to America's geographic isolation and China's dominance in its region for hundreds of years, neither country has a strong tradition of international negotiation, he said. But cooperation between the "status-quo power" and the "rising power" will be necessary on a range of issues, from nuclear proliferation to the environment.
"The state leaders on both sides have to make a decision [to work together] before they get into this crisis," Kissinger said. "That is one of the biggest challenges of our time."