In the Queen's Head Pub at Harvard, a battle of wills raged over a pair of Red Sox tickets.
"I have 800, I'm looking for nine," called auctioneer Charlie Rose, senior vice president and dean of City Year. "Listen, don't let him take these from you — they're right behind home plate!"
While such a showdown might seem familiar, the coveted tickets were just one of the donated items up for grabs at the ninth annual Summer Urban Program (SUP) auction held Tuesday. The Phillips Brooks House Association (PBHA) event, which featured both a silent and a live auction, raised funds to run 12 summer day camps for low-income children and teens from the Greater Boston area, minimizing summer learning loss and funding meaningful youth employment. The auction traditionally earns about $50,000 to fund such programs.
"SUP provides structured summer learning opportunities for young people who otherwise wouldn't be able to afford other camp or programming experiences," said Maria Dominguez-Gray, the Class of 1955 Executive Director of PBHA.
"Everyone experiences summer learning loss, but without this programming, the children we work with can fall further behind every year. As a result, they may have a very significant achievement gap among children with means and children who don't have the same opportunity. That's why I think the event is so successful: it brings together family and supporters from all walks of life to ensure that we're able to continue providing these programs."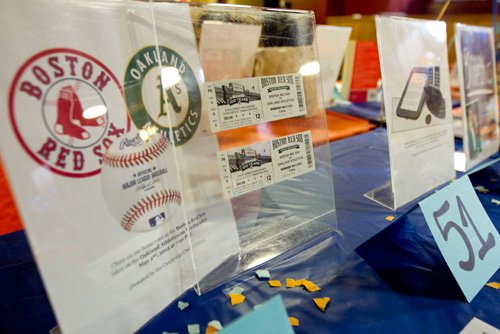 Andrew Iannone '12, director of Cambridge Youth Enrichment Program (CYEP), said the auction's success was crucial to his program, which serves 160 students from low-income backgrounds in Cambridge, as well as the continued success of PBHA.
"It's amazing to see such high-quality, meaningful, and impactful work being done by a student-run, staff-supported organization," Iannone said. "On paper, it seems like PBHA would make no sense: What Harvard student would have time to do these sorts of things?
"But it's so rewarding to see the passion and hard work that have evolved out of students working together to address challenges in the community. As Cambridge residents, we owe it to the city to give back. There's also this growth of support and leadership in the students that we serve, and to be able to play a part in that means a lot. It makes me feel like the work we're doing really does matter," he added.
"The auction is a great way for the Harvard community to show support for us," said Lauren Gabriel '14, director of the Refugee Youth Summer Enrichment Program (RYSEP), which teaches ESL to recent immigrants and refugee high school students from low-income families. "It takes a whole community to keep it going. Without the support from the auction, we would not be able to provide these great programs."
"It's impossible not to be impacted by the work you do at PBHA," said Gabriel. "It's a great way to experience Cambridge, and it makes you think about social equality and social justice. It's impossible not to be affected by that."