Those who take an evening stroll through Harvard's Tercentenary Theatre this week will likely encounter an ethereal projection on the façade of Widener Library: a triptych of dancers who appear to be floating above the main entrance.
"Slow Dancing," a spellbinding art installation using three large screens, is part of Harvard's annual arts celebration, Arts First, and is the brainchild of artist David Michalek, who discussed his work Friday at Boylston Hall.
To create the series of slow-motion video portraits, Michalek captured each subject's movement (approximately five seconds long) with a high-speed, high-definition camera recording at 1,000 frames per second (standard film captures 30 frames per second). The result is approximately 10 minutes of extreme slow motion. Since its premiere at New York City's Lincoln Center Festival in 2007, "Slow Dancing" has traveled to London, Paris, and, most recently, the Hague before arriving at Harvard this spring.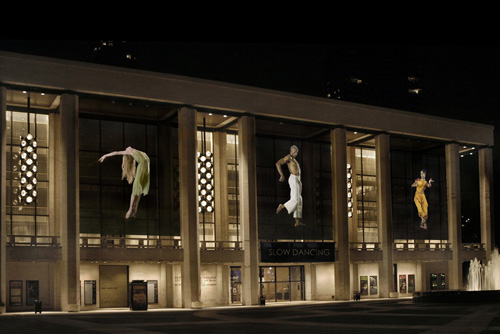 While the world has become increasingly obsessed with speed, said the discussion's moderator, Giuliana Bruno, Harvard professor of visual and environmental studies, an "aesthetic of slowness" has taken hold in recent years. She asked Michalek to comment on his choice of capturing the movements of dancers in super slow-motion.
The artist said his piece was inspired in large part by Bill Viola's "The Greeting," a video work depicting an exchange between three women in extreme slow-motion. Michalek encountered the work at an exhibit at the Los Angeles County Museum of Art in 1997.
"It was a really amazing experience to see what otherwise looked like a photograph, but ever so slowly animated and given the element of time. And it was a revelation, and I thought, 'Someday I want to touch that myself.'"
Later, when he met his future wife, Wendy Whelan, a principal dancer with the New York City Ballet, he returned to the idea, inspired by her artistry and eager to capture her "invisible world" of dance.
Michalek acquired a high-speed camera, one marketed to golfers to help them analyze their swings, and started to experiment in his living room to capture an image that "moved at the pace of the clouds."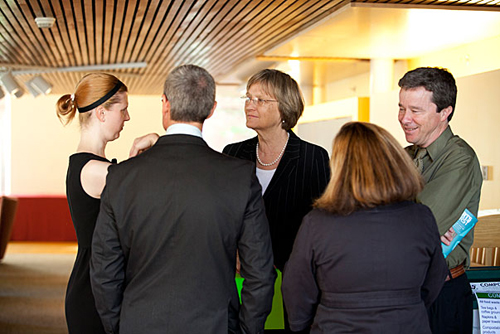 Eventually, he found an engineering firm developing a digital camera that would allow him to show his subjects playback of their work, and to capture images at the correct speed with a "finely resolved image."
But the product lacked a proper cooling system. Having promised the installation for the fast approaching Lincoln Center Festival, Michalek improvised.
"We just put icepacks on it," he said, "and it worked."
When he showed an early version of the piece to a group of children, he realized he was on to something.
"These kids sat, their mouths opened — they were glued to the screen."
That experience prompted ideas about how to present the work in a public space, he said, where he could offer viewers "a contemplative environment in the midst of all of that speed."
Michalek acknowledged that the slowness of the work is at first "tough to watch," but that as it progresses it inspires viewers to "investigate the parts" of the installation through a type of "self-guided exploration."
Jill Johnson, director of the Office for the Arts' Dance Program and one of 45 dancers and choreographers enlisted by Michalek, also took part in the conversation. She called the process of trying to "distill what you hope to convey" in the span of five seconds "extraordinary."
"It's at once a great challenge, but also an opportunity."
The filming also had its lighter moments, said the dancer. She joked that a curled lip, almost imperceptible in real time, lasts an eternity during the slow-moving work.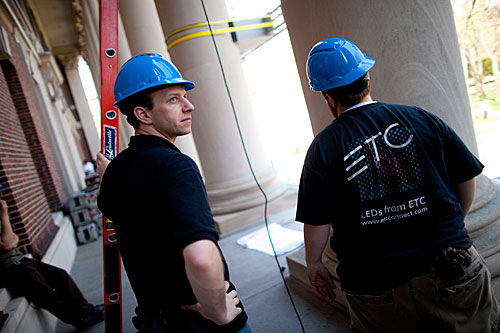 "You'd [tell yourself], 'OK, I've got to keep track of that.'"
Harvard President Drew Faust, who opened the discussion, called the work a "visible reminder of our commitment to the arts, and to their continued advancement here at Harvard and well beyond."
"'Slow Dancing' invites us to stop," Faust said, "and it invites us to look very intensely and deeply." The work also transports viewers to the artist's world, she added, one consisting of "a singular experience of time and space that prompts a shift in perception and understanding. A shift that is at the heart of all great art, and of all great learning."
"Slow Dancing" will be on view nightly from 7 to 11 through April 29.