ALBUQUERQUE, N.M. — Laurent Rivard had 20 points, but the 12th-seeded Harvard men's basketball team fell in the second round of the NCAA tournament to No. 5 seed Vanderbilt by a score of 79-70 Thursday evening at University Arena.
A pivotal run at the end of the first half by Vanderbilt (25-10) saw the Commodores erase a 20-17 deficit to take a 33-23 lead into the locker rooms after a 13-3 run capped by a last second 3-pointer by Brad Tinsley. Deep shooting was the theme for Vanderbilt as it built an 18-point lead in the second half thanks to an incredible 8-of-12 shooting mark from beyond the arc before Harvard (26-5) clamped down defensively and furiously worked back into the game.
The comeback started in earnest with seven minutes remaining as Kyle Casey put home a dunk, then stepped up and knocked on a 3-pointer, making it 62-49 in favor of Vanderbilt. On Harvard's next trip down the floor, Brandyn Curry made a floater in the lane, getting the Crimson to within 11, 62-51, as Harvard enjoyed a 7-0 run.
With 4:25 left, Rivard made his fifth 3-pointer, making it 67-54, and then hit another, as the Crimson got within 11, 68-57, with 3:48 remaining. Curry then pulled Harvard within nine points, 68-59, with another bucket in the lane, and added a layup on the break with 2:27 left, 70-61. With 2:14 left, Casey went to the foul line and hit both, pulling the Crimson to within seven, 70-63.
Keith Wright made his way to the charity stripe after getting an offensive board with 1:51 left, and he also made both, making it a five-point game, 70-65. It was as close as the Crimson would get as an unfortunate turnover on the sideline forced the team into fouling mode.
Rivard had an impressive showcase with the sophomore connecting on 6-of-7 from long range in 25 minutes. Casey had 13 points, Curry had 12 points and Wright had eight points and nine rebounds. Oliver McNally also played well, gaining the notoriety of the TV analysts with a game-high seven assists and two drawn charges.
Vandy's John Taylor led the victors with 27 points on 7-of-12 shooting and a 10-of-13 mark from the FT line. Tinsley had 16 points (5-6 FG, 4-4 FT) and Jeffrey Taylor had 15 points.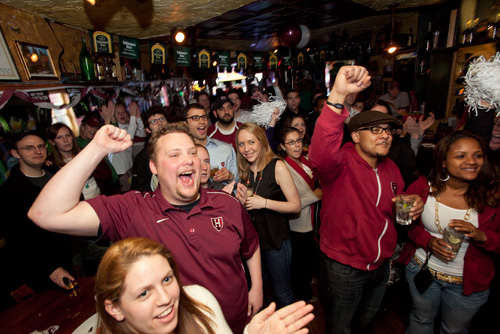 Local support
Students and staff gathered at popular watering holes on and around campus to root for the Crimson. At a crowded Tommy Doyle's pub, Sam Adams '14 and Jason Hirschhorn '14 met with other friends who remained at Harvard during spring break week. Hirschhorn said that the tournament — along with the cost of a round trip ticket to his native Los Angeles — was actually a reason he stayed behind.
"I stayed in the hopes that we'd play our tournament game in Pittsburgh," Hirschhorn said. "We were going to drive down. Now that it's in Albuquerque, I probably should have gone home to Los Angeles. It would have been closer."
Hirschhorn said that he started following the team during the Battle 4 Atlantis tournament, which Harvard won in part by beating nationally ranked Florida State.
On the other side of campus, Harvard staff filed into the basement of Memorial Hall to take in the game at the Cambridge Queen's Head Pub. Bob Cashion, senior associate vice president of Alumni Affairs & Development (AA&D) and a men's basketball season ticket holder, invited staff to break off work early and catch the game.
"It's been 66 years since Harvard was in this game," Cashion said. "I'm hopeful that this will become an annual occurrence, but it's sort of a historic moment for Harvard basketball. Few things get people to rally around a common cause like sports, so I thought it was a great opportunity to get people excited about the same thing."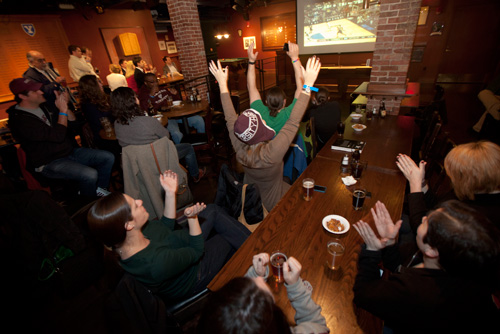 AA&D's Karen Fahey took Cashion up on his offer. She hooked her husband, David Fahey, also of AA&D, and set up in front of the big screen at Queen's Head to watch the game.
"It's a milestone," she said.
Back at Tommy Doyle's, Hirschhorn was thrilled when the Crimson shaved Vanderbilt's lead from 18 to just 5 late in the second half, but watched in disappointment as the comeback fell short. He said that he was proud, however, of Harvard's gutsy performance in its first NCAA playoff game in more than 60 years, and grateful for a record season.
"We played them tough for 40 minutes," he said. "We all thought they were going to make it at the end. It's too bad that it has to end like this, but it was a truly special season."
To read the full recap, go to GoCrimson.com.
— Paul Massari contributed to this story.