Jung Chang's successful memoir "Wild Swans: Three Daughters of China" chronicles her family's often heartbreaking journey through the cultural and political transformation that defined 20th-century China.
The work, which has sold more than 13 million copies in 36 languages, recounts her grandmother's plight as a concubine, her mother's struggles as a prominent Communist Party member, and the author's own experience as a member of the Red Guard and her eventual exile to the countryside during the upheaval of the Cultural Revolution.
Now, "Wild Swans," the world-premiere stage adaptation of the book, is on view at the American Repertory Theater (A.R.T.) through Sunday. But once the show is over, an innovative collaboration between the A.R.T. and the metaLAB (at) Harvard, inspired by the new play, will continue to engage audiences with stories related to the world's most populous country through an interactive online memoir.
Intrigued by the idea of melding the physical and the virtual realms, A.R.T. outreach and education associate Brendan Shea turned to metaLAB researcher Joana Pimenta and co-founder Jesse Shapins. Using Shapin's software Zeega, an open-source Web platform designed to make collaborative multimedia documentaries and exhibitions, Shea and his A.R.T. colleagues helped to develop a mosaic of sound, images, video, and text inspired by the compelling source material for the new show.
"The courage, the ability to share your story, and the personal details of your life for the purposes of making people aware of what you went through … definitely inspired us," said Shea. "We asked ourselves, 'What is the memoir of this community as it relates to China or Chinese history or Chinese culture?' "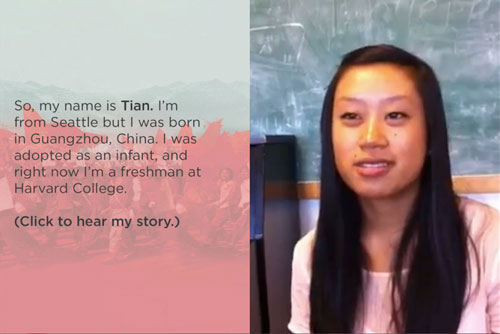 To find his answer, he turned to people like Harvard freshman Tian Kisch, a member of Harvard China Care, a student-run organization at the College that supports abandoned, orphaned, and special-needs children in China.
Born in Guangzhou, China, Kisch was adopted by an American family when she was 8 months old. In her online memoir, she discusses her life growing up in Seattle; her first trip to China at age 11 — where she met her foster mother, the woman who nursed her back to health after Kisch was abandoned as a newborn; and her own volunteer work with Chinese orphanages.
"I want to give to other kids what had been given to me. I want to go back and sort of pay it forward," Kisch says in her online diary.
Being part of the collaborative project, she said, offered her an opportunity to highlight the breadth of the Chinese-American experience.
"There are so many different backgrounds that we all have," said Kisch. "I think that is a really important concept to grasp."
For the project, Shea and his team reached out to other Harvard organizations, including the Harvard Chinese Students and Scholars Association and Harvard Chinatown Citizenship, a naturalization assistance program for the Boston area that is part of the Phillips Brooks House Association. They also connected with several Boston communities that have ties to China.
The work is an example of the A.R.T.'s ongoing efforts to expand the boundaries of theater, the operating ethos of artistic director Diane Paulus, who challenges the conventional notion of theatergoers as passive observers. Residencies, workshops, panel discussions, and community engagement programs — including a recent outreach effort that asked local high school students to create miniproductions based on the A.R.T.'s staging of  "The Gershwins' Porgy and Bess" —  have all been part of recent programming.
The new collaboration echoes a trend in other regional theaters around the country, said Shea, one geared toward engaging audiences by harnessing the power of the Internet and "the different social and technological aspects of the world around us.
"What we are doing here at Harvard is at the vanguard of this sea change that is happening in theater."
Shapins called the project a "fantastic example" of how the arts at Harvard can operate as a catalyst for engaging the University with a broader community.
Media and storytelling, said Shapins, "are one of the most powerful ways for those connections to be made."