Formal-looking gentlemen — resplendent in ensembles of top hats, bow ties, and Bermuda shorts — shouted barbs at impervious runners, who sported nothing but green Speedos as they took an anticipatory victory lap around Harvard Yard. A determined moose swung a mock punch at a defiant red fish. Taunts and jeers flew fast and furious between mobs of students who trumpeted vuvuzelas, smashed cymbals, and banged cheering sticks together.
Welcome to Housing Day at Harvard.
Freshmen, who spend their first year on campus in dormitories in Harvard Yard, were each sorted into one of Harvard's 12 upperclass Houses today. Freshmen are informed of their new House affiliation by impassioned, clamoring representatives from their new House, who gleefully bang on their doors early in the morning to share the good news.
As cheers and taunts raged outside, two representatives from each House waited patiently in the basement of University Hall to receive the letters informing freshmen of their new House assignments.
Jillian Smith '14 of Cabot House was excited to welcome new residents. "The assignments are random, but no matter what happens, you learn to love your House so much," she said. "It's all about rallying house spirit. We're such a tight-knit group at Cabot, and I hope the incoming freshmen become a big part of that family."
"We could hear them [House representatives] chanting and yelling as they came up the stairs," said Greer Gardner '15, who was placed in Lowell House. "They banged on our door and slapped blue paint on our faces," reflecting the color of the House. "I'm so pumped! Lowell House is one of the prettiest Houses. I have three upperclassmen friends who are living there, and it has such great spirit."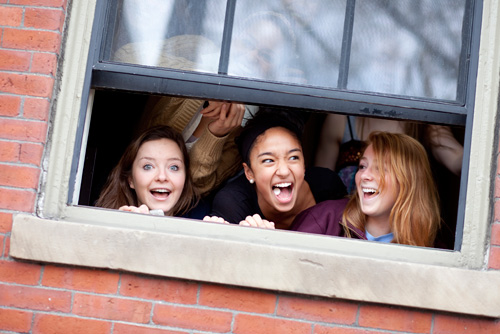 For fellow Quad resident Ian Merrifield '12, from Cabot House, helping more than 60 Cabot House residents in welcoming new freshmen was an opportunity to amend his own Housing Day experience. "When I was a freshman, Housing Day was a huge deal for us, and initially, it was very disappointing," he said. "Because literally, three people showed up at my door with a bowl of Swedish fish — since the fish is the Cabot House mascot — and said, 'We're really sorry, but you got into Cabot.' We were like, 'Really, that's it?' But when we got to Cabot, we loved it! So this year, our class made a lot of effort to make Housing Day a really big deal again."
After rushing into dorm rooms around Harvard Yard to quickly welcome new residents, House representatives gathered at Annenberg Hall — the freshman dining hall — to greet new residents in style. Freshmen entered the hall to deafening cheers, hugs, and armfuls of swag bearing their new House's name, crest, or logo. Co-masters of Winthrop House Ronald S. Sullivan, clinical professor of law and Edward R. Johnson Lecturer on Law, and Stephanie Robinson, lecturer on law at Harvard Law School, were on hand to welcome freshmen in person.
"This is just pure, unadulterated excitement," Sullivan said of the cheering atmosphere. "It's clearly one of the most high-energy days of the year, and we love it. For these freshmen, their new House is really going to be their home for the next three years. It represents what the House system is all about, and that's a living, learning center where people socialize, learn, and grow up over the next three years.
"I hope the freshmen that are coming into Winthrop House get the sense of togetherness and collegiality here at Harvard," he added. "You know, this is all in good fun — this House versus that House, and so on — but in the end, this is all Harvard students being one big family."
"Every House is the best house once it's yours," Merrifield said. "I could give you a hundred things that I love about Cabot, but everybody can list a hundred things that they love about their House. That's what's so great about the Housing system at Harvard, because it builds so much community and spirit within each House. Everyone will tell you that theirs is the best, and that's one of the real strengths about it."