Harvard administrators, faculty, and students converged on Boylston Hall Tuesday evening for the much-anticipated opening of the new Office of BGLTQ Student Life. The reception in the BGLTQ lounge and ceremony in the Fong Auditorium celebrated the beginning of a new chapter in the University's ongoing effort to embrace diversity and inclusion.
"This is a place that will help build and affirm community among BGLTQ students," said Harvard President Drew Faust. "It's a place where they can address issues that are central to intellectual life at Harvard, to the larger University community, and to our commitments to human justice and education."
Faust and other special guests got a look at the new space during the pre-ceremony reception. Located on the lower level of Boylston Hall, the Office of BGLTQ Student Life includes room for a director and for student interns, as well as a sizable lounge area. There is access to conference rooms on either end of the floor for group work.
The creation of the new space was a primary recommendation of the BGLTQ Working Group, launched in the fall of 2010 by Harvard College Dean Evelynn M. Hammonds and composed of FAS faculty, student leaders, and administrators. Hammonds announced plans for the re-purposing of the space in Boylston Hall in April 2011. The office will be a resource for undergraduates who identify as bisexual, gay, lesbian, transgender, or queer; who have questions about their sexuality; and who want to help create a supportive climate for their BGLTQ classmates.
At the ceremony in Fong Auditorium, Dean of Student Life Suzy Nelson said that the office's opening is a milestone not only for BGLTQ students and alumni, but also in the University's ongoing effort to promote diversity on campus.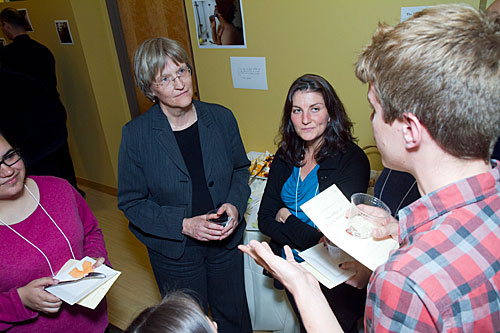 "This space represents Harvard's commitment to students of all sexual orientations and gender identities," she said. "Harvard has a proud history of being at the forefront of thought leadership, and this is no exception. The University's support of this office signals our commitment to advancing issues of equity and inclusion on campus."
The ceremony also included addresses from Rhonda Wittels of the Harvard Gay and Lesbian Caucus (HGLC) and from the Rev. Dorothy Austin and Professor Diana Eck, co-masters of Lowell House. The Rev. Jamie Washington, president of the Washington Consulting Group and a founding member of the Social Justice Training Institute, gave the evening's keynote address, which included "10 tips" for engaging with BGLTQ issues.
At the reception, Timothy McCarthy '93, student, faculty, and staff liaison for HGLC and director of the Sexuality, Gender, and Human Rights Program at Harvard Kennedy School's Carr Center for Human Rights Policy, spoke with passion, emotion, and hope about the new space and the future of the BGLTQ community at the University.
"We now have a place to have a 'family dinner,' a 'family reunion,' to love in public, and to call forth a new future," he said. "I love the idea of being at this place at this time with so much possibility."