Families of third-year undergraduates flocked to campus Friday and Saturday (March 2-3) for the College's Junior Parents Weekend. The annual program, which features tours, lectures, student performances, and advice on life after Harvard, drew nearly 600 students and more than 1,500 of their guests to Cambridge this year.
After a morning filled with open houses at the Office of Career Services (OCS), the Harvard Art Museums, the Harvard Women's Center, and other campus hubs, parents packed Sanders Theatre on Friday afternoon for a welcome address from University President Drew Faust. Faust shared her hope that every member of the junior class had experienced moments of affirmation and accomplishment during his or her time at Harvard "perhaps … while putting the finishing flourishes on a column for the Crimson or as the curtain parted on opening night of 'The Gershwins' Porgy and Bess' … while mentoring high school students in our community, or confronting an opponent on the playing field."
At the same time, Faust reiterated the challenge she leveled at students during Freshman Convocation in 2009. She asked parents if their children had expanded their definition of success enough to include some failure, and if their students had found the courage to take risks and try something new.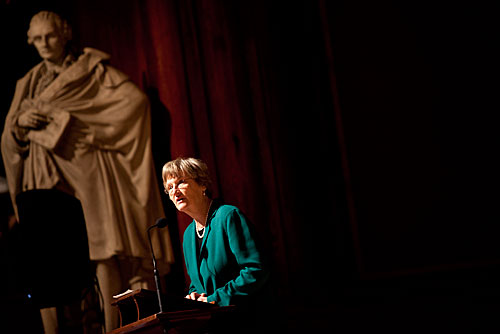 "Have they seen a work of art or a play that has moved them, or have they moved others with a performance of their own?" she asked. "Have they learned to speak a new language, have they invented their own app? Have they taken a course that has no apparent connection to the life they hope to lead one day, a course that just sounds interesting? I hope your children … appreciate the merits of being out of their element."
Suzy Nelson, dean of student life, picked up on Faust's call for undergraduates to broaden their horizons. Nelson highlighted the College's co-curricular activities, calling them "the other classroom at Harvard," and offered the stories of juniors Carolyn Chou, Suzanna Bobadilla, and Nevin Raj as examples of students who had taken advantage of these opportunities. Chou, the president of Phillips Brooks House Association, connects her academic work with service in Boston's low-income communities. Bobadilla, an intern at the Women's Center, collaborated on a history of the coeducational experience at Harvard's Pforzheimer House. And Nevin is a drug and alcohol peer adviser and a peer advising fellow who works with freshmen.
"Whether it is planning an event such as Yardfest [Harvard's spring concert] or writing for the Crimson, or leading a team to victory, or managing the local homeless shelter," Nelson said, "all of these initiatives are student driven. The 'other classroom' at Harvard is less structured, but no less influential in shaping students' lives as they mature toward adulthood."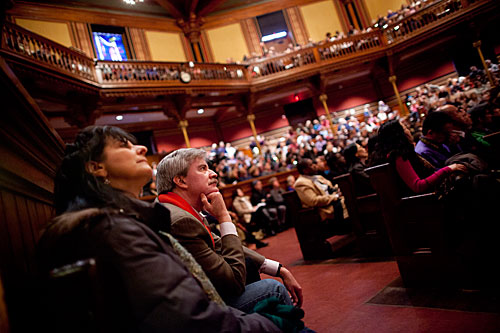 Adulthood — specifically the worlds of work and graduate school — were top of mind for families who attended "Excelling Beyond Harvard," a panel hosted by the Office of Career Services in the Science Center. OCS Director Robin Mount and her colleagues stressed the wide range of options available to graduates of the College, from jobs and internships, to professional school, to international fellowships and travel. Peter and Mae Gonzales appreciated the OCS experts' advice, particularly the suggestion that their son Andrew '13 take some time off after college before going on to medical school.
"We're both physicians," said Mae Gonzales. "We came from the old culture of going straight from college to medical school. But when you're in medicine, that's your life. It's full of responsibilities that can't build on your other interests. My son has a secondary concentration in East Asian studies. He's thinking of taking a year and going to Asia."
The weekend also included lectures and presentations from some of Harvard's brightest scholars and teachers. In a re-creation of his Harvard Thinks Big presentation "Speaking with the Dead," Professor Stephen Greenblatt enthralled junior families with a discussion of Shakespeare's "Hamlet." Greenblatt said that the play transformed English language by introducing new words and new uses of words like "fret," "compulsive," and "unnerved." "Hamlet" 's biggest impact on English culture, however, was the way that it transformed the relationship between the dead and the living in literature.
"Hamlet undergoes this transformation," Greenblatt said. "He hears his dead father. During the play he is convulsed by doubt. Then, finally, he speaks himself as a dead man at the end of the play. After 'Hamlet,' literature becomes more and more a story that's told by the dead to the living."
Throughout the weekend, parents got a chance to experience or learn about virtually every facet of undergraduate life. Some attended performances by student groups like the Hasty Pudding Theatricals or the Harvard Wind Ensemble. Others rooted the Crimson on at a men's lacrosse game or women's water polo tournament. Many simply explored campus via a tour given by the Crimson Key Society or Widener Library. However they spent the weekend, most parents said that they appreciated the chance to see their son or daughter, and to spend a weekend listening and learning at Harvard.
"I was impressed by the diversity of talent here," said Kathy Carroll, on campus with her husband George to visit their daughter Ann '13. "The professors that spoke, the artists, the dancers — it's just awesome. We can see how fortunate Ann is to be exposed to all of this."