To Leila Fawaz, Harvard isn't just where she launched her academic career in Middle Eastern studies; it's also where she learned to swim in the waters of Blodgett Pool under the eye of a Harvard Swim Team member.
To Robert Shapiro, Harvard isn't just the source of his bachelor and law degrees; it's a place where he experienced the turmoil of the Vietnam War era as an undergraduate and where, through his continued involvement as an alumnus in very different times, he has never really left.
Fawaz and Shapiro today are decades removed from their student days, but they remain important members of the Harvard community. The two are among the 30 alumni elected to sit on the Board of Overseers, one of Harvard's two governing boards. Fawaz, Fares Professor of Lebanese and Eastern Mediterranean Studies at Tufts University and a recent Carnegie Scholar, is the board's current president. Shapiro, a lawyer at the Boston-based international law firm Ropes & Gray, is vice chair of its executive committee.
Unlike many universities led by a single board of trustees, Harvard's governing structure, dating to the University's early days nearly four centuries ago, consists of two boards. The smaller of the two is the President and Fellows of Harvard College, also known as the Harvard Corporation. The larger — and slightly older — body is the Board of Overseers, whose membership is selected by graduates of Harvard's Schools.
Over their six-year terms, Overseers contribute significantly to Harvard, exerting broad influence over the University's strategic directions, counseling University leaders on priorities and plans, and exercising the power of consent to certain actions of the Corporation, such as the election of Corporation members (including the president). Board members also watch over the external review of the University's Schools, departments, and selected other programs through more than 50 visiting committees that bring together Overseers with experts from elsewhere.
Serving as an Overseer, Fawaz said, is exciting to her because of Harvard's place in history and its impact on the wider world.
"As a historian, I'm fascinated to be part of a board that has been in existence since the earliest days of the Massachusetts Bay Colony," Fawaz said. "As a Harvard graduate, I'm honored to be part of a board that brings together such an extraordinary mix of people and that aims to be a continuing force for assuring academic excellence and supporting thoughtful change. It's an experience that combines the opportunity to explore intriguing issues with the sense of helping guide an institution that means a great deal to all of us, and to the world."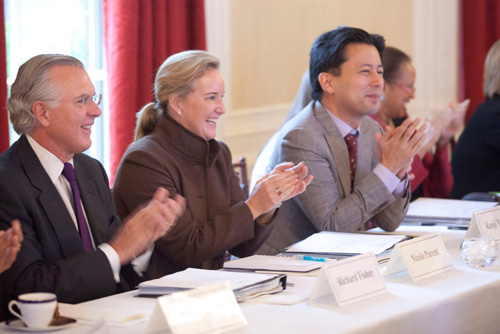 Being an Overseer demands both time and travel. Five times a year, including four weekends and Commencement week, Overseers gather in Cambridge. Additional trips are needed to attend visiting committee meetings. Time is required to prepare reports, read background material, participate in conference calls, and pursue other activities. On a typical Overseers weekend, the board's executive committee meets Saturday afternoon, and the full board then has dinner and participates in a panel discussion on a topic of importance to the University. Sunday sees more committee meetings in the morning, followed by a plenary session at which Corporation members are welcome. These sessions touch on topics that range from innovation in teaching to interfaculty collaboration to campaign planning to international strategy. Joint Overseer-Corporation committees meet Sunday after the plenary session.
Current members of the board are accomplished in many fields, including academia, health and medicine, the arts, government, business and finance, law, even the exploration of space.
Past Overseers have included an array of prominent people, including John F. Kennedy, Al Gore, Gov. Deval Patrick, former Labor Secretary and Sen. Elizabeth Dole, actor John Lithgow, authors Michael Crichton and Frances FitzGerald, former National Institutes of Health Director Bernadine Healy, Nobel laureate scientists Michael Bishop and Torsten Wiesel, current Secretary of Education Arne Duncan, and current Food and Drug Administrator Margaret Hamburg.
"I love Overseer service," said Diana Nelson, director of Carlson Companies, who received a bachelor's degree from Harvard in 1984. "The diversity of perspective is remarkable and I am very energized by the opportunity to work with a broader group of people than I otherwise do."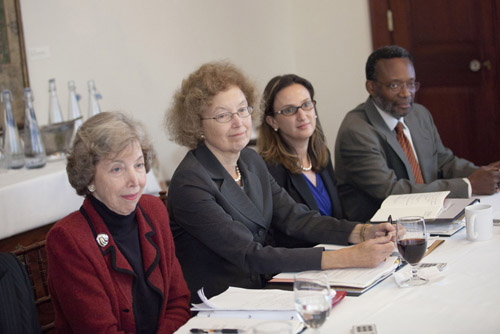 Board members' diverse backgrounds, experiences, and expertise are best leveraged through the counsel given to the president and the Corporation, according to Shapiro, also a former president of the Harvard Alumni Association.
"At our best, we're a group — neither vast nor tiny — committed to bringing a great range of insight and experience to the president and the Corporation. [We are] first a sounding board for the president and Corporation, and work in close colleagueship with them," Shapiro said. "It doesn't always break down neatly to specific tasks and duties, but it's a tremendously important role."
That role has been enhanced in recent years by a growing collaboration between the Corporation and the Board of Overseers. The two bodies have made significant efforts to work together more closely, with Corporation members attending and participating in the Overseers' plenary sessions, with occasional joint dinners, and with more informal interactions.
In 2010, this enhanced relationship was strengthened through a new joint committee of the two boards, focusing on alumni affairs and development, bringing the total of joint Corporation-Overseers committees to four: inspection (audit), alumni affairs and development, appointments, and honorary degrees.
One of the Overseers' most vital and distinctive roles is that of visitation, the term used for the periodic, in-depth reviews of Harvard's Schools and departments.
The visits are conducted regularly by committees of experts in relevant fields. The visiting committees usually include Overseers and are sometimes headed by them. Committee members typically spend two days talking to deans, department heads, faculty members, and students. The goal is not only to ensure the department or School is functioning properly, but to assess teaching and research, morale, emerging priorities, and how Harvard's efforts compare in quality and scope with those of peer institutions.
"It's an intense experience and an intellectually exciting one," said Fawaz, who has served on six visiting committees. "It's both an education for us and a chance to make a difference for Harvard."
Walter Clair, medical director of cardiac electrophysiology and an assistant professor at Vanderbilt University Medical School, has been an Overseer since 2009 and serves on the visiting committees for the Psychology Department, the Medical and Dental Schools, and the School of Public Health. Clair said he has been impressed by the commitment of visiting committee members, even those from competing institutions.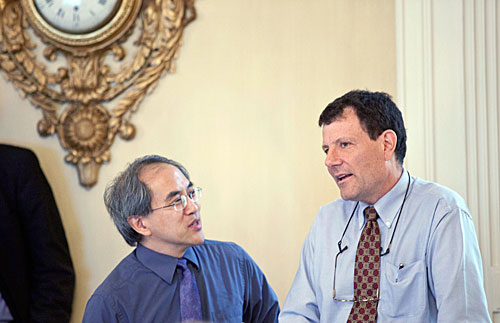 "People on those committees really want Harvard to succeed, even those who are competitive with us," Clair said. "They really genuinely put an effort into our institutions."
To Clair, the visiting process may well be the most interesting part of the job.
"Visitation is a deep dive into what the Schools are doing, what the departments are doing," Clair said. "We get beyond the headlines when you visit a School or department and get into what you have to do to strengthen the academic mission."
Other Overseers echoed Clair's belief in the benefit of the regular visits and his enthusiasm for the experience of visiting a School or department.
Nelson said the recent visit to the Harvard Graduate School of Education was "a fantastic experience" and that Dean Kathleen McCartney embraced the review as a way to help push the School into the future.
"Dean Kathy McCartney views us as important thought partners.  It was a very interesting group to be part of," Nelson said. "There is a sense that Dean McCartney is looking to build the most effective education school of the 21st century. She fully embraced the experience of the visiting committee."
Eight candidates for the Board of Overseers are nominated by the Harvard Alumni Association (HAA) each year. Five are elected in a vote by Harvard alumni and serve six-year terms. HAA Executive Director John Reardon said that the candidates are selected by a 15-member HAA nominating committee that includes three sitting or recent Overseers. Candidates can also petition to be on the Overseers ballot.
Though Overseers are lending their skills to improve Harvard for tomorrow, many have taken note of the changes from yesterday. Overseers who graduated decades ago say they are struck by how diverse the institution has become, how the number of women and minority students has grown. Others say Harvard is a much more international institution than before, both in student representation and in the outward-looking stance the University takes in its research and teaching.
Others have seen changes that have resulted from the efforts of Overseers, like actor John Lithgow's emphasis on Harvard's arts community and his leadership in founding one of Harvard's rites of spring, the annual Arts First celebration.
Overseers also reach out to the Harvard community and the greater community beyond. For instance, Overseer Walter Isaacson, head of the Aspen Institute and biographer of Albert Einstein, Benjamin Franklin, and Steve Jobs, recently co-led a January "Wintersession" offering for undergraduate writers, for which one of the guest speakers was Overseer Anne Fadiman, an author and Francis Writer-in-Residence at Yale University. Fadiman and Isaacson are also taking part in the Boston and Cambridge library lecture series created to mark Harvard's 375th anniversary, the John Harvard Book Celebration, which will also include two Overseer colleagues, Linda Greenhouse, former Supreme Court correspondent for the New York Times, and Nicholas Kristof, a Times columnist.
"The library series is a great idea. What a wonderful way to integrate us into the community," Fadiman said. "I said yes on the very day I was invited."
When asked why they've chosen to dedicate significant time to Harvard in their already busy lives, Overseers talk about the institution's leadership role in higher education, about the cutting-edge research being conducted, and about the students being educated as global citizens and future leaders.
"I like to think that Harvard is and will remain an enormously important institution in setting the standard for education in the United States," said Overseer Richard Meserve, president of the Carnegie Institution for Science, who graduated from Harvard Law School in 1975. "There are a lot of initiatives under way that show that Harvard is not just a stodgy institution that does things because they've always been done that way. It's changing, and it has its eye on the future."
Overseer Paul Finnegan, co-CEO of Madison Dearborn Partners and a graduate of the College and the Business School, talks about his admiration for how the University has weathered difficult financial times and about the growing excitement in playing a role that will help Harvard choose new directions for the years ahead.
"We're at an inflection point," Finnegan said. "Harvard is in a position to really move forward."