Nine-time Grammy winner John Legend was serenaded by Harvard singers and had a front-row seat to the student dance performances at Saturday's 27th Cultural Rhythms, an annual festival hosted by the Harvard Foundation for Intercultural and Race Relations, which celebrates diversity at the University.
After receiving the 2012 Artist of the Year award from S. Allen Counter, a professor of neuroscience at Harvard Medical School and the director of the Harvard Foundation, Legend spoke briefly to the sold-out crowd at Sanders Theatre about the value of education and the importance of philanthropy.
"I'm very honored to be here to receive this award and see all these beautiful performances," Legend said. "I've been chosen for this award not only because of the music I make, but the humanitarian work that I do as well — and that work is the result of the hard work of a lot of other people, people who teach, people who fight for reform."
Legend created the Show Me Campaign, which is a nonprofit organization that works to eliminate poverty and provide equal access to quality education through education reform in the United States. He also works with Harlem Village Academies, which was founded in 2003 and provides "a new kind of public school in Harlem."
"As students at Harvard, you are recipients of a wonderful education and many of you will go on to be very successful people," he continued. "But as I learned from famous Harvard dropout, Bill Gates, 'to whom much is given, much is expected.' Be successful with whatever it is you want to do, but don't forget to also help to make the world a better place."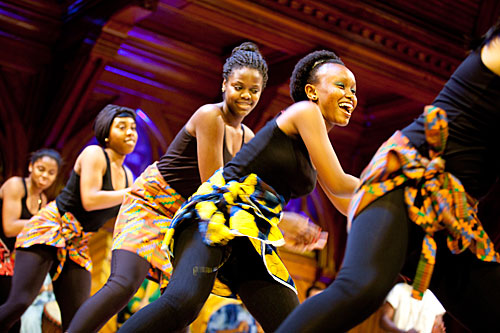 During a showcase of performances by a dozen cultural student organizations, Legend spoke briefly with students from each group. After a dynamic performance by Harvard Wushu, a group that studies contemporary Chinese art drawing from the traditions of kung fu, Legend asked performer Janice Chan, a Graduate School of Arts and Sciences student working toward a graduate degree in organismic and evolutionary biology, if she planned to continue practicing after she graduates.
"Absolutely," Chan replied. "The skills in wushu apply to so many other aspects of your life. Passion, dedication, hard work  …"
"And a little bit of ass-kicking, if necessary," Legend added, grinning.
The Harvard Breakers featured an intricate and electrifying performance by Brian Yang '13 and Albert Oh '13. Knowing that his partner Yang was a big fan of Legend's music, Oh mentioned the hip-hop tradition of getting the signature of someone you admire on your shoes — and promptly produced a pen for Legend, who gamely autographed Yang's shoe.
"You two were incredible," Legend said. "I can't dance, so I'm living vicariously."
Asked to describe their meeting with Legend, Yang and Oh could only smile.
"It was surreal," said Yang.
"He's so dignified," Oh said. "He's just so casual, even with everything he's done and accomplished."
Student groups performing at the afternoon show included the Asian-American Dance Troupe, Mariachi Véritas de Harvard, Deepam, Pan-African Dance and Music Ensemble, Harvard Wushu, Freshman Black Table Step, Wenyeji, Harvard Breakers, Ballet Folklórico de Aztlán, Harvard Philippine Forum, The Kuumba Singers of Harvard, and the Corcairdhearg Harvard College Irish Dancers.