The issues selected for the President's Challenge for social entrepreneurship were announced during a special kickoff on Wednesday at the Harvard Innovation Lab (i-lab), which is hosting the challenge.
Clean water, personal health, empowered education, global health, and clean air were chosen as the global issues to be tackled by the student teams. In making the announcement, keynote speaker Allen Grossman said that the issues were identified by a faculty panel drawn from across the University.
The goal of the challenge is find scalable and impactful ideas that can help to solve the problems.
"I can tell you from experience, this is hard, it's really hard," said Grossman, a Harvard Business School professor, when referring to social enterprise. "But it's one of the most rewarding things I've ever done," he added, later sharing inspirational stories with students.
I-lab Director Gordon Jones also addressed the crowd of 250 people, mostly students, expressing his excitement about the President's Challenge and welcoming students to the i-lab.  "This is a really special place," he said.  "The challenge will give students access to expertise in the form of mentors and experience in the process of bringing great ideas to action, and we're excited to help them do that."
Before the evening's end, students had already split off into groups by area of interest. There they were encouraged to share ideas and reactions to the President's Challenge.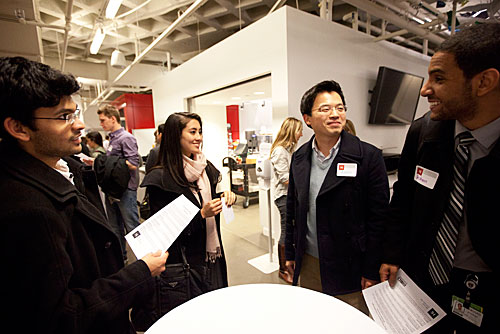 In April, 10 teams will be selected as finalists and awarded $5,000 each as well as the full resources available at the i-lab, including mentors, to further develop their teams' ideas.  At the end of the semester, one grand-prize winner and up to three runners-up will be announced and awarded a share of the $100,000 total purse.
In launching the President's Challenge on Feb. 15, President Drew Faust said, "The world's most pressing problems heed no borders, and to better address them we need to work across boundaries to formulate solutions. I can think of no place better prepared to take on such challenges than Harvard."