Allan M. Brandt, who pioneered a new approach to curricular development with the launch of the Graduate Seminars in General Education, led a transformation in admissions practices that resulted in the enrollment of a record number of minority students, and shepherded Harvard's Graduate School of Arts and Sciences (GSAS) through the recent fiscal downturn, announced Wednesday that he will step down as GSAS dean this spring owing to health considerations, following a recently diagnosed illness. He plans to return to the faculty when his treatment is concluded.
"It has been a truly great honor to serve in this role, to work with the remarkable staff of the Graduate School, our talented alumni, and our exceptional faculty and students," Brandt said, in a message to GSAS staff. "I have found a deep sense of satisfaction and pride in leading this Graduate School since 2008, and I have been tremendously rewarded by my connection to all of you, and to our important work. I will greatly look forward to my return to the faculty and re-engaging in the critically important work of graduate education."
"In a period marked by dramatic change across the Harvard community, Allan Brandt distinguished himself as a dedicated leader of the Graduate School of Arts and Sciences and as an eloquent voice in support of the University's highest intellectual aspirations," President Drew Faust said. "His innovative work on pedagogy, support for teaching and learning, and steadfast leadership through fiscal challenges will continue to be felt by students, faculty, and staff across Harvard. I am deeply grateful for his service, and wish him a speedy and full recovery."
In a message to many in the Faculty of Arts and Sciences (FAS) community announcing Brandt's departure, FAS Dean Michael D. Smith said Brandt has overseen a period of unprecedented change and growth that transformed nearly all facets of the Graduate School.
Since being appointed in 2008, Brandt has overseen five GSAS admission cycles, during which application totals have risen steadily. Under his leadership, the Graduate School also committed itself to increasing diversity in its Ph.D. programs. Changes in recruitment, admission, and retention efforts last year resulted in the most successful yield of admitted minority students, and a 23 percent jump in applications this year.
Once students arrive on campus, Brandt has been instrumental in enhancing their experience at Harvard through efforts to adopt best practices in graduate advising and mentoring, through increases to the funding package offered to graduate students, and through the creation of programs that help graduate students navigate a challenging academic job market by developing pathways for Ph.D.s in industry and policymaking as well as the academy.
In addition to efforts to bring graduate students into the curricular development process through the Graduate Seminars in General Education, Smith said, Brandt was instrumental in increasing support for graduate student teaching through innovative course work at the Derek Bok Center for Teaching and Learning. Such programs have helped graduate students continue to play a critical role in sustaining Harvard's academic excellence at both the undergraduate and graduate level.
"In addition to being a medical historian of international standing, Allan has been a truly remarkable dean for our Graduate School," Smith said. "I feel privileged to have worked alongside Allan for the past four years. Please join me in thanking Allan for his service to the Faculty of Arts and Sciences, and for stewarding our Graduate School with such discerning vision and far-reaching dedication."
"Dean Brandt was incredibly attuned to the challenges that graduate students face," said Benjamin Woodring, a Ph.D. candidate in English. "I worked with him on a variety of issues as president of the Graduate Student Council, and he was always receptive to our concerns and willing to help us think about how to advance them. His dedication to strong mentoring practices at the graduate level made a qualitative difference in the way many of us have experienced our graduate programs.
"Dean Brandt also inspired students to think expansively about the potential of the work we're doing at Harvard," Woodring added. "He made us believe in the impact our work could have on the world — and in the crucial importance of the mission we're all engaged in."
Richard Tarrant, the Pope Professor of the Latin Language and Literature, will serve as interim dean while the search for Brandt's replacement takes place. Tarrant previously served as acting dean from 1995 to 1996.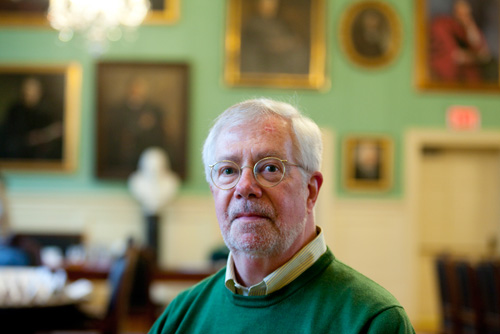 "Allan Brandt has led the Graduate School with commitment, imagination, and boundless energy, and it saddens me to be standing in for him under difficult circumstances," Tarrant said. "I wish him all the very best for his treatment and recovery. I am deeply grateful to Allan and to Dean Smith for the trust they have placed in me, and I look forward to working with Administrative Dean Margot Gill and the outstanding GSAS staff to carry forward the mission of the Graduate School in the coming months."
Brandt, professor of the history of science and Amalie Moses Kass Professor of the History of Medicine, first came to Harvard as an instructor in 1982. He was promoted to assistant professor, then associate professor, before leaving for the University of North Carolina, Chapel Hill, from 1990 to 1992. He returned to Harvard in 1992 as a professor in both FAS and the Medical School.
In his nearly three decades at Harvard, Brandt has been an active member of numerous FAS committees, including the Health Policy Interfaculty Initiative, Special Concentrations, the Library Committee, and the Historical Studies Core Committee. He also served as a member of the Faculty Council (1992-95). At the Medical School, he has served on the Conflict of Interest Committee, Rare Books and Archives Committee, Joint Library Committee, Subcommittee of Professors, and Academic Promotions Committee. He served as chair of the Department of the History of Science from 2000 to 2006, and from 1996 to 2004 as director of the Division of Medical Ethics at the Medical School.
Brandt's major research interests include the social history of American medicine, science, and public health; ethics and values in health care; history of human subject research; and American social and political history. He has written extensively about ethical and policy issues in the history of disease. His 2007 book on the social and cultural history of tobacco use, "The Cigarette Century: The Rise, Fall, and Deadly Persistence of the Product That Defined America," was awarded the Albert J. Beveridge Prize from the American Historical Association and the Arthur Viseltear Prize from the American Public Health Association.
Outside of Harvard, Brandt has been adviser and committee member for numerous health organizations, including the World Health Organization AIDS/HIV Program, the Hastings Center Study Group on AIDS and Civil Liberties, and two AIDS/HIV-focused committees of the National Academy of Sciences, Institute of Medicine.
Born in Washington, D.C., Brandt received an M.A. (1975), an M.Phil. (1978), and a Ph.D. (1983), all in American history from Columbia University. His B.A. degree in history is from Brandeis University.