Harvard has joined forces with the Brighton-based nonprofit Cradles to Crayons  (C2C) to collect coats and winter gear for distribution to local children in need this winter.
As families brace themselves for cold weather, C2C is seeking to fill a critical need for new and gently worn coats, winter clothes, and boots. Several Harvard departments on the Cambridge and Longwood campuses are providing purple Cradles to Crayons bins and encouraging staff to donate clothes throughout the month of December as part of the Gear Up for Winter Program.
"We have an opportunity to support our neighbors in a very meaningful way this season," said Christine Heenan, vice president of Harvard Public Affairs and Communications (HPAC). "Whether you purchase a coat or donate your daughter's or son's from last season, it will make a huge difference in the comfort, well-being, and safety of a child in need this winter," she added.
HPAC is hosting its drop-off bin in the Harvard Information Center in the Holyoke Arcade.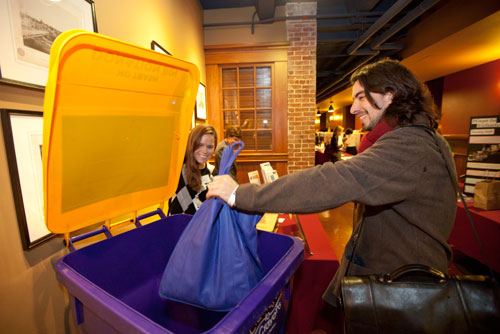 C2C serves homeless and low-income children in the Greater Boston area. The need for such support can be felt both locally and nationally. According to the U.S. Census Bureau, the number of people living in poverty in 2010 was the largest number in 52 years. In addition, 44 percent of children in America are living in homeless or low-income situations.
The donations collected by C2C are distributed to more than 250 local social agencies, nonprofit organizations, and shelters. Last year, C2C served 50,000 children.  This winter it expects at least 15,000 requests for winter coats.
"Just last week we had over 1,400 orders for C2C KidPacks for local children," said C2C Founder and CEO Lynn Margherio, who created the organization on the theory that that there was a readily available supply to meet the need.
"We know the current economic climate hits disadvantaged families the hardest, and there is a great need for the basic items that children across the commonwealth need to stay safe and warm this season," she said. "This growing need underscores the importance of partners like Harvard who provide volunteers, product collection drives, and financial support."
Harvard's support of the C2C coat and clothing drive is among the latest in a growing collaboration between the University and the local nonprofit. In October, Harvard students and staff joined hundreds from six Greater Boston colleges and universities who participated in a four-day community service project at C2C. During the coordinated week of service, Harvard affiliates worked with C2C staff and college peers at the Brighton "Giving Factory," filling hundreds of orders for back-to-school clothing for children.  C2C also offers the Champion Corps and College Corps, with targeted jobs for volunteers and exposure to social entrepreneurship.
So far this year, C2C has hosted more than 300 Harvard volunteers, including groups from Human Resources, the Harvard Business School, the Kennedy School of Government, and the Institute of Politics.
"Cradles to Crayons is a wonderful organization. When you walk in you immediately get a sense of purpose that really hits home; the idea of kids going without and being able to help families fill the need is so important," said Eric Andersen, director of Fellows and Study Group Programs at the IOP.
Harvard affiliates can drop off their donations at the Harvard Information Center in the Holyoke Arcade, 1350 Massachusetts Ave., Cambridge. For more information regarding the drive contact Julie Moscatel at Julie_moscatel@harvard.edu or 617.495.4955.