Scientists, physicians, activists, and others on the front lines of the 30-year fight against AIDS gathered on Harvard's Longwood Campus on World AIDS Day Thursday to plot a strategy to achieve something that most once thought impossible: ending the AIDS epidemic.
The discussion was part of a two-day conference called "AIDS@30: Engaging to End the Epidemic." The conference, sponsored by the Harvard School of Public Health (HSPH) and held at the Joseph B. Martin Conference Center, was an effort to reflect on the many advances and milestones that have transformed AIDS from a death sentence to a manageable, chronic disease. But the conference also worked to engage those who know the ailment best to plot its end.
"We're tired of this virus, this epidemic, and now hopefully are able to plan its demise," wrote Richard Marlink, the program chair and Beal Professor of the Practice of Public Health, in a message to participants. "I, for one, do not want to be discussing AIDS at 40 years or AIDS at 50 years. The conversation starts now, for planning the end of AIDS."
Conference participants have been cheered by the continued expansion of antiretroviral treatment to the developing world, and by new findings on how to reduce mother-to-child transmission during pregnancy and breastfeeding, on how male circumcision and vaginal gels used during sex can reduce transmission, and on progress toward a vaccine.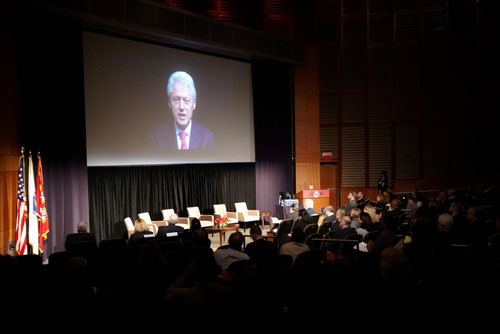 Nonetheless, there are an estimated 34 million people infected with the AIDS virus, and many cases still go undiagnosed. Just 47 percent of those in need of antiretroviral treatments get them. About the same percentage of pregnant women who need medicine get it to prevent transmission to their children.
World AIDS Day is held on the anniversary of when the first scientific report on the disease was issued. In Washington, D.C., President Barack Obama declared that "We can beat this disease" and pledged an additional $50 million to fight the ailment in the United States. He also promised to increase assistance to help 6 million more people gain access to antiretroviral drugs overseas.
HSPH Dean Julio Frenk introduced the event and said AIDS has been the largest public health threat in the history of humankind.
Over the decades, AIDS has generated an enormous response around the globe that stretched far beyond science and medicine. The disease and its toll touched the arts, society, and even government, prompting a new generation of activism and changing the way people view sexual preference and social stigma, Frenk said.
Frenk highlighted the contributions of Harvard researchers to understanding AIDS and HIV, including Lasker Professor of Health Sciences Max Essex's 1983 discovery that the disease was caused by a retrovirus and the 1986 discovery of a second virus, HIV2, most prevalent in West Africa. Frenk also mentioned progress to prevent mother-to-child transmission, and work on AIDS policy by former HSPH Dean Harvey Fineberg. Frenk cited the current efforts of faculty at Harvard's affiliated hospitals, such as the work of Bruce Walker at Massachusetts General Hospital. Frenk also mentioned the work of Jonathan Mann, who was the first director of HSPH's François-Xavier Bagnoud Center for Health and Human Rights, and who focused on the disease's social justice aspects.
The conference featured recorded comments from former President Bill Clinton, who has targeted global AIDS through his Clinton Foundation. Clinton emphasized that although advances in the laboratory can lead to new drugs, and even potentially a vaccine, the problem of obtaining enough resources to deliver those advances to people in need remains daunting.
"AIDS is not simply a matter of health and life, it's also a matter of resources and commitment," Clinton said.
Harvard Provost Alan Garber said he was just starting his medical career in 1981 when the epidemic struck. Working in San Francisco General Hospital, he encountered desperately ill young men stricken with a mystery ailment that nobody knew how to treat. He recalled years later, as a resident there, that doctors knew a bit more about the disease, but still could do little.
During those years, Garber said, he and his colleagues thought they'd eventually discover the cause and have an antibiotic to treat it — or understand that it couldn't be cured. He never thought it would become a chronic disease that could be managed for years.
"I call that extraordinary progress," Garber said. "I'm struck by how much there is still to do."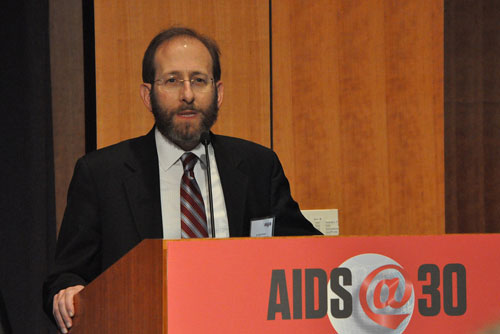 The conference was intended to promote conversations, Marlink said. Session topics included the future of HIV prevention and treatment; ending pediatric AIDS; the prospects of an HIV vaccine; funding the fight against the disease, international and national leadership; and health disparities.
The conference also featured the premier of a film, "From Stigma to Hope," by Staffan Hildebrand, who has been documenting HIV/AIDS for 25 years.
Marlink said recent studies have provided new tools to attack the disease and have shown that an HIV-free generation is possible.
"This is the worst possible time to slow down," Marlink said.