Matthews Mmopi, a recent Harvard graduate from South Africa, and David Obert, a second-year Harvard Medical School (HMS) student, have been selected as Rhodes Scholars, and will join the University's four U.S. Rhodes winners at the University of Oxford next fall.
A member of the Class of 2011, Mmopi was selected as one of 10 winners from the Southern Africa region, which includes Botswana, Lesotho, Malawi, Namibia, and Swaziland. At Oxford, Mmopi plans to pursue a master's in philosophy in development studies. Obert, a native of Edmonton, Alberta, and a graduate of McGill University in Montreal, is one of three representatives from the prairie region of Canada. He was nominated for the Rhodes by Harvard Medical School.
"The Rhodes Scholarship, to me, represents an unrivaled opportunity to further my capacity to champion political consciousness and freedom in the world," Mmopi said. "I would like to examine the role of gender in shaping the political, economic, and social opportunities available to individuals in order to evaluate how African societies can close gender gaps in economic and political participation and access to education and health."
While at Harvard, Mmopi completed an internship at the Harvard College Women's Center, an experience that helped spur his interest in gender issues in Africa. He also volunteered at Harvard's Office of Sexual Assault Prevention and Response, served as programing coordinator for the Harvard Black Students Association, and served as a senior counselor in the Summer Urban Program at the Phillips Brooks House Association.
In addition, Mmopi served as director of enterprise for the Harvard Africa Business and Investment Club, as student co-chair on the Ann Radcliffe Trust/Women's Center Community Fund Advisory Board, and as president of the Kuumba Singers of Harvard College.
"I believe my studies in economics and African studies coupled with my internship at the Harvard College Women's Center helped to shape my intended course of study at Oxford. Through these experiences, I examined gender, political, and socioeconomic factors as causes and solutions to Africa's development problems."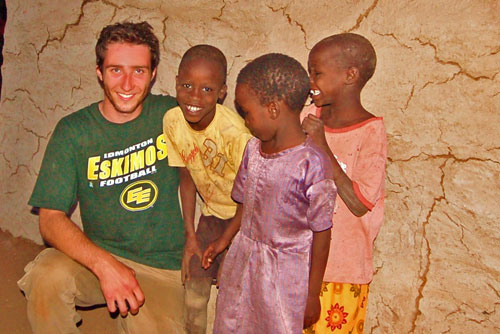 Obert to pursue double master's degree
As a teen, two concussions from hockey and ski racing left David Obert struggling to concentrate, unable to stay awake in class, and in peril of being unable to finish high school. Now the HMS second-year student has been named a 2012 Rhodes Scholar, one of 83 men and women from 14 countries and regions around the world to win the prestigious award.
Created in 1902 by the will of British philanthropist Cecil Rhodes, the scholarships cover all costs for two or three years of study at Oxford. Winners are selected on the basis of high academic achievement, personal integrity, leadership potential and physical vigor, among other attributes.
At Oxford, Obert plans to pursue a double master's degree in public policy and global health science.
Obert spent the summer working on a joint Harvard/NATO study examining how foreign militaries contribute to health sector stabilization in fragile states. Specifically, he focused on a case study examining the military response to the 2010 Haitian earthquake as it related to human health. He worked with Vanessa Kerry, instructor in medicine at Harvard-affiliated Massachusetts General Hospital and director of the Global Public Policy and Social Change Program in the Department of Global Health and Social Medicine at HMS, and Margaret Bourdeaux, a core faculty member of Brigham and Women's Hospital's Division of Global Health Equity.
Obert says he has always had an interest in how the world works on a macro scale — seeing the geopolitical landscape and watching how large organizations and governments interact.
"I could see myself having a career a little bit like my supervisors from the summer," he said. "I'd love to have the clinical side and patient contact — which brought me to medicine in the first place — but also be able to make an impact on another level, helping shape how big organizations work and how large scale responses to health needs are rolled out."
— Jake Miller/Harvard Medical School