Mark Zuckerberg returned to the Harvard campus on Monday to recruit students for jobs and internships at Facebook, the popular social networking site that he started when he was an undergraduate.
"There are a lot of really smart people here," Zuckerberg said during an appearance with about four dozen members of the media in front of Houghton Library. "A lot of them are going to be making their decision — about where they want to work after they graduate — in the next few weeks, so it's a great time to come."
Zuckerberg was greeted by President Drew Faust and other University officials, who met with him briefly at Loeb House. Faust said that Harvard was a good place to look for the next generation of technology entrepreneurs.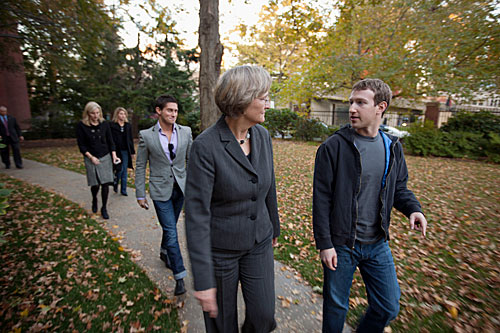 "I enjoyed welcoming Mark back to campus," she said, "and certainly share his view that Harvard is a great place to recruit innovative, creative, talented people."
It was Zuckerberg's first official visit to campus since he left as an undergraduate in 2004. Accompanied by Mike Schroepfer, Facebook's vice president of engineering, Zuckerberg held a discussion attended by more than 200 computer science (CS) and engineering students. The event, which was held at Farkas Hall and was closed to the media, was organized by the Office of Career Services (OCS) and moderated by lecturer David J. Malan, the current leader of the popular Computer Science 50 (CS 50) course. Attendees said they were thrilled and inspired to interact with executives from the world's top social media site, who also toured the new Harvard I-Lab in Allston during their visit.
"I really enjoyed seeing how much love they have for their product," said Scott Crouch '13, a student at the School of Engineering and Applied Science (SEAS). "At the end of the day, it's not the money or the management experience, it's what they create. They're engineers at heart."
Luis Duarte '13, who collaborated with Crouch on the new Harvard app for OCS, said his biggest takeaway from the discussion was Zuckerberg's advice to College students on choosing a career.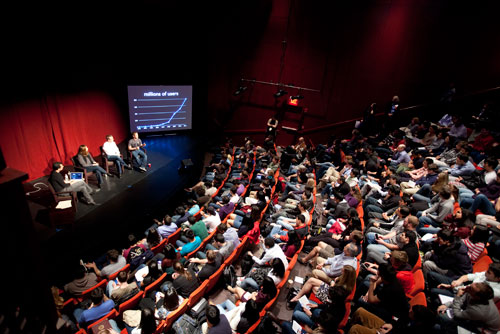 "It was when he said that you have to find whatever it is that you're passionate about and follow it, if you feel that it's right," Duarte said. "Follow your heart, and things will fall into place. It worked for him."
Malan said that Zuckerberg's impact on students' academic and career plans was easy to see.
"It was quite the sight to see a roomful of hands in the air when we polled the audience as to who was planning to study computer science," he said. "Facebook has certainly inspired an interest in computer science at Harvard and well beyond."
Michael D. Smith, dean of the Faculty of Arts and Sciences (FAS), met with Zuckerberg at Loeb House and accompanied him to the meeting with students. Smith, the former leader of CS 50, said that current students could learn much from the Facebook founder's experience at Harvard, and beyond.
"The Facebook story provides many lessons about the benefits of taking risks and following your passions," he said. "Above all else, it shows that a college education — particularly a Harvard education — should help you discover what you love and encourage you to pursue it."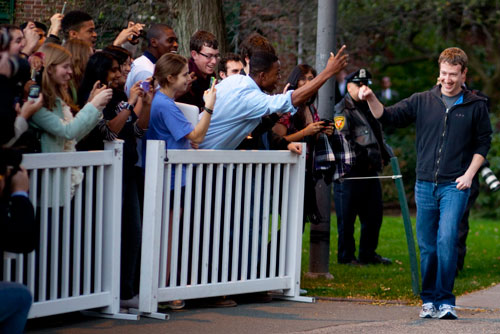 Harvard College Dean Evelynn M. Hammonds said the College is more supportive than ever of student entrepreneurs, thanks in part to the success of former students such as Zuckerberg.
"Harvard College actively strives to give students the kind of opportunities that produce the next generation of innovators in science, technology, the arts, and public service," she said. "From the Harvard College Program for Research in Science and Engineering [PRISE] to Hack Harvard, an on-campus seminar for web applications that improve student life, we support the kind of innovation and collaboration that is the lifeblood of technology pioneers like Facebook."