For decades, foundations endowed by well-known artists have quietly operated exhibition programs, awarded grants to artists, and offered artwork to museums. Now, a major study is calling attention to their efforts.
The recent report ("National Study of Artist-Endowed Foundations"), by the Aspen Institute's Program on Philanthropy and Social Innovation identified some 300 such foundations holding close to $3 billion in assets, half of them created in the past 15 years.
Artist-endowed foundations are a burgeoning force influencing the global art world, says Christine J. Vincent, who authored the study. They not only award grants to nonprofits, artists, and scholars and provide stewardship for art collections and archives, but also manage artist residencies and art and cultural programs.
"This is a terrifically dynamic field," said Vincent. "More and more of these foundations were being created and it became useful to have a body of knowledge that will help the next generation make the most of its donors' generosity."
The study found that the top 30 artist-endowed foundations disbursed $52.5 million in 2008, which compared favorably with the long-established John S. and James L. Knight Foundation ($55.3 million) and the Ford Foundation ($54.1 million).
The foundations of deceased artists have been growing despite the economic downturn in part because more than 60 percent of those holding at least $1 million in assets are tied to artists who were not survived by children. The foundations fall into two strong patterns, Vincent said, ones that focus on supporting individual artists and those that are responsible for a flow of artwork to museums.
Joining Vincent on a panel at the Sackler Museum Tuesday were Jack Cowart, executive director of the Roy Lichtenstein Foundation; Jack Flam, chief operating officer of the Dedalus Foundation; Carolyn Somers, executive director of the Joan Mitchell Foundation; and Pollock-Krasner Foundation CEO Charles C. Bergman, who also played a key role in the Aspen study.
The panel was moderated by Marion R. Fremont-Smith, a lecturer at the Hauser Center for Nonprofit Organizations, which sponsored the event along with the Harvard Art Museums and the Department of History of Art and Architecture.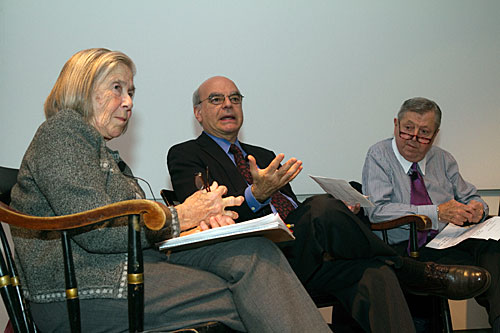 Cowart said the Lichtenstein Foundation was chartered in 1998 and was separate from the estate of Roy Lichtenstein, who died in 1997, leaving a wife and two sons. The foundation's charter called for it to provide public access to the prolific artist's work. It is endowed with 10 paintings. The foundation runs a "perpetual deficit," Cowart said, which seemed routine until the recession of 2008, which forced it to be "obsessive compulsive" to stay afloat.
Many of the foundation leaders said they spend a lot of money and effort vetting and authenticating works that are said to be created by the endowing artist.
The Joan Mitchell Foundation, which had to wait 10 years after Mitchell's death to receive the full bequest, has been expanding at a brisk clip. After Hurricane Katrina, the foundation provided emergency grants to individual artists totaling $500,000 over the first few years. By last year, Somers said, the foundation had gone from 1.5 to 16 staff positions, and also boasted a $7 million budget. It has provided free art classes to middle schoolers, some grants to organizations, and established a residency for artists in New Orleans.
Flam, whose Dedalus Foundation was the oldest represented — it just celebrated its 30th anniversary  — said that many foundation board members were close to the late artists, as he was to Robert Motherwell. Five of the six members of the Dedalus Board were picked by Motherwell.
"I was a close friend and knew the kinds of things he was interested in," said Flam, an art historian. In order to make sure the board stays relevant — not just familiar with the artist — it recently added a 33-year-old member.
"When someone's alive they convey certain ideas," Flam said. "Afterward you have to imagine standards that you strive for."