Artists and scholars gathered at the Arthur M. Sackler Museum to discuss the work of 20th-century artist Romare Bearden. The event celebrated "Color and Construction: The Intimate Vision of Romare Bearden," which runs through Dec. 9.
Diedra Harris-Kelley, co-director of the Romare Bearden Foundation in New York and Bearden's niece, said exhibits like this one, mounted in the Neil L. and Angelica Zander Rudenstine Gallery at the W.E.B. Du Bois Institute for African and African American Research, allow viewers to gain an intimate understanding of his work.
"Small shows like this one help us to really get at the heart of his work as an artist. It has a focus that allows us to peel away some of the layers," Harris-Kelley said during the Wednesday discussion, which was moderated by Henry Louis Gates Jr., the Alphonse Fletcher Jr. University Professor and director of the Du Bois Institute. "Bearden took collage to a new level, and it's his own stylish way of putting those parts together that carries so much soul."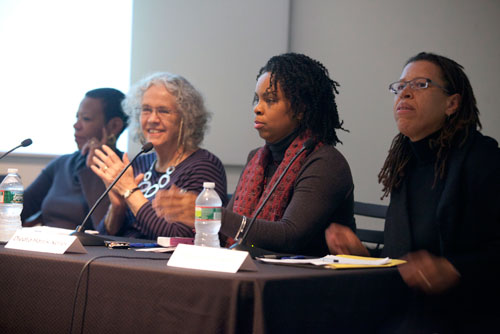 Fellow panelist Mary Schmidt Campbell, dean of the Tisch School of the Arts and author of "Memory as Metaphor: The Art of Romare Bearden, 1940-1987," agreed. "Bearden wasn't just an artist, but a memoirist," she said. "He had to find a way to reconcile the images from his past with the images that surrounded and defined African-Americans visually. Like a true modernist, his goal was to compel people to see differently. He understood profoundly that to see was also an act of knowing, and that if we can see differently, we can know differently."
Patricia Hills, professor of the history of art and architecture at Boston University and contributor to the "Romare Bearden, American Modernist" exhibition at the National Gallery of Art, discussed Bearden's love of jazz, which had a powerful effect on his work. Speaking of Bearden's friendship with fellow artist Stuart Davis, who "taught Bearden to listen to the intervals in the music of Earl Hines," Hills observed that Bearden said he found the concepts of intervals interesting "'because they reinforce more solid forms and objects. But by doing this, it is the spacing of what you leave out that makes what is in there, there."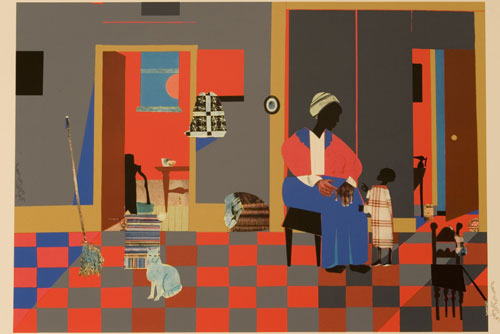 "Bearden led the way," Hills said. "He created a vibrant, syncretic art by amalgamating cubism with our other cultural legacies: world images that stimulated the mind, creative quilts that comforted the body, and the improvisation of jazz that captured the music of the soul."
Jacqueline Francis, senior lecturer in visual and critical studies and in painting and drawing at the California College of the Arts, selected one of Bearden's few sculptures for discussion. In examining "Mauritius," a mixed-media sculpture made for a 1969 group exhibition that included works by Andy Warhol, Jasper Johns, Roy Lichtenstein, and Saul Steinberg, Francis highlighted Bearden's deconstruction of a warrior.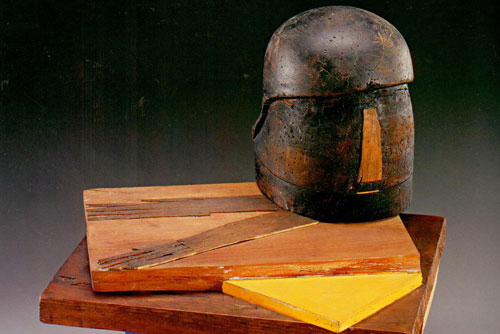 "He disrupts the verticality of the memorial statue, breaking down the figure, reducing the human form to simple geometry and making it decorative with these primary colors," she said. Recalling Bearden's military service in World War II, Francis speculated that "Bearden must have been musing about sacrifice and death across eras and spaces, including his own. Notably, there are no weapons in the hands of 'Mauritius.' And while the yellow triangle block might represent a spear or an arrowhead, it might also stand in for a shield."
More information on the exhibit.