"The thing that is so interesting is how different Mather [House] is from most other architecture at Harvard," said Co-Master Christie McDonald. "There have been jokes about Mather's architecture — the use of concrete, for example — but inside, it's pretty spectacular."
In celebration of the creation of Mather House some 40 years ago, Co-Masters McDonald and her husband Michael Rosengarten have organized a retrospective exhibit of the House's design and construction in the Sandra Naddaff and Leigh Hafrey Three Columns Gallery.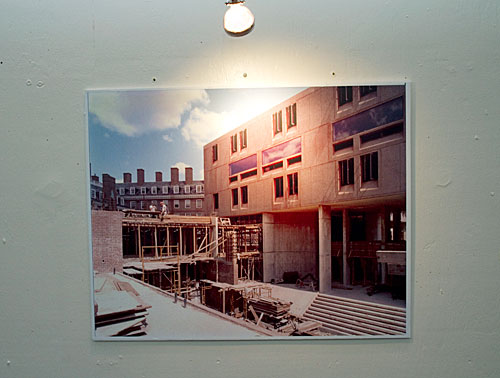 Penny Carlhian, daughter of Mather House architect Jean-Paul Carlhian, put McDonald in touch with Shepley Bulfinch, the architecture firm that built Mather House. The firm's archivist provided a set of digitized images of the project, including initial models, design specifications, and images of the building's construction. Rosengarten and McDonald curated the exhibit, which will hold an opening reception for the Harvard community and general public 5 p.m. Tuesday.
From the gallery's stairwell, Rosengarten pointed out the building's open spaces, which generate a sense of shared community — something the House co-masters have fostered since their arrival a year ago. "The architecture of the structure looks in on itself," he continued. "It's been constructed to be very community-oriented on the inside."
McDonald noted that Mather's design not only provides open spaces, but constant access to the outside world. "In Mather House, you're always in this relationship of inside/outside," McDonald said, pointing out the view of the Charles River from the dining hall's two-story windows. "We're lucky to have so many windows and a lot of light." Not to mention "every resident gets a single," she added with a smile.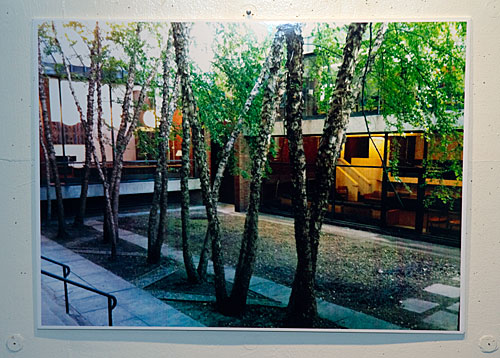 The exhibit has garnered overwhelmingly positive responses from House residents. "It's all about Mather. It translates to something all can relate to," said Rosengarten, who is an adjunct professor of medicine at McGill University.
"The students are really interested in the exhibit and the House's history," said McDonald, who is the Smith Professor of French Language and Literature and professor of comparative literature in the Department of Romance Languages and Literatures at Harvard.
Mather House is named for Increase Mather, the sixth president of Harvard, who was elected to the position in 1685 and held it until 1701. Mather was the first native-born American to be president of Harvard and received his A.B. from Harvard in 1656.
The exhibit runs until Nov. 7 and is currently open to all with a valid Harvard ID. Members of the University community and the general public are invited to the Tuesday reception, where two representatives from Shepley Bulfinch — Robert Roche, archivist, and John Christensen, architect — will make a presentation on the building's design and construction. Bayley Mason '51 will also speak about the history of Harvard's River Houses. Reservations are required due to limited seating.
The Three Columns Gallery is located at 10 Cowperthwaite St., Cambridge.