Harvard College Dean Evelynn M. Hammonds and University President Drew Faust welcomed the families of first-year undergraduates to campus Friday, and urged them to support students' exploration of new ideas and identities over the next four years.
"There are new choices, new questions" facing freshmen, Hammonds said to freshman parents at Sanders Theatre. "They know enough now to be in a position to ask themselves, 'Who am I going to be at Harvard?' And that's exactly what we want them to be doing."
The event was part of Freshman Parents Weekend, a two-day program of lectures, tours, and open houses held each fall. A record number of attendees — nearly 2,400 parents and guests and more than 1,000 members of the Class of 2015 — registered for this year's program, thanks in part to the celebration of the 375th anniversary of Harvard's founding, which took place on Friday night.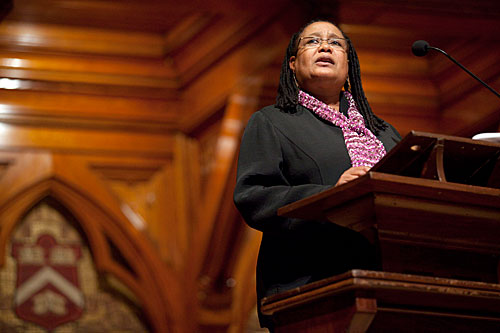 Hammonds told parents that their children had already begun to settle in at Harvard. She promised that the College would do all it could to help freshmen feel at home on campus, including opening Annenberg Dining Hall during the late afternoon and evening hours to give first-year students a central place to study and meet. At the same time, the College believes that a liberal arts education should help students build a different type of home within themselves.
"A colleague of mine at the Law School, the very wise [Dean] Martha Minow, once said that the project of an undergraduate is 'to build a house of identity and belief,'" she said. "Undergraduates arrive at Harvard talented, passionate, and opinionated. If we do our job well, they will leave changed. … The grounding of their beliefs will be newly solid, and their passions may well have shifted, as a result of building that new house of identity and belief."
Students find their identity, Hammonds said, by asking questions that allow them "to stay open to the possibility of transgressing what they see as their own limits, and to embracing surprising new plans." This process of discovery is far from rudderless, she said, thanks to the strength of the School's advising structure, which provides a safety net that allows students to take intelligent risks. Still, Hammonds acknowledged that any exploration worth undertaking can be uncomfortable.
"I don't want to suggest that any of this is easy," she said. "Certainly some freshmen are feeling the strain of adjustment. … As parents, your job is to love them, and to support them as they lay the bricks for their new homes. Our job here at Harvard is to offer them the widest variety of the best materials, and to encourage them to be brave and inventive architects."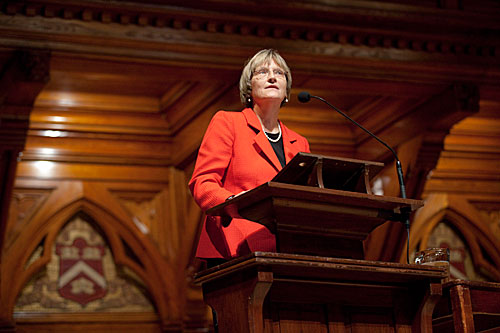 Faust opened the event and also spoke on the themes of settling in and venturing out. She told parents that she wanted their children to feel a sense of belonging at Harvard, but also to use their time here to strike off in new directions. With a nod to Harvard's 375th anniversary, Faust, a historian, talked about the way that the study of the past had recently ignited some students' curiosity and interest.
"Just a few weeks ago, students in a freshman seminar on post-traumatic stress disorder in American history visited the University Archives to see just a small fraction of our collection," she said. "They were especially drawn, I am told, to a diary carried by Harvard President James Conant's father during the Civil War. Experiences like that one — the chance to feel connected to the past by holding a piece of history in your hand — can and do kindle lifelong passions. And those types of opportunities are ever-present at Harvard."
Nearly 1,000 students and family members learned how to make the most of those opportunities on Saturday, during a presentation by Richard J. Light, Walter H. Gale Professor of Education at the Harvard Graduate School of Education, adjunct faculty at Harvard Kennedy School, and author of "Making the Most of College." Light advised freshmen to make an effort to get to know well at least one faculty member each year, and pointed to the College's freshman seminars — which usually cap enrollment at around 14 per class — as ideal for this purpose. Light also counseled students to strike a balance between "investing" — trying a new subject or activity — and "harvesting" — building on strengths they already possess.
"I interviewed a student who was a cross-country runner who loved to run, while not being so great at studying modern languages in high school," he said. "He decided to continue with cross-country running — that is his 'harvesting' — while also trying to learn, in a beginning level class, a new foreign language."
Light suggested that students could learn the most in courses where there are many opportunities for them to receive feedback — a class that has weekly short papers, for instance, rather than one that requires only a mid-term and final exam. Lastly, Light told freshmen to reach out to people who disagree with them on ideas and issues that they feel passionate about.
"A liberal Democrat might consider making sure a few friends are conservative Republicans, and vice versa," he said, "not because anyone thinks having such friends will get you to change your mind about everything, but rather because having such friends will push you to clarify why you believe what you believe. Harvard is a once-in-a-lifetime chance for each freshman to get some exposure to new ideas and perspectives from some very smart fellow students."
In between the addresses and presentations, there were opportunities for parents to get their own exposure to undergraduate life. Friday's activities included tours of Widener Library and Memorial Hall, open houses at many Harvard museums, faculty presentations, and a 375th celebration performance by renowned cellist Yo-Yo Ma '76. On Saturday, some students and families rooted Harvard's football team to victory against Bucknell, took in the Harvard-Radcliffe Dramatic Club's production of "Rosenkrantz and Guildenstern Are Dead," and watched acts from the College's African-American community compete for a cash scholarship at the Harvard Black Students Association's Apollo Night.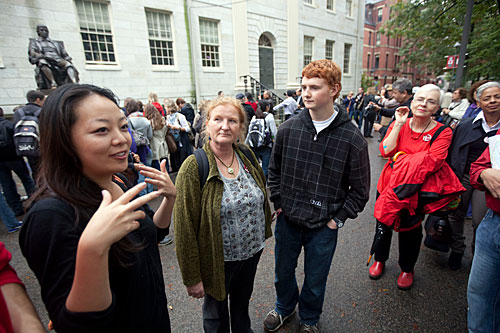 Ellen Malka traveled from Virginia to attend the weekend program and to visit with her daughter, Ronit Malka '15. She appreciated the reassurance offered by the Parents Weekend speakers and said that the message of exploration resonated with her hopes for her daughter.
"I think they did a good job of making [parents] feel comfortable," she said. "I also thought that building a home of identity and belief was a nice concept. It helped me to understand Harvard's philosophy more and to have a little insight about the process and the end goals. We've always felt like exposure to the liberal arts is a really important thing. It's one of the reasons we're glad that our daughter's here."