Twenty Harvard professors are among 179 of the nation's most influential artists, scientists, scholars, authors, and institutional leaders who were inducted into the American Academy of Arts and Sciences at an Oct. 1 ceremony in Cambridge.
Founded in 1780, the academy is one of the nation's oldest and most prestigious learned societies, and an independent research center that draws from its members' expertise to conduct studies in science and technology policy, global security, the humanities and culture, social policy, and education.
"Induction recognizes extraordinary individual achievement and marks a commitment on the part of new members to provide fundamental, nonpartisan knowledge for addressing today's complex challenges," said the academy's President Leslie C. Berlowitz.
The 231st class includes winners of Nobel, Pritzker, and Pulitzer prizes; the Turing Award; MacArthur and Guggenheim fellowships; Kennedy Center honors; and Grammy, Golden Globe, and Academy awards. Foreign honorary members from Argentina, India, Israel, Japan, and the United Kingdom were also inducted.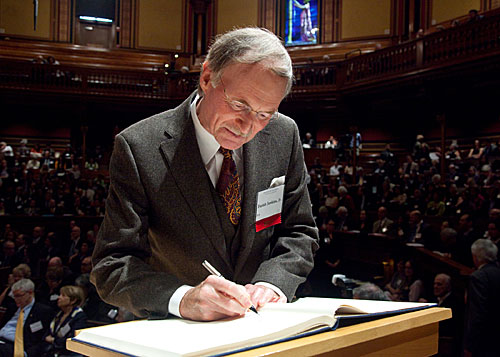 The fellows from Harvard follow:
James Ireland Cash Jr., James E. Robison Professor of Business Administration Emeritus, Harvard Business School
Timothy J. Colton, Morris and Anna Feldberg Professor of Government and Russian Studies
David Paul Corey, professor of neurobiology, Harvard Medical School
George Q. Daley, professor of biological chemistry and molecular pharmacology; professor of pediatrics, Harvard Medical School
Philip A. Fisher, Felice Crowl Reid Professor of English
Julio Frenk, dean of the Harvard School of Public Health; T & G Angelopoulos Professor of Public Health and International Development
Annette Gordon-Reed, professor of law; Carol Pforzheimer Professor at the Radcliffe Institute; professor of history in the Faculty of Arts and Sciences
Daniel Arie Haber, Kurt J. Isselbacher/Peter B. Schwartz Professor of Oncology, Harvard Medical School
Robert F. Higgins, senior lecturer of business administration, Harvard Business School
Jay Harold Jasanoff, Diebold Professor of Indo-European Linguistics and Philology
Farish Alston Jenkins Jr., professor of biology and curator of vertebrate paleontology; Alexander Agassiz Professor of Zoology; professor of anatomy
Alex S. Jones, director of the Joan Shorenstein Center on the Press, Politics and Public Policy; Laurence M. Lombard Lecturer in the Press and Public Policy, Harvard Kennedy School
Frances Myra Kamm, Littauer Professor of Philosophy and Public Policy, professor of philosophy, Harvard Kennedy School
Thomas Forrest Kelly, Morton B. Knafel Professor of Music
Robert E. Kingston, professor of genetics, Harvard Medical School
David Laibson, Robert I. Goldman Professor of Economics
Louis Menand, Anne T. and Robert M. Bass Professor of English
W. Jason Morgan, visiting scholar, Department of Earth and Planetary Sciences
Michael R. Van Valkenburgh, Charles Eliot Professor in Practice of Landscape Architecture, Harvard Graduate School of Design
Daniel Martin Wegner, John Lindsley Professor of Psychology in Memory of William James