It was summertime, and the livin' was easy. But maybe not the acting.
"Let me see the inner conflict," yelled Osh Ghanimah, a first-year student at the American Repertory Theater (A.R.T.)/MXAT Institute for Advanced Theater Training, addressing a group of eager, rambunctious students at the Boston Collegiate Charter School in Dorchester.
Fish were jumping — well, one fish was jumping, played by Jordyn Paomer-Mattier, who bounced to great effect, before being "caught" by fellow fishermen/thespians, who cracked up as they wrestled the 15-year-old to the ground. "We're not laughing. This is serious," Ghanimah shouted, as intense as any Broadway director. "You're going to feed your family for three weeks because of this fish. We don't respect ourselves as actors by laughing."
Paomer-Mattier and about 40 of his classmates were reinterpreting the classic tune "Summertime" from George Gershwin's opera "Porgy and Bess" as part of a two-day workshop on Sept. 12 and 13, conducted by the A.R.T./MXAT Institute. "Reimagining Porgy and Bess" is part of the A.R.T.'s outreach program to introduce high school students to the 1935 opera, which is on stage at the A.R.T. now as "The Gershwins' Porgy and Bess." About 600 students will see performances of the opera.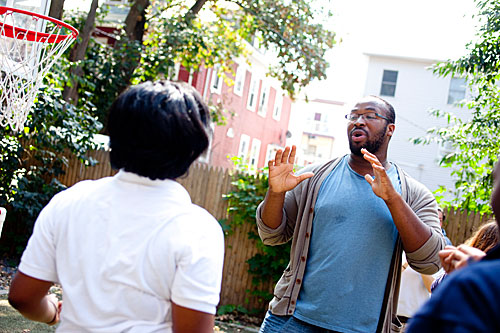 Organizing the Boston Collegiate students into groups in the school courtyard and getting them to focus on creating one- to two-minute productions was a bit like herding cats. Working with the students were Ghanimah; Brendan Shea, A.R.T. outreach and education associate; Jenna Clark Embrey and Tyler Monroe, both A.R.T. second-year dramaturge students; and Amen Igbinosun, an acting student. Also helping were two special assistants, including Nathaniel Stampley, an actor who plays "Robbins" in "Porgy," and volunteer Sarah Patrick, the daughter of Massachusetts Gov. Deval Patrick.
What was gratifying for both "actors" and "directors" was the energy that the students put into their mini-productions and how each interpretation was unique.
One group used an outside balcony to create a fishing scene, another turned "Summertime" into a rap tune, and a third made it into a dance production. One group used the song to create a tender depiction of friendship, another to show community child-rearing. Some students highlighted the bump-and-grind potential of the line: "Your daddy's rich, and your ma is good looking." Another added its own line: "Summertime and the living is high; now we're back in school, summertime goodbye."
"That was so, so great," Shea enthused during applause at the final "curtain." "One thing I noticed, there was no repetition. They were all totally different."
Embrey, who was the dramaturge for the A.R.T. production, was astonished that the students picked out rhythms and movements that reflect choices made in the stage production. "One of my kids did something; she started doing this movement — and we DO that in the show," she said.
A.R.T. Artistic Director Diane Paulus' reimagining of "Porgy and Bess" has stirred debate in theater circles, but Stampley saw the students' work as reinforcing the power of reinterpretation.
"We all had the same song, but clearly it resonated differently among everyone, just like in the real world, and that's the beauty of this production of 'Porgy and Bess' that we're doing every night," he said.
The exercise turned what could have been presented as a dusty artifact from the 1930s into a 2011 statement. Sophomore Milan Anderson had vaguely heard of "Porgy and Bess" before, but now she knows the background story. "They've done so many different productions. I'm betting that a lot of people would still like it," said the 15-year-old, who is interested in acting and singing.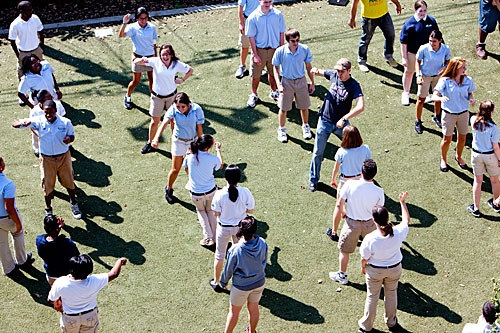 "Mining the personal out of an existing piece of art makes you feel more personally connected to the piece itself," Shea said. "When [students] see the production, it will be rewarding talking to them after the show to see how they were able to feel a little more invested in it."
Even a brief acting stint was memorable for Paomer-Mattier. "I like playing a fish," he said. For the record, members of his group did not laugh once while "onstage."