Collier Winters '12 speaks with a low Oklahoma accent. He has long, white-blond hair and facial scruff, along with the rugged Southern looks to make a girl scream. He might make a decent country singer, but he has an even better gig as Harvard's quarterback.
Winters is one of the "summer dogs." Though the Crimson's first game isn't until Sept. 17, Winters and a group of other players stuck around Cambridge all summer, practicing and preparing for the opening game against Holy Cross.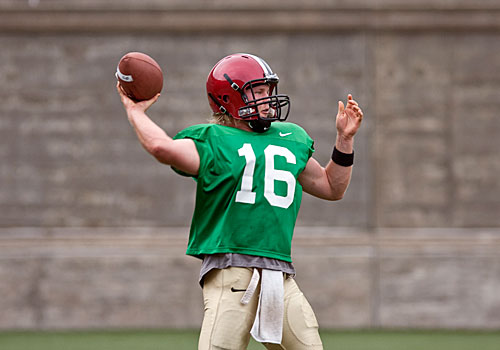 They got jobs, moved into alternate housing, and lived with a discipline typically unheard of once June rolls around. They awoke at 5 each morning, save for Thursdays. They got on the field. They worked out for hours, went off afterward to each do their own thing, but returned come evening to do it all again.
"I'd rather wake up at 5 a.m. and be with these fellows than anybody," said Treavor Scales '13, a running back from Stone Mountain, Ga., who was recently named preseason All-Ivy League by Phil Steele's College Football Preview.
Linebacker and team captain Alex Gedeon '12 and towering defensive tackle Josue Ortiz '12 stuck around with Winters and Scales. With the exception of Scales, this is their final season playing college ball, so it's all on the line.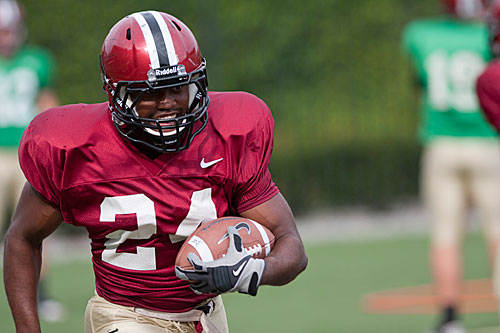 Winters, who tore his adductor muscle early last season and was replaced by a third-string quarterback, is more than ready to make up for lost time. "Our goal this year is to win every game," he said. "And I'd like to end this season as the best quarterback in the Ivy League."
Despite Winters' injury, the Crimson finished 7-3, which included a victory against rival Yale.
"I was proud of our team last year," said coach Tim Murphy. "We weren't a great team, but we were cohesive and resilient. We still managed a second-place Ivy finish and an Ivy League record 10th-consecutive year of minimum seven wins."
Having Winters back is a bonus, said Murphy. "But it's a very unusual year with every team in the league returning an All-Ivy-caliber quarterback. For that reason and others, the 2011 season shapes up as one of the most competitive and interesting races in many years.
"Defensively, we have good players at every level, and Josue Ortiz, Alex Gedeon, Matt Hanson, and Dan Minamide will be among the best players in the league at their positions. But we also must become a stronger, more physical team on both sides of the ball to reach our goals."
The Crimson has but three short months to make history.
"Our goal is the Ivy Championship and to beat Yale for the 10th time in the last 11 years," said Murphy. "But only time will tell with this team."
"We all have higher aspirations of being in the NFL," said Ortiz. "But if that doesn't work out, we have that Harvard degree."
Ortiz, an economics concentrator from Avon Park, Fla., said he tries to keep his teammates grounded, but uplifted. "I want to be remembered as a spiritual leader, on and off the field," he said. "What you do off the field is important, too."
He doesn't much go out on weekends and is involved in a Christian fellowship on campus. After slow-performing freshman and sophomore years, Ortiz climbed the ranks to make this year's first-team All-Ivy League, as well as the College Football Performance Awards Watch List and preseason All-America third team by College Sporting News. Now he just wants to win, plain and simple.
"When I started out, I wasn't very good. But I worked, and I got there, and now here we are."
And everyone is watching.
View the season's full schedule.