Harvard College's newest students got a taste of University ritual on Tuesday during the annual Freshman Convocation in Harvard Yard. The event — which features remarks from University leaders as well as performances by the University Band, the Kuumba Singers, and the Holden Choirs —marks the students' entry into the Harvard community.
Freshmen marched in procession to the ceremony in Tercentenary Theatre, cheered on by upper-class members of the College's Crimson Key Society. Along the way, alumni handed the freshmen class lapel pins, a Harvard tradition revived when the convocation ceremony was instituted in 2009.
University President Drew Faust welcomed the freshmen under a cloudless sky, noting that convocation was meant to serve as one bookend of their College experience, the other being the Baccalaureate Service two days before Commencement in 2015.
"Two days before your graduation, we will gather once again," said Faust, who is also Lincoln Professor of History. "And once again I will speak to you, reflecting on what these four years will have meant to you. We will experience a lot together between now and then. And you will be different people, changed by what you have learned and done. I can't wait to watch those changes unfold, and make sure that we help you make the most of Harvard's opportunities."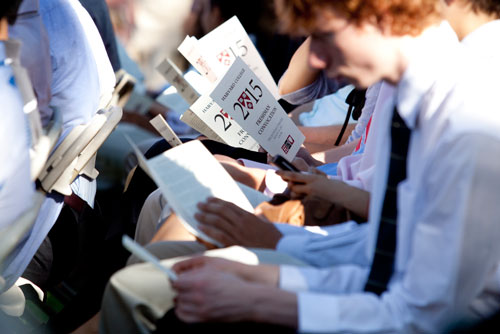 Faust was introduced by Dean Michael D. Smith of the Faculty of Arts and Sciences, who offered students advice on how to approach their time at Harvard. Smith asked students to restrain their natural tendency to compare themselves to their classmates and simply try to learn something new every day. Above all, Smith urged freshmen to plug into the vast network of knowledge and people at Harvard.
"Harvard connects the past to the future," said Smith, who is also John H. Finley Jr. Professor of Engineering and Applied Sciences. "It connects formerly discrete disciplines to each other. It connects classrooms to the world outside them. But most importantly, it connects people, and in doing so shapes what we know, who we are, and how we make our impact on the world. So when you find that little voice in your head comparing you to that fellow classmate two or three rows over, I hope you remember these three words: Don't compare, connect."
Harvard College Dean Evelynn M. Hammonds, the Barbara Gutmann Rosenkrantz Professor of the History of Science and of African and African American Studies, kicked off the afternoon remarks by urging students to bring their "best selves" to their time at the College. She asked them to integrate their personal questions into their academic lives to find meaning in the answers, and to recognize that education also happens outside the classroom.
"Your education will also come in the dining hall, in your dorm rooms, and through the mistakes you will make as you try out new ideas and new ways of being," she said. "Take risks. Start over. Find new answers with better reasons behind them. Laugh at yourself. Laugh with your friends. Get more sleep than you think you might need, and be more generous than you suspect is strictly necessary. Why do we ask these things of you? Because the quality of our community is at the heart of our educational enterprise — it's what makes all of our achievements possible."
Students also heard rousing speeches from Dean of Freshmen Thomas A. Dingman and Harvard College senior Ekene Obi-Okoye during the afternoon program. Harvard Alumni Association President Ellen Gordon Reeves '83 led the freshmen in singing "Fair Harvard" to conclude the festivities.
As he waited to walk over to Widener Library for the class photo, freshman Fadhal Moore from Atlanta, Ga., said he found the ceremony inspiring.
"I'll always remember the fellowship of convocation," he said. "Sitting here in the Yard, with the band playing and the speeches, being reminded that I'm about to start school at Harvard University… I'll never forget this, ever."