Performer Michael Jackson may be a legend, but if some local high school students had their way, he'd be the namesake behind a futuristic school — Michael Jackson High School.
Like the man, the school would be one of a kind, with beanbag chairs, one-way mirrors, and teachers who are holograms beamed into the middle of the circular classrooms. The team behind this stupendous brainwork includes Claudeline Leger, Sara Barbosa, and Andre Augustin of the Cambridge-Harvard Summer Academy, an intensive, six-week summer program that partners Cambridge Public Schools with the Harvard Graduate School of Education's Teacher Education Program (TEP).
The free program, which offers local high schoolers an opportunity to boost their academics, also provides a learning opportunity for TEP students, who are paired with experienced teachers.
Ed School student Jeremy Jackson, who studied engineering and design prior to enrolling at Harvard, helped the students with their intricate layouts and floor plans. "It was my first time ever teaching," he said. "So I learned a lot because we were just thrown into the mix."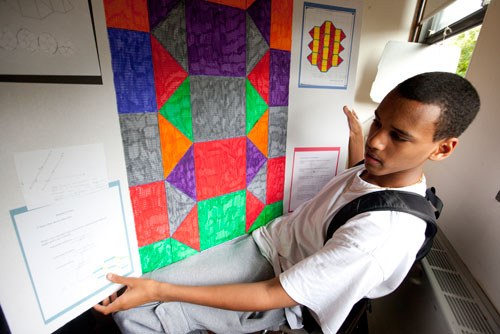 "Our school has three different buildings connected by a circular cafeteria and library," explained Leger, a 10th-grader at Cristo Rey Boston High School. She, Barbosa, and Augustin were on hand to explain everything from the school's cost to its design concept during the academy's inaugural student exhibition on Wednesday (Aug. 10).
Though the project theme was innovative — "Design a High School for 2050" — it was actually part of an old-fashioned geometry class. That's not always a favorite subject, the students readily admitted. But combined with the funky approach and teamwork, geometry may be on the up and up.
"We worked together. We had our ups and downs, but we came through," said Augustin. And the teachers? "They're cool people."
In another classroom, students were presenting their original essays based on the NPR program "This I Believe," which invites the public to write and share the core values that guide their lives.
Paula Baker, 16, of Cristo Rey High, believes in "going to guidance" — a phrase she gleaned from a former teacher, who frequently sent students to the guidance counselor. Baker and her friends use the phrase often. But, she explained, it's really a metaphor for communication.
"In our minds, when you go to guidance, you become educated about and fully understand a topic or situation: You know it. When it comes to relationships, I believe that you must go to guidance because truly knowing the people you surround yourself with, and letting others know you, will make you a happier person in the end."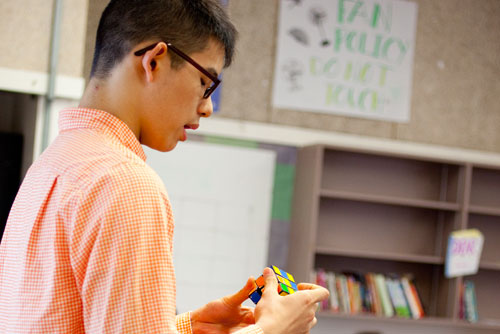 Baker and other students read from their essays, as well as their original poems. Some showed poster boards of their interests — ranging from soccer to superheroes to pediatrics — and others juggled and performed dance moves. But student Dante Chen solved a Rubik's Cube in less than two minutes, all the while talking about humility.
"I was a bratty kid. I always believed I was the best. I didn't like that about me — no one likes someone who's so arrogant," he said. "It's cliché, but everyone does have their strengths and weaknesses. It's a weak person who believes that their strengths are better than others."
More than 350 high school students benefited from personalized instruction this summer — a record number of participants. The academy now implements a project-based program that culminates in the students developing a concept that applies the skills and concepts they've learned.
"The power of the program comes when the interns learn from master teachers about how to plan a course, design a project, and work really closely with students toward that outcome," said Kyle Hartung, co-director of the academy. "And the students also learn from other students. Together they are able to encourage one another to think and learn in new ways."
"One of the best things about the academy was the small groups and five teachers I had," said Baker. "We got to share and get personal in our classes."
Rachel Cohen, one of Baker's instructors from TEP, said her experience at the academy was "fascinating, illuminating."
"It's great to work in a place where you feel necessary. Working on a team with four of your peers and master teachers is empowering," she said. "A lot of these kids have had a hard time in school, but they were so willing to participate. It made me feel a lot more optimistic about the students I'll be teaching someday."