The Red Devils descended on Harvard Tuesday (July 12) for a date with some lucky schoolchildren from the Boston neighborhoods of Allston and Brighton, and with John Harvard.
"It's a famous university so it's fantastic to be here," said Denis Irwin, a 1990s standout with the famed English soccer team Manchester United, nicknamed the Red Devils.
During their visit, members of the team's Manchester United Soccer Schools, including Irwin, taught a soccer clinic at the Harvard Stadium for students at the Gardner Pilot Academy summer camp located in the Allston neighborhood of Boston.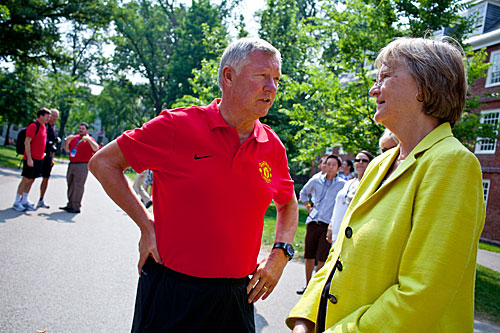 Irwin, a former player for the Republic of Ireland's national team, said encouraging young people to get involved in sports is an important part of the soccer school's mission.
"There's a global push for people to get out and be fitter and to eat healthier, and that is part of what Manchester United is about …  we have always produced young players, so it's very important" to get youth involved.
The young campers didn't let the sweltering heat interfere with their fun as they practiced their technique and played in small-sided games run by the school's staff. Though he was sporting a New England Patriots T-shirt with the name Welker on the back, one young camper was excited to be playing that other type of football.
"It's really fun. They are teaching us new skills, you run around, and you play matches.
In Massachusetts for a game against the New England Revolution, the team stopped in the Old Yard to meet Harvard President Drew Faust and pose for photos with the renowned John Harvard Statue.
On a brief walk through the Yard, Faust noted points of interest to the team's manager Sir Alex Ferguson, including the site of the archaeological dig involving the Indian College, Harvard Yard's first brick building, and Harvard's oldest building: Massachusetts Hall.
"We are 375 years old this year," Faust said. "Compared to your part of the world, that's fairly young."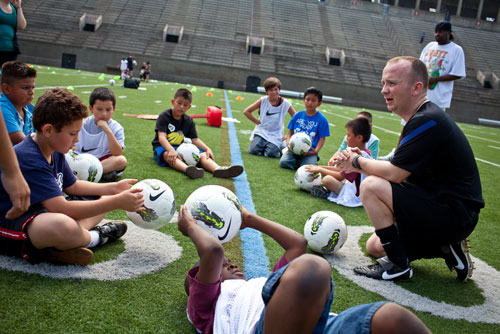 Manchester United defender Patrice Evra was one of the lucky players who grabbed the statue's left foot, which, according to legend, brings good fortune to those who touch it.
The players mingled with surprised fans who were thrilled to see the soccer superstars casually strolling through the Yard like regular tourists.
"I'd never have had a chance to see them this close up, and to take a picture with them — to actually see them live is the best thing," said Serbian Aleks Markovic, a lab administrator in Harvard's Chemistry Department who chatted with the team's captain Nemanja Vidic, a fellow Serb.
Wearing Crimson baseball caps, the team gathered around the John Harvard Statue, which sported a Manchester United scarf around its neck for the occasion. Ferguson held up a Harvard sweatshirt for the pictures with Faust, who, like John Harvard, wore a Manchester United scarf.