Steamy temperatures, sunny skies, and smiling faces were in ample supply at Thursday's (July 7) official opening of Library Park in Allston, a new community space on Harvard-donated land that those attending instantly put to good use.
On a lot once covered with cement piles, children laughed and played in a whimsical water fountain while parents and friends looked on from nearby benches, surrounded by some of the park's 150 new trees. Neighbors strolled along a series of footpaths, and longtime Allston residents took in the views of Cambridge and Boston from a small hill at the park's center. Some visitors took off their shoes and walked through the lush grass.
Located behind the Honan-Allston Branch of the Boston Public Library, the neighborhood's newest green space was created on land given to Boston by Harvard.
Allston resident Emma Gentry pushed a stroller with her year-old grandson Dylan Tallon along one of the park's circular paths and reveled in the scenery. "It's extremely well-planned, meticulously taken care of," said Gentry, who lives nearby. "They just really put every effort into it. I am really impressed. I am also really interested that it's sustainable. That's just fantastic."
"I want to thank Harvard for working with the community to transform what was a vacant industrial site into a beautiful new sustainable park that will be treasured by Allston residents and the entire city for years to come," said a statement issued by Boston Mayor Thomas M. Menino.
Once part of the original Charles River marshland, and later the site of the McNamara Concrete Co., the 1.74-acre tract has been re-imagined as a natural, sustainable space. The creation of the green space is in accord with the community's desire for a unique and quiet place for residents. Library Park offers a variety of spaces and experiences for visitors, including a tiered area for reading and small classes; the hill with views of Allston and Cambridge; a circular event lawn; a rain garden, and the quarter-mile of paths that weave through mostly native deciduous trees and lawns.
"Library Park is a tangible reminder of Harvard's commitment to Allston, and is one of the many community programs and improvements that are strengthening the fabric of this neighborhood," said Harvard President Drew Faust. "We are proud to partner with the Allston community and the city of Boston to make this dream a reality.
The park is a pilot project in sustainability for both Harvard and Boston's Allston neighborhood. It reuses salvaged fill, and collects surface runoff for groundwater recharge through rain gardens. It introduces a variety of mostly native species of plants and trees that will support a more diverse ecology and improve wildlife habitat. Manufactured planting soils, well-draining and filled with organics and nutrients, create optimal growing conditions. The park will be organically maintained by Harvard for the next decade. Organic maintenance of public parks is a new concept, according to park architects.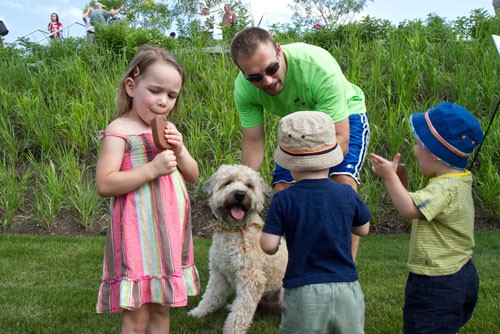 For longtime Allston residents who recall the dust and trucks of the concrete company, the green space is a welcome change, and the centerpiece of a healthier and more enjoyable experience.
"The place was a mess with the dust and cement piles, but I think every kid in the neighborhood played here," said Rita DiGesse, who lives three doors down from the park in the house where she was born more than 80 years ago. "This is a great accomplishment and a great addition to the library. It is something that will suit everyone in this community."
Longtime residents recalled the cement slabs that once dominated the landscape. As children, Wayne MacKenzie and his sister Eileen Savoia would jump from block to block and sled down piles of rocks covered with snow. The new space, they said, was a tremendous improvement. "It's great; it's a welcome addition; it's much better," said MacKenzie.
The park planning and design team, which included the landscape architectural firm Michael Van Valkenburgh Associates Inc. (MVVA), Harvard, and the Boston Redevelopment Authority (BRA), created the space through an inclusive and collaborative process.
That process began with Picnic in the Park, a communitywide picnic in May 2008 that drew nearly 500 community members who shared ideas directly with planners and designers. More than 20 subsequent planning meetings, working groups, and virtual-planning work sessions provided additional opportunities for residents to suggest, create, and experience a variety of potential park concepts, which informed the final design.
"It has been a great honor for my office to work with such a visionary group of people —the Boston Parks Department, the Boston Public Library, the BRA, Harvard, and the Allston community — to create Library Park," said Michael Van Valkenburgh, principal architect for the firm. "This is our first public park for Boston. Most importantly, my team at MVVA — which includes Laura Solano, Emily Mueller de Celis, and Chris Donohue — hopes we have given the people of Allston a place of delight and relaxation."
Planners re-graded the flat site to support varied landscapes and activities. A new hill offers visitors a spot for perspective and contemplation and views, while the park's central lawn can be used for picnicking or sunning. The park's rain garden collects water runoff for groundwater recharge, and the aspen grove veils the parking lot. The event lawn for gatherings and a new garden edge along the library embed the building within the park.
"This neighborhood recognized what they needed before any designers showed up," said Solano, a principal of Valkenburgh Associates. "Residents knew that they already had active community landscapes, and that they wanted a meeting ground for neighbors that would offer places to stroll, chat, sit, and read a book, all while experiencing a green space that is an extension of the library itself."
Smaller-scaled places create comfortable environments for all ages. The Reading Circle at the building's edge is intimately scaled for focused story time with children or quiet reflection. The informal Outdoor Classroom straddling the central lawn and event lawn can be used as a performance stage, as seating for a reading, or for more casual activities. A hilltop seat wall defines another outdoor room with views. Wooden-backed benches along the edge of the lawns allow for people-watching and individual seating.
For Bob Alexander, who has lived in Allston since 1966, the new park offered him an old vantage point. For 13 years, Alexander worked at the top of the concrete company's plant, where he got a "bird's-eye view" of Cambridge.
"When I was young, at that time, I never envisioned this spot," he said, adding that the vista is "the view that I had when I was 20 years old. Now it's a beautiful view I have as an old man."
A quirky fountain reuses granite lions' heads salvaged from the Western Avenue site. The stone animals spout water from their mouths, providing an interactive feature that fulfills a community desire and cools the air with ambient mists on a hot summer day.
Friends Ava Healy and Julia Weeks, both 9, quickly explored the water fountain, racing back and forth through the mist. They took part in the Library Park Construction Club, a six-week program held in conjunction with the design team and the branch library that gave Allston/Brighton children a chance to learn more about the construction of the park and imagine what the empty field would become.
"I think it's really nice," said Healy of the result, "and a great place to read."