Feeding Harvard is a group undertaking. The roughly 600 employees of Harvard University Hospitality and Dining Services (HUHDS) can attest to that. But any Food Network fan worth his kosher salt knows there can only be one "Iron Chef."
At Annenberg Hall on July 20, 20 Harvard Summer School students-turned-amateur chefs took on the challenge of cooking under pressure with a secret ingredient in hopes of claiming this year's title.
As their audience of classmates noshed on salad bar fare and macaroni and cheese, four teams of five students whipped up entrées in just under an hour, using nothing more than fresh local produce, small fuel burners, dining hall pans, and a surprising amount of ingenuity.
Their efforts were a sign not just of the community that develops among the program's live-in students, but of the rising sophistication of Harvard's food culture.
"There's certainly been a growing interest [among students] in food over the past five years," said Martin Breslin, director for culinary operations for HUHDS and one of the evening's judges. "We see quite a lot of students asking for stronger taste profiles, like Korean barbecue. And in general they're more food savvy, more food aware."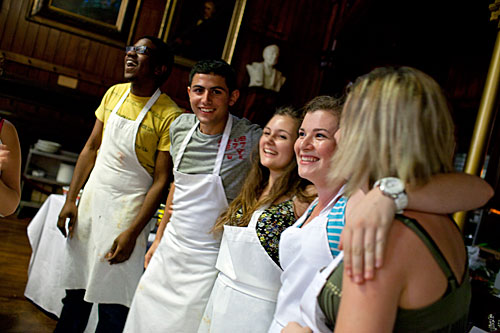 Well before the evening's 6 p.m. start time, team members huddled over cutting boards, prepping vegetables and herbs they'd bought at the Harvard Farmers' Market with their $60 budgets. As on the popular Japanese television show and its stateside counterpart, "Iron Chef America," the teams were given a bit of a heads-up about the secret ingredient they'd need to incorporate into their dish.
"We told them it was a fish that could be caught in both oceans and rivers," said David Seley, the manager of Adams Dining Hall, who has emceed the Iron Chef Competition since its inception several years ago (save one year, he said, where he was sidelined by a "motorized rollerblading accident").
When it came time for the big unveiling, Seley rolled in the ingredient of the hour: striped bass, whose fishing season in Massachusetts began this month.
In addition to Breslin, Cambridge foodie favorites Susan Regis, chef at Harvard Square institution UpStairs on the Square, and Paul O'Connell, chef and owner of the French-Cuban bistro Chez Henri, lent culinary credibility to the judges' table. Lisa Laskin, Harvard Summer School associate dean for academic affairs, and Summer School Dean Donald Pfister, Asa Gray Professor of Systemic Botany, rounded out the lineup of taste testers.
For many of the Summer School's large population of high school students, a summer at Harvard marks the first time they've been away from home, Pfister said. Considering that roughly 20 percent of Summer Schoolers come from other nations, making students feel at home in the Yard becomes both more important and more challenging.
"We do a lot of special preparation in the dining halls" to accommodate different cultures' cuisines, Pfister said. "Food can be an important [comfort] element for students when they're away from home."
The international vibe translated to the teams' dishes. American students might have overlooked the relatively uncommon herb purslane at the farmers market, but Hazal Sabah, an Istanbul native and a member of Team Dunks, instantly recognized it as Turkish semizotu, the distinctive green that she whipped into a tangy garlic-yogurt spread to serve over crostini.
Across the room, Pedro Ojeda, a member of the First Thayer team, worked from a secret recipe for "spring sauce" of fresh raw tomatoes and herbs for the striped bass.
"My dad owns a restaurant in Spain, and the chef taught it to me," he said.
Still, some competitors were far from seasoned foodies. Team Turquoise Jeep — made up of four Stoughton High School seniors and their Summer School proctor, Daniel Oh '11 — admitted they were stumped by the secret ingredient.
"We were up all night Googling fish, trying to figure out what it could be," said team leader Aissatou Barrie-Rose. They had guessed salmon. "None of us actually knows what striped bass tastes like," she said. "But we do watch a lot of 'Iron Chef.' "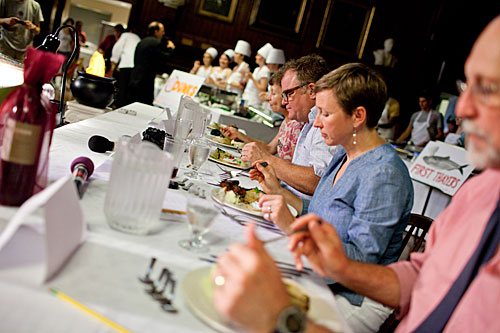 After receiving their cuts of bass, each team had 45 minutes to cook. Seley kept the mood festive with running commentary, food-trivia questions, and movie-ticket giveaways, but the kitchen action was clearly the main draw.
A teriyaki sauce went up in smoke, necessitating a run to the Annenberg kitchen to deglaze the pan. (The dish was salvaged.) A pasta-pot boil-over demonstrated that even the most devoted Food Network followers still hadn't learned how to restart a gas burner.
The teams appeared nervous as they presented their plates to the five judges, who graded the offerings on taste, temperature, presentation, and originality. The results were impressive: fried fish cakes over a bed of salad; a simple pan-seared fish with linguine and herbs; panko-encrusted bass with roasted potatoes and ratatouille; and a plate of teriyaki-glazed fish, coconut rice, garlic mashed potatoes, and crostini.
"It was nice to see that everyone did a very different take on the bass," Breslin said.
At the end of the night, however, there could only be one victor. After a drumroll on his gong, Seley announced the winner: "All bow and hail Iron Chef Thayer!"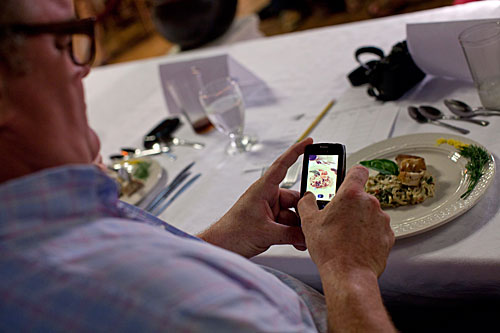 First Thayer team members Ojeda, Caitlin Castella, Melissa Warshauer, Lejla Halilagic, and Bradley Craig, a Summer School proctor and Pforzheimer House junior, were swarmed by friends after their panko-encrusted dish won. They each received a wrapped gift, which turned out to be a set of eggbeaters. "I wanted a diploma," one joked.
But what would become of Harvey, the 20-pound striped bass brought in to spice up the décor?
"He's going home with the dean," Seley quipped.