Close to 1,000 information technology staffers from across Harvard turned out Thursday (June 23) for the inaugural Harvard IT Summit, a daylong conference that showcased tech developments across the University, and united its vast IT community.
"Today's IT Summit acknowledges that we are a community with common interests," said Anne Margulies, Harvard chief information officer, who opened the conference in a crowded Sanders Theatre. "Our goals today are simple: to build our IT community and provide an opportunity for all of us to learn from each other."
The summit was sponsored by the CIO Council at Harvard, a group that aims to advance University-wide IT strategies, policies, and standards, in collaboration with the Center for Digital Education, a national research group that frequently works with universities and colleges on technology issues.
The summit also marked the launch of a new joint IT department, Harvard University Information Technology (HUIT), that will combine Faculty of Arts and Sciences (FAS) IT and University Information Systems, which serviced the central administration.
The result of a nearly two-year-long process overseen by Harvard Executive Vice President Katie Lapp and FAS Dean Michael D. Smith, HUIT officially launched on June 15 after a six-month transition overseen by a planning team of more than 100 employees.
Many in the crowd expressed their appreciation at being part of the summit and at being united with members of the broader IT community in pursuit of a common goal.
"I feel like I'm a foot taller. I am so proud to be part of IT at Harvard," one participant told Margulies during the event. "That comment made my day," said Margulies, who said a third goal for the event was to connect the role of the IT community to the University's mission.
"That is exactly what we were shooting for, for the IT folks who are working so hard with their heads down to be able to lift their chins up and really understand how important their work is to the mission of Harvard."
Harvard President Drew Faust agreed, noting during morning remarks that the work of the IT community can promote the University's mission by capturing opportunities offered by the technology revolution.
By finding new ways for people to work more efficiently and effectively, the IT community can help to make a Harvard education more affordable, said Faust. It can also increase Harvard's global presence by helping make the University's teaching and learning more broadly available, and it can act as a critical driver of innovation.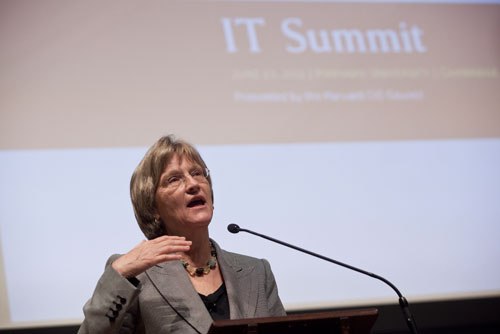 "You all can offer us so much as we think about how to move into a culture of continuous improvement and continuous innovation," said Faust, who encouraged the group to think about their work with a "one University" mindset. "We have more distributed excellence than almost any institution on Earth of our kind. But if we joined those excellences together into combined strengths, we are simply unsurpassed in what we can achieve."
Faust urged the crowd to find ways to use IT to communicate and collaborate in ways that "enable us all to learn most effectively from one another and to advance the University's extraordinary mission of discovery and of using knowledge in service of a better world."
John Palfrey echoed Faust's comments. Palfrey, the Henry N. Ess III Professor of Law and vice dean of Library and Information Resources at Harvard Law School, said that the IT community is poised to transform teaching and research across the University, drive innovation, and help "reinvent the absolutely core mission and activities of the University."
The work, said Palfrey, will require reimagining the learning environment, collaborating with competitors, connecting the virtual world to the physical one, building on concepts like Harvard's metaLAB that encourages virtual sharing of information and experimentation, and projects like StackView at the Harvard Library Innovation Laboratory that allow students to browse stacks virtually and gather a host of information about the books they are seeking.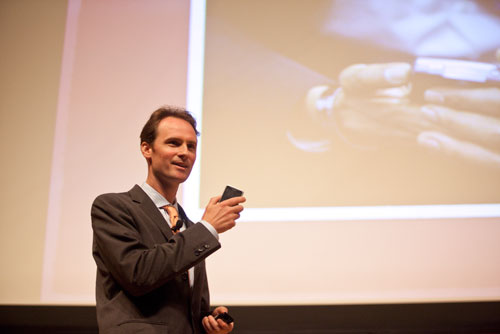 "We have to figure out how do we innovate in our core activities," said Palfrey.
Such vital work can only be accomplished with the help of the IT community, which understands the workings and importance of information architecture, Palfrey said, and which can help the community understand "the art of the possible."
Kevin Newman, the web technology director for the Harvard Business Review within Harvard Publishing, found Palfrey's words inspiring.
"It just reminds us …  we can really make a difference."
After the morning presentations in Sanders, attendees headed over to the Center for Government and International Studies (CGIS) and Harvard's Science Center to sample various numerous IT offerings.
More than 30 panel discussions covered everything from the role of mobile apps in teaching to distance education course design to data recovery to web conferencing. The offerings ranged from the highly technical to the offbeat academic, like a panel that explored how scholars annotate their sources in the age of multimedia. The presenters came from Harvard's Schools, libraries, museums, and affiliates.
Throughout the day, external industry experts also chatted with Harvard employees in an exhibition hall at CGIS and participated in educational sessions to share their knowledge.
In the lecture halls, one thing was clear: Mobile devices are increasingly the way the world connects to the web. That includes the Harvard Gazette website and its variety of multimedia content options, said Chris Traganos, a web developer in Harvard's Office of Public Affairs & Communications, during a morning session titled "High Performance Distribution for Harvard Video, Mobile and the Gazette."
According to Traganos, the rate at which people are reading the Gazette via their mobile devices has jumped dramatically over the last year. Harvard's Commencement provided a perfect opportunity for the Gazette to create a seamless mobile experience for users looking for video content. Using dynamic video streaming, the University was "the first to provide multi-bandwidth for all major devices for mobile streaming," during Commencement exercises, allowing people around the world to watch the ceremonies in real time.
Traganos offered the crowd tips for increasing their sites' productivity. He encouraged the use of the product Chartbeat, which offers important real-time web analytics, and he suggested spreading out URL requests to different servers to help improve website performance times.
Face time has taken on a new meaning for members of the Harvard community engaged in the Harvard Video Core Project, which is developing a video conferencing infrastructure for the University. While such conferencing isn't new at Harvard, using a centralized system is, said Mike Cardoza, a Harvard University IT senior network engineer, during an afternoon session. Cardoza said the project cuts down on compatibility issues and costs, and helps to increase security. The initiative is also running a pilot project that allows 300 Harvard employees to videoconference directly from their desktops using the product Movi.
While many people think that what appears on the Internet lives in cyberspace forever, Andrea Goethals was quick to note that some things here today are gone tomorrow, during a session titled "Preserving Web Content at Harvard and Worldwide." Goethals, Harvard University Library's (HUL) manager of digital preservation and repository services, said the average website has a shelf life of between 44 to 100 days. And once it's gone, you can't always get it back. Also, with so much content on the web, not everything can be archived.
"Clearly," she said, "we can't save everything."
Goethals discussed the Harvard Library's current efforts to preserve University web material for future generations. Working with Web Archive Collection Service, curators harvest websites for an archived collection. Members of the Harvard community and the public can then browse the collection, which is stored on the HUL Digital Repository Service.