They created robotic insects, exploding Coke bottles, and a mini, mock Mars rover. They explored the boiling point of water, what colors absorb the most heat, and how a plant reacts to being watered with soda, milk, and just plain old H2O.
Four hundred eighth-graders from Cambridge Public Schools descended on Harvard on Thursday (May 5) to showcase their science and engineering projects as part of a citywide science festival, an annual spring event that highlights Cambridge as a leader in science, technology, engineering, and math.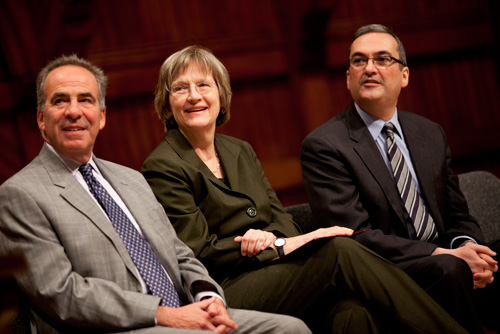 Throughout the day, the 13- and 14-year-olds explained their experiments and inventions, displayed under a tent beside Pierce Hall, to the Harvard community, including Harvard graduates, undergraduates, and members of Harvard's School of Engineering and Applied Sciences. The students also toured campus.
"It was a really good learning experience to have a hands-on … experiment, learning what engineers actually have to go through to create some of the buildings we use," said Sydney Fisher, a student at the Kennedy-Longfellow School.
Fisher worked on a schoolwide project that required the eighth-graders to form teams and create a structure that could resist forces like tension and compression. She smiled as she stood proudly behind a table displaying her multicolored tower fashioned from Geomags, a type of high-tech LEGO consisting of small steel balls, magnetic bars, and plastic panels.
Throughout the process, Harvard engineering students made regular visits to the school to test the students' structures, using tools such as a small jack to measure their ability to withstand external pressure.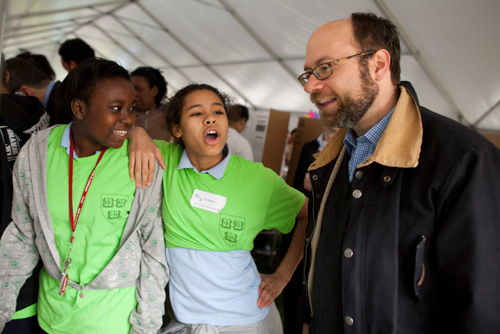 "It wasn't the best [at resisting compression]," said Fisher, "but we learned from our mistakes to create a better model.
She eventually hopes to help people by becoming a chemical engineer, a career path inspired by a past visit to Harvard, where she encountered scientists working on cures for diseases. Already thinking about college, Fisher called Harvard "one of my top schools."
Harvard regularly hosts schoolchildren on campus for a range of academic enrichment and college readiness programs. More than 6,000 students from Cambridge schools take part in mentoring and enrichment programs, visit the University's museums, and learn from Harvard educators each year.
"You are the future, and I am inspired by the possibility of what the future holds in your hands," said Harvard President Drew Faust, who welcomed the students to campus during a brief presentation in Sanders Theatre.
That future will be shaped in large part by science and technology, said Faust, who encouraged the students to "embrace the study of science and technology so that you all can have a hand in shaping that reality. In the years ahead, you are going to have the opportunity to invent and to innovate in ways that will make this world we live in a much better, safer, greener, healthier place."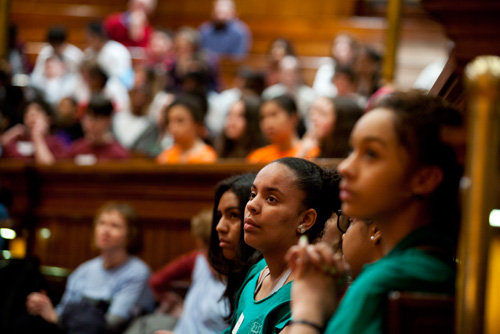 Cambridge Mayor David Maher also addressed the energetic students, who were dressed in colored T-shirts that corresponded to their particular school. He called Cambridge a city of innovation.
"You don't have to look further than Harvard, MIT, Kendall Square, and the surrounding companies working on solving problems like cancer, diabetes, and other diseases," said Maher. "And it's all of you here today who are going to solve those problems tomorrow."
Kathryn Hollar, director of Educational Programs for SEAS, helped coordinate the program with Cambridge Public Schools.
Our job as educators, she told the students, "Is to help launch you into the stratosphere."