Now we know it's true: Toothpaste, chicken parts, Sheetrock, and sushi rice can be the stuff of art.
"Oh, Pioneers!" is the proof. This year's exhibit of thesis work by graduating seniors in the Department of Visual and Environmental Studies (VES) is on display through May 26. The art seems edgy, daring, surprising, and courageous — just the right qualities for young artists about to enter the world of work.
It's a good time to try to break through as an artist, observed VES studio arts Professor Annette Lemieux, who brought her cocker spaniel to the show's April 29 opening at the Carpenter Center for the Visual Arts. "Everyone's broke," she said. "The playing field is flat."
Nearby, Julia A. Rooney '11, a VES concentrator, stood near her installation in the Sert Gallery. "True, it is one of the more risky and volatile careers," she said of art. "But VES gives you a model of how it could work."
The exhibit's title, an homage to courage, is still apt. But it also imparts the energy and hope of the Walt Whitman poem that inspired it. "Pioneers! O Pioneers!" you may remember, is an exhortation to youth and action. Its sentiments apply to new artists (and graduating seniors) everywhere. "We cannot tarry here," it reads.
We must march my darlings, we must bear the brunt of danger,
We the youthful sinewy races, all the rest on us depend, Pioneers! O pioneers!
For the time being, at least, these youthful sinewy races have a sense of humor.
In the Main Gallery, Rachel D. Libeskind '11 displayed a few works that play off the accidental properties of toothpaste. The squiggly theme gets replayed in her animation, a video loop of rapid-fire fashion and facial collage called "Tell All the Truth, But Tell It Slant" (2011). In an exhibit that is otherwise silent, the loop's low, whispery soundtrack is a creepy treat,  a kind of modulated exorcism.
A few feet away is "Garden" (2011) by Sarah Christian '11, a whimsical and weird collection of painted objects, including a seeming mushroom tipped on its side and a red cross-county ski, whose slender grace is contradicted by the broad clay foot resting on it.
Quincy Bock '11 plays with water, including three wall-size digital panels that capture 10 minutes of the rippling Charles River in February. In the next room, her "Box of (G)rain (Bahamas)" uses tinted sushi rice and a hand crank to simulate wave action. (Bring your Dramamine.)
A few steps away, oils on canvas by Jason Vartikar-McCullough '11 are rendered in thick, bold strokes and seem as free and fun as finger painting. Vartikar is a 21st century Georges Henri Rouault — but without the misery. In one painting, only three words appear. One is "coffee." What better summation of thesis work?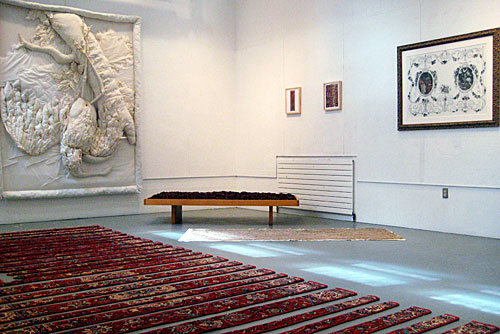 Turn the other way, and you get "Sticky Louis," a cardboard-and-masking tape bust of King Louis XVI by Dana Kase '11. But she was also busy deconstructing: An oriental carpet is laid out in neat strips ("Divide and Conquer"), and another is reduced to a box of fluff. It's called "Join or Die." Never tell artists that; they're too contrary.
Upstairs, in one corner of the Sert, the exhibit's humor grows muted. Charcoal sketches by Ariella Dagi '11 appear subtle up close. But seen together, wall-high and -wide, they loom like a coming storm.
"Gallus," a nearby installation by Ivy Pan '11, invites the viewer to feel uncomfortable. In a Plexiglas case and on a shelf she has arranged neat rows of jars, plastic bags, and deli containers of chicken parts: heads, feet, and feathers. Bones suspended in agar agar, cloudy jars of unnamed organs.
Around the corner, Rooney greeted guests at the gala reception, where the wheels of criticism were oiled by champagne and Chinese food.
The oil-on-canvas works in her installation were inspired by three summers in Italy, the first two as a writer and researcher for "Let's Go," the undergraduate travel guide series. The painted objects, though, were emblematic of Rooney going beyond the traditional painting that drew her to VES as a freshman. This year she has put gesso, acrylic, and spray paint on plaster tiles, shipping crates, and sheetrock, a material she called a 21st century iteration of the wall and ceiling frescos that inspired her in Italy.
"It comes down to the making," said Rooney about the lure of VES and a career in the arts. "Making is what I wanted to do."
The reception was followed by student film screenings, 24 works that ran from 1 to 36 minutes. It was the third of four nights of screenings, which included thesis films by graduating VES seniors Gabriela Acevedo, Isidore Bethel, Maxwell Newman-Plotnick, Trisha Pasricha, Brian Shen, and Katherine Tygielski.
After the nights of adulation came the day of critique: two three-hour sessions at Sever Hall on Sunday (May 1) that were interrupted by the traditional VES picnic.
The thesis films were not casual productions, the result of a few hours with iMovie and a six-pack.
Take "The Sketch Artist," for instance, as the leadoff film on Saturday night (April 30). In this 33-minute effort by screenwriter, producer, and director Newman-Plotnick, the production values were Hollywood high. The score was subtle. The acting was solid. The writing was fine. And the story was apt: a down-and-out graphic novelist, reduced to a job as a small-town police sketch artist, makes way for the teenager who is poised to out-draw him. Make room, with Whitman, for those "youthful sinewy races."
Why not do these things and take these risks, suggested Lemieux. "One should always do what you're passionate about," she said of the new artists, emergent and brave. "It makes for a good life. A hard life, but a good life."
Read more on "Oh, Pioneers!" and the student artists. Read more on the student filmmakers.