Ellen Johnson Sirleaf
Doctor of Laws
Ellen Johnson Sirleaf became president of Liberia in 2006, the culmination of a career of public service in Liberia that has seen her endure death threats, incarceration, and exile, and an achievement that made her the first woman head of state ever elected in an African country.
Sirleaf's election was also a watershed for Liberia, marking that nation's emergence from decades of dictatorship and civil war, including the devastating rebellion led by Charles Taylor, now on trial at The Hague for war crimes, and his subsequent election as president in 1997. Liberia's Second Civil War resulted in his resignation in 2003.
Raised in Monrovia, Liberia, Sirleaf came to the United States in the 1960s and studied at the Madison Business College in Madison, Wis., and the Economics Institute in Boulder, Colo., before earning her M.P.A. degree as an Edward S. Mason Fellow at Harvard's Kennedy School of Government.
Sirleaf returned to Liberia and served as assistant minister of finance in 1972, resigning in protest of government spending. She was appointed minister of finance in 1979, but fled the country after a military coup took the lives of Liberia's president, William Tolbert, and several members of his cabinet. She returned from exile in 1985 to run for vice president, earning a prison sentence for a speech critical of the regime of Samuel Doe. Amid continuing turmoil, she fled to the United States in 1986. She returned again more than a decade later to run for president against Charles Taylor in 1997, but lost and returned to exile. In 2003, after Taylor left office, Sirleaf chaired a government reform commission, leaving to run in the 2005 presidential elections.

Sir Timothy Berners-Lee
Doctor of Science
A pioneer and advocate of the Internet age, Timothy Berners-Lee is best known as the inventor of the World Wide Web. In 1989, while working at CERN, the European Particle Physics Laboratory, he proposed and designed the first Web server and client, technology that, when made public in 1991, transformed how people shared information via the Internet.
Born in London in 1955, Berners-Lee attended Oxford University, where he built his first computer with a soldering iron, digital circuits, a processor, and an old television. After graduating with a physics degree in 1976, he worked as a software engineer and independent computer consultant. In 1980, he developed his first conceptual prototype for the Web, called Enquire.
"What that first bit of Enquire code led me to was something much larger, a vision encompassing the decentralized, organic growth of ideas, technology, and society," Berners-Lee wrote in his 1999 memoir, "Weaving the Web."  As he envisioned it, the web "provides us with new freedom … and brings the workings of society closer to the workings of our minds."
Berners-Lee is now the 3Com Founders Professor of Engineering at the Massachusetts Institute of Technology, where he holds an appointment with the Laboratory for Computer Science and Artificial Intelligence and heads the Decentralized Information Group. He is also a professor in the electronics and computer science department at the University of Southampton.
He has remained involved in the growth of the web over the past two decades, serving as director of the World Wide Web Consortium, a web standards organization founded in 1994, and as founding director of the Web Science Trust, which promotes the multidisciplinary study of the web and its effects on society. He is also a director of the World Wide Web Foundation, which funds and coordinates efforts to advance the potential of the Web to benefit humanity.
He has received many international awards, including the inaugural Millennium Technology Prize, and was knighted by Queen Elizabeth in 2004.

Plácido Domingo
Doctor of Music
One of the greatest tenors of all time, Plácido Domingo is a formidable presence in opera, on stage as a performer and a conductor, as well as behind the scenes as general director of the Los Angeles Opera and the Washington National Opera.
Famous for his rich vocal tone and versatility, he is at once a tenor with a deep, melodic range, and a baritone with an exquisite upper register. Along with his voice, Domingo is renowned for his acting ability and legendary energy. His personal motto is "If I rest, I rust."
Domingo was born in Madrid in 1941 to a musical world. Both his parents were stars of a zarzuela company, a Spanish type of operetta. When he was 8, his family moved to Mexico, where his parents opened their own company. Domingo initially studied piano and conducting at the National Conservatory of Music of Mexico, but eventually turned his energies to developing his singing voice.
He made his opera debut in Monterrey, Mexico, in 1961 as Alfredo in Giuseppe Verdi's "La Traviata." His Metropolitan Opera debut came in 1968 as a late stand-in for famed tenor Franco Corelli in the role of Maurizio in "Adriana Lecouvreur" by Francesco Cilea. The performance won him praise as the Met's "hottest young artist" by The New York Times. During his career, Domingo has sung 134 roles in more than 3,500 performances. He celebrated his 70th birthday in January, and will reprise the title role of Verdi's "Simon Boccanegra" with the Los Angeles Opera for its 2011-12 season, following a successful run last year with the same role at the Met.
His recordings include the classical and crossover genres and have won him 12 Grammy Awards. He has made more than 50 videos and three films.
A strong supporter of young musical talent, Domingo founded the annual competition Operalia in 1993 to help launch the careers of emerging singers and has created young artists' programs at both the Los Angeles Opera and the Washington National Opera. Through benefit concerts, he has helped to raise millions of dollars to support a range of humanitarian causes.
Among his many honors are a Presidential Medal of Freedom and an honorary British knighthood.

Ruth Bader Ginsburg
Doctor of Laws
Brooklyn, N.Y.-born Ruth Bader Ginsburg graduated from Cornell University in 1954 and enrolled that fall at Harvard Law School, where she was one of only nine women in a class of more than 500. Ginsburg transferred to Columbia University, becoming the first law student to work for two major university law journals. She graduated in 1959, first in her class, but right away confronted another sign of an era indifferent to women in jurisprudence: Because of her gender, she was turned down for a clerkship with Justice of the Supreme Court Felix Frankfurter.
Today, of course, Ginsburg herself is an associate justice of the Supreme Court, where she has served since 1993 as its first Jewish female justice and its second female member. (Now there have been four.) A cautious jurist, Ginsburg nevertheless shows the outline of an earlier legal career shaped by an intense interest in the constitutional equality of men and women. She has been a consistent supporter of abortion rights, general counsel for the American Civil Liberties Union, and an advocate of what some critics take as a left-wing idea: that foreign law can be used to shape U.S. judicial opinions. In the early 1960s, Ginsburg was a research associate at Columbia Law School's Project on International Procedure, where she co-authored a book on judicial procedure in Sweden.
As a professor of law at Rutgers University (1963-1972), Ginsburg co-founded the Women's Rights Law Reporter, the first journal to focus on women's rights. At Columbia Law School she was the first tenured woman and co-authored the first law school casebook on sex discrimination. Before joining the Supreme Court, Ginsburg served for 13 years on the U.S. Court of Appeals for the District of Columbia Circuit.
Widowed last year, the 78-year-old Ginsburg is now the Supreme Court's oldest member.

Dudley Herschbach
Doctor of Science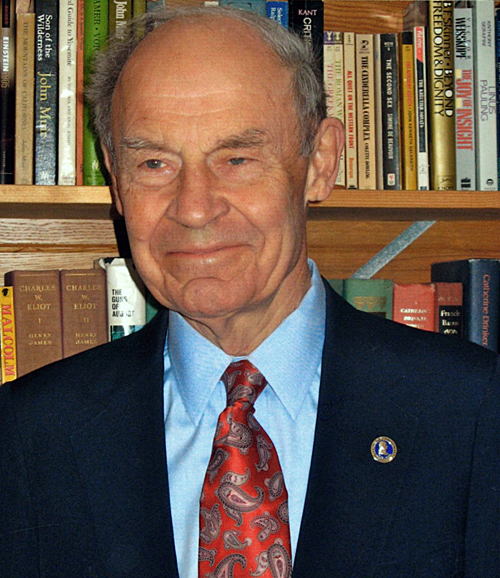 Dudley Herschbach is the Frank B. Baird Jr. Professor of Science Emeritus at Harvard and winner of the 1986 Nobel Prize in chemistry for work that advanced the understanding of basic chemical reactions.
Herschbach has seen his early work on methods and theory of studying single collisions in chemical reactions move from the fringe to the mainstream. His work has also encompassed several other chemical frontiers, including high-pressure molecular transformations that illustrated that hydrocarbons could be formed under conditions found in the Earth's mantle. Long a proponent of improving science education at all levels, Herschbach for 20 years taught general chemistry for freshmen and, since becoming emeritus, has taught a freshman seminar on molecular motors. He also has continued to pursue research, as a visiting fellow at the Carnegie Institution of Washington and as a professor of physics at Texas A&M University.
In addition to the Nobel Prize, shared with Yuan T. Lee and John C. Polanyi, Herschbach has received many prizes and awards, including the National Medal of Science in 1991. He is a fellow of scientific societies, including the American Academy of Arts and Sciences and the National Academy of Sciences. Herschbach received bachelor's and master's degrees from Stanford University before coming to Harvard, where he received a doctorate in chemical physics in 1958. Herschbach was an assistant and associate professor at the University of California, Berkeley, from 1959 to 1963, returning to Harvard as professor of chemistry in 1963. He became Baird Professor of Science in 1976.
During his years at Harvard, Herschbach has served as chair of the chemical physics program and of the Chemistry Department, as a member of the Faculty Council, and, with his wife, Georgene, as co-master of Currier House. In support of his efforts to improve science understanding, he has delivered many talks in middle and high schools, written popular articles, and made many radio and television appearances, including a stint as a guest voice on "The Simpsons" television show.

James R. Houghton
Doctor of Laws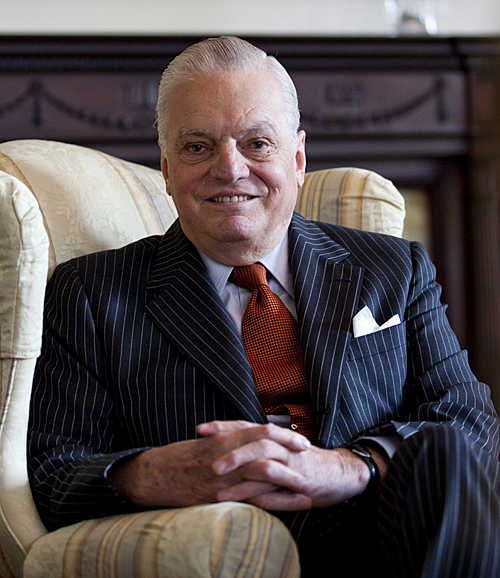 Businessman James R. Houghton joined the Harvard Corporation in 1995 and became its senior fellow in 2002. When he retired in 2010, he was its longest-serving member.
During his tenure, Houghton encouraged greater interaction between the Corporation and the Harvard Board of Overseers, the University's second-highest governing body. As senior fellow, he also chaired the search committee that selected Harvard's 28th president, Drew Faust.
"The great thing about [Harvard] is that it's constantly reinventing itself. There's always something new. But there's also always something reassuringly familiar, and there's the same commitment to what really matters: excellent education and research," Houghton said in a Gazette interview last year.
He called his time with the Corporation a "wonderful, wonderful experience" and "an enormous honor."
Houghton's Harvard roots run deep. His grandfather, father, and brothers attended Harvard, and his wife attended Radcliffe. A history concentrator, Lowell House resident, and hockey goalie for the junior varsity team, Houghton graduated from the College in 1958 and from Harvard Business School in 1962.
Houghton devoted his professional career to Corning Inc., a leading maker of specialty glass and ceramics that was founded by his great-grandfather in 1851. He joined the company in 1962 and spent 16 years as its CEO and 41 years on its board of directors, including 19 as chairman. He retired as chairman of the board emeritus last year.
He also served as a director of J.P. Morgan, Exxon Mobil Corp., and MetLife Inc.  He also is the past chairman of the Business Council of New York State.  He has served as a trustee of the Corning Museum of Glass, the Corning Incorporated Foundation, the Pierpont Morgan Library, and is currently the chairman of the board of trustees of the Metropolitan Museum of Art.

Rosalind Krauss
Doctor of Arts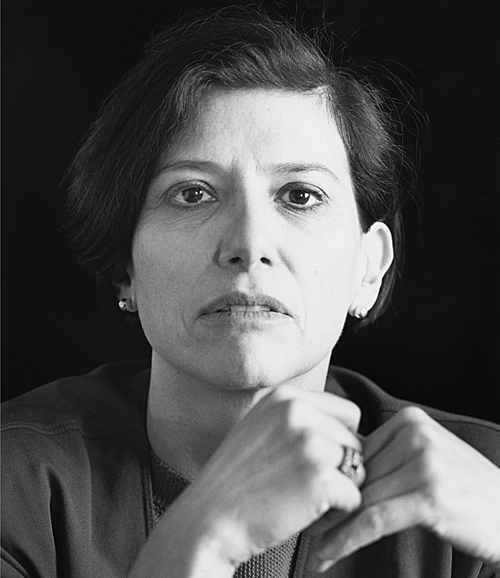 A renowned critic and theorist of 20th century art, Rosalind Krauss is University Professor at Columbia University and co-founder and editor of the art quarterly October. Her writings on artists from Picasso to Pollock, as well as her work on minimalism, surrealism, and the development of photography, helped define the post-structuralist mode of art criticism.
Krauss was born in 1940 in Washington, D.C., where she grew up visiting museums. After graduating from Wellesley College in 1962, she began graduate studies at Harvard's Department of Fine Arts and received a Ph.D. in 1969.
While at Harvard, she joined the editorial board of the highly regarded magazine Artforum, spurred by the conviction that "the history of modern art could not be pursued apart from its theory and criticism." She left Artforum in 1975 to launch October, a journal that explored the relationship between contemporary social and political concerns and scholarship of modernism.
Krauss taught for brief periods at Wellesley, Massachusetts Institute of Technology, and Princeton before joining the faculty of Hunter College, where she was made a full professor in 1977. From 1977 until 1992, she taught at the Graduate Center, CUNY. In 1992 she moved to Columbia, where she held the Meyer Schapiro Chair in Modern Art and Theory from 1995 to 2006.
She is the author of, among other books, "The Originality of the Avant-Garde and Other Modernist Myths" (1985), "Formless: A User's Guide" (1997), "The Picasso Papers" (1998), and "Bachelors" (1999), and is a co-author of the art history textbook "Art Since 1900." Her most recent collection of essays, "Perpetual Inventory" (2010), explores what she calls "the post-medium condition" — the abandonment of the modernist emphasis on the medium as the source of artistic significance.
She has curated many exhibitions, including "Joan Miró: Magnetic Fields" and "Robert Morris: The Mind/Body Problem" at the Guggenheim Museum; "L'Amour fou: Photography and Surrealism" at the Corcoran Gallery of Art; and "Richard Serra/Sculpture" at the Museum of Modern Art.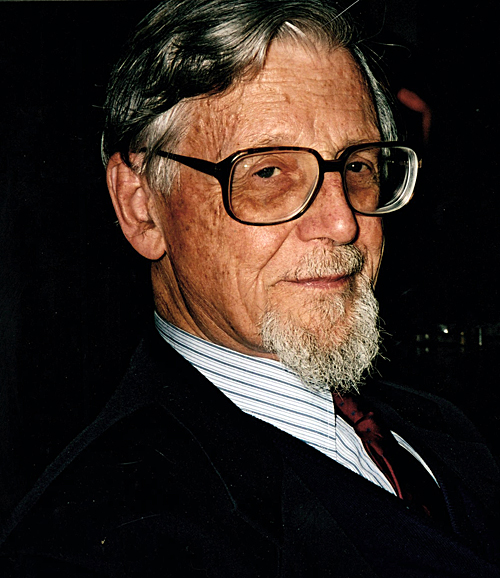 Historian John Greville Agard (J.G.A.) Pocock, now in his eighth decade of scholarship, has inspired generations of philosophers, political scientists, and fellow historians. His deep studies — many of them investigating the foundations of modern political thought — range across classical Greece and Rome, early modern Europe, the nascent American republic, and New Zealand, the country of his boyhood.
He is best known for his studies of early modern republicanism — in continental Europe, Great Britain, and the United States — and for his work on Edward Gibbon and Gibbon's intellectual counterparts in the Enlightenment. Pocock has finished five volumes of a projected six-volume study of Gibbon called "Barbarism and Religion." The expatriate New Zealander, who earned his Ph.D. at Cambridge University in 1952, is now the Harry C. Black Chair of History Emeritus at Johns Hopkins University, where he taught history from 1974 to 1994.
Pocock is also renowned for pioneering the idea of "contextualism," which calls on historians to study canonical works in the intellectual contexts of their eras, and not as the products of single minds. Pocock's contribution to this "Cambridge school" of historiography is the concept that "political languages" underlie the texts of an era and are unconsciously shared by historians of that time. Among these shared "linguistic universes" in the 17th and 18th centuries, for instance, were concepts of the common law and classical republicanism — defining ideas that inform the rhetoric of James Harrington, Thomas Hobbes, John Locke, and others.
Pocock was born in London in 1924, but moved to New Zealand when his father was appointed to the classics faculty at what was then called Canterbury University College. He earned his bachelor's and master's degrees at the University of New Zealand before moving on to Cambridge for doctoral studies. Pocock's previous honorary degrees are from the University of Canterbury (1973) and Johns Hopkins (2004).

David Satcher
Doctor of Science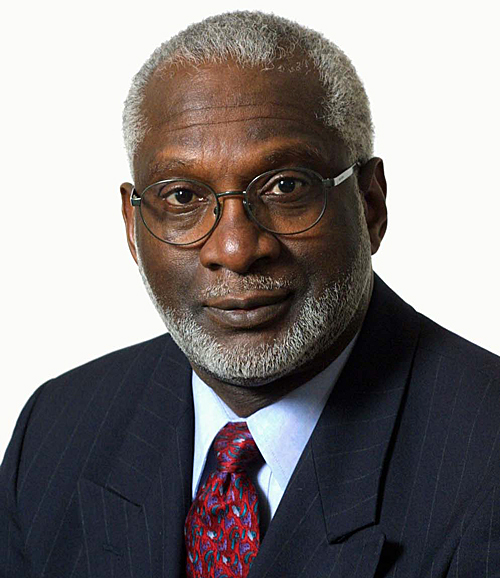 David Satcher, the 16th U.S. surgeon general, grew up poor in the Jim Crow South on a red-dirt farm outside Anniston, Ala. Neither of his parents finished elementary school, and two of his nine siblings died in childhood. Satcher nearly died, too, at age 2, when he came down with whooping cough and was barred from the local whites-only hospital. He was saved only by the ministrations of his parents and by the intercession of the area's sole black doctor.
"By the time I was 6," Satcher told a Harvard audience in 2008, "I was telling everybody I was going to be a doctor like Dr. Jackson." That brush with death also inspired his life's mission, he said — "access to health care for people who have been left out."
As an undergraduate at Morehouse College in Atlanta, Satcher listened to sermons by Martin Luther King Jr. at Ebenezer Baptist Church. He took his growing passion for social justice to medical school at Case Western Reserve University, where he received his M.D. and Ph.D. in 1970. He taught medicine and epidemiology in Los Angeles (where he ran a free clinic in riot-torn Watts), Atlanta, and Nashville, Tenn. (where in 1982 he assumed leadership of beleaguered Meharry Medical College). The first chapter in Satcher's federal career spanned 1993 to 1998, when he was both administrator of the Agency for Toxic Substance and Disease Registry and director of the Centers for Disease Control and Prevention.
In just four years as surgeon general (1998-2002), Satcher oversaw the release of 14 major reports, including studies of obesity, youth violence, mental health, sex education, and tobacco's effect on minorities. The circumstances around his early near-death and the unfurling of civil rights in his youth have been powerful forces behind Satcher's impassioned, accomplished adulthood. As he told his Harvard audience in 2008, "Beginnings are important."