Comedian Amy Poehler brought her trademark sarcasm and sass to Harvard for Class Day, addressing seniors in Tercentenary Theatre on their last day as Harvard undergraduates, and providing a witty send-off under azure skies.
Referring to her own nearby alma mater, the Massachusetts native told the crowd during the ceremony Wednesday (May 25), "I graduated from Boston College, which some call the Harvard of Boston, but we all know that Harvard is the Harvard of Harvard. And you can quote me on that."
If she were offering the graduates advice as a Bostonian, Poehler said, she would "remind you that just because you're wicked smart doesn't mean you are better than me." Advice as a New Yorker would come with an edgy tone in the form of "Excuse me, ma'am; could you move, please?"
Her advice on becoming an actor was simple: Don't do it. There are too many talented, out-of-work actors, complained Poehler. "Sorry, no more room at the inn," she quipped. "I bet you are great, but, um, just work with the human genome instead."
Poehler's star has long been rising. Born just around the corner from Cambridge in Newton, Mass., she honed her acting skills first at B.C., then at the famed Second City comedy club and school of improvisation in Chicago. She became a regular on the famed late-night TV sketch comedy show "Saturday Night Live." She has appeared in several movies and currently stars in the TV series "Parks and Recreation."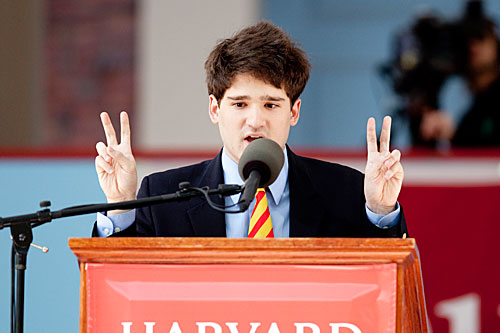 She joins the ranks of other SNL alumni, comedians Will Ferrell and Al Franken '73, who gave back-to-back Class Day addresses in 2002 and 2003. The list of such speakers is eclectic and includes everyone from politicians, peacemakers, and playwrights to authors, activists, and athletes. George Plimpton, Ted Koppel, Hank Aaron, Bill Clinton, and Bono have all addressed graduating seniors.
Offering the graduates words of wisdom gleaned from her own life and career, Poehler urged them to lean on others and take to heart the knowledge that the world is filled with smart people.
"You can't do it alone. As you navigate through the rest of your life, be open to collaboration. Other people and other people's ideas are often better than your own. Find a group of people who challenge and inspire you, and spend a lot of time with them, and it will change your life."
She also urged them to be kind — and quick with a tire iron.
"You are all here because you are smart and you are brave, and if you add kindness and the ability to change a tire, you almost make up the perfect person."
Since speakers are chosen by the seniors, Class Day is a more informal celebration than Commencement. The day includes four speeches from seniors in the form of the Harvard and Ivy orations — two heartfelt and two humorous addresses.
The "murky paradox" of love and hate was at the heart of the Harvard oration by Timothy James Lambert. Any seniors leaving the College without feeling both of those feuding emotions hadn't been truly "paying attention," he said.
He offered a "bold assertion" concerning his hate for the "hoops" that he had to jump through while at the College, but also the love he had for the tricks that they taught him; his hate for term papers but his love for friends made during late-night study sessions; his hate for the competitive environment, "but I loved knowing that competing, the things that didn't matter, ultimately helped me to discover what does."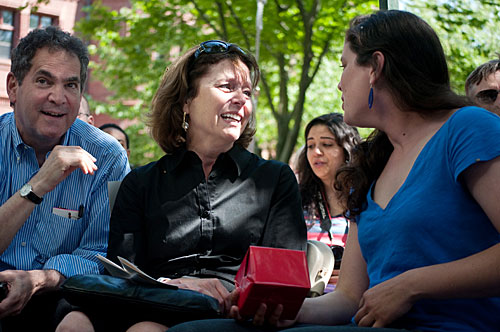 Harvard orator Laura Jaramillo reflected on her unscripted path to campus, away from it, and back again. The Colombia native was forced to leave the country when her family's visa expired. She was in the middle of her sophomore year, but the "unexpected" year back in South America taught her much about life, she said.
"Have the courage to not have plans," she told the seniors, "and wait for the wonderful things that can happen … I hope that your plans fail — in really awesome ways."
Adding their own humor to the ceremonies were this year's Ivy orators, Molly O'Connor Fitzpatrick and Scott Alan Levin-Gesundheit.
Fitzpatrick mused about her admittance to Harvard and offered a list of reasons why she should never have attended, including the fact that she has scars from three kinds of irons — "clothes, curling, and waffle" — and once "vacuumed her own foot."
Levin-Gesundheit said that Harvard teaches its students the important message that "we are not special. Maybe you thought like I did that you were an exceptional jazz bassoonist. Well, Harvard … has five exceptional jazz bassoonists. They formed a quintet … and every time you go to their concerts, you cry in the back row in perfect syncopated rhythm."
Class Day traditions include the presentation of the Ames Awards for selfless, heroic, and inspiring leadership. This year's recipients were Johan Hong and Anna Kamerow.
The ceremony included remembrances and a moment of silence for Ilya Chalik, Kathlene Joo, and Michael J. Friedman, members of the Class of 2011 who had died.