Liberia's "Iron Lady," President Ellen Johnson Sirleaf, urged Harvard graduates to be fearless when facing the future, to dream big, and to resist cynicism despite the difficulties and failures they will face in life.
Sirleaf, a Harvard Kennedy School alumna who in 2006 became the first woman president of an African nation, gave the Commencement address at Thursday's (May 26) afternoon ceremonies in Harvard's Tercentenary Theatre. She told graduating seniors of the challenges she faced during her groundbreaking, zigzagging journey to the president's office. Those challenges included prison sentences, death threats, and years of exile.
"We all persisted. I always maintained the conviction that my country and people are so much better than our recent history indicates," Sirleaf said. "I believe I am a better leader, a better person, with a richer appreciation for the present because of my past."
Sirleaf received an honorary doctor of laws degree earlier in the day. Along with her award, more than 7,200 degrees and certificates were awarded to Harvard College seniors and graduate students. Honorary degrees were awarded to luminaries in various fields, including legendary tenor Plácido Domingo and U.S. Supreme Court Justice Ruth Bader Ginsburg.
Harvard marked its upcoming 375th anniversary and its roots as an institution dedicated to educating both English and Native American youth by awarding a posthumous degree to Joel Iacoomes, one of the original Wampanoag students at the College. Iacoomes completed his studies but died in a shipwreck before graduating in 1665. His fellow Wampanoag and classmate, Caleb Cheeshahteaumuck, did graduate that year. Their modern counterpart, College senior Tiffany Smalley, the first Wampanoag to graduate since Cheeshahteaumuck, also received her degree Thursday.
Degrees were awarded during the morning in an outdoor ceremony packed with centuries of tradition at America's oldest institution of higher education. Sirleaf delivered her remarks during the Afternoon Exercises, which doubles as the annual meeting of the Harvard Alumni Association. During that session, Harvard's alumni welcome the morning's graduates into their global community of 360,000 alumni in 185 countries.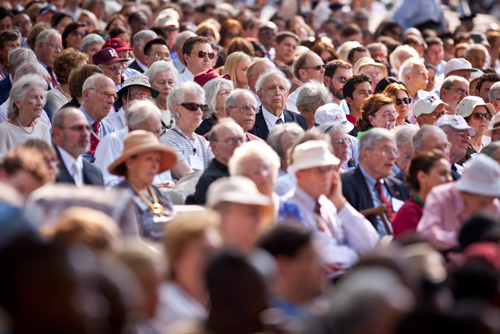 Harvard President Drew Faust also addressed the crowd of newly minted graduates, their families, and friends, saying that universities are among "humanity's greatest innovations," and that, because of the times, the power of knowledge is greater than ever.
"Perhaps every generation believes that it lives in special times, and perhaps every cohort of graduates is told just that at ceremonies like these," Faust said. "But both the depth of the challenges we face and the power of knowledge — and thus of universities — to address them is unprecedented. Harvard must embrace this responsibility …"
Faust called on America's budget-cutting leaders to recognize the importance of education to improve people's lives and to bolster the economy. During the recent recession, the unemployment rate for college graduates was less than half that of workers with only a high school diploma. In addition, she said, universities are drivers of innovation. At Harvard, that means fresh inventions from faculty and students alike, along with programs and centers, all leading to "new ideas and new ways of enabling those ideas to reach a wider world."
"That is the essence of what we are about," Faust said.
Harvard has worked to broaden the economic diversity of its student body, adopting financial aid programs that now reach 60 percent of undergraduates. About 20 percent of the students come from families earning less than $60,000, Faust said. She touched on universities' roles in solving the complex, border-spanning problems facing the world, and on the emphasis that Harvard has placed in recent years on students gaining international experience while at the University.
At the honorands' dinner the evening before Commencement, Sirleaf presented Faust with a quilt made by women from the rural Liberian community of Arthington, which is known for its textiles. Faust was so taken by the gift, which featured the Harvard shield and was decorated with small seashells, that she had it displayed behind the president's chair during Commencement exercises.
"They wanted something to remain that would really capture today, really capture Harvard," Sirleaf said of the 10 women whose needlework produced the quilt, "and to say to President Faust how much they appreciated her invitation to me to speak on Commencement Day."
During her speech Thursday, Sirleaf expressed optimism about the future of her country and of Africa. After decades of dictatorship and civil war, Liberia has transitioned to democracy and faces the prospect of a peaceful transition of power later this year, after the upcoming presidential elections. Sirleaf spoke of the progress Liberia made since her election. She has moved to reform the country's government, reducing international debt, attracting foreign investment, and rebuilding electric and water systems in the capital, Monrovia. The country also has begun rebuilding hospitals, schools, roads, and other infrastructure destroyed in the fighting.
Though much remains to be done, Sirleaf said the results are already apparent, as Liberia's economy is growing at 6 percent annually. Sirleaf said she'd like to "graduate Liberia from development assistance" in 10 years, and have it rise to the ranks of middle-income countries by 2030.
"Our 7-year-olds do not hear guns and do not have to run. They can smile again," Sirleaf said.
The changes in Liberia reflect those reshaping much of the continent, Sirleaf said, where the era of "big man" dictatorships is coming to a close. Sub-Saharan Africa had just three democracies in 1989, a number that grew to 23 by 2008, she said. The region's economy is growing at 5 percent, with a rising middle class now numbering 313 million out of a population of 1 billion.
In some ways, Africa has come full circle, to the time of hope and resilience the continent experienced in the first years after countries gained their independence, before the rise of militarism and sectarian violence, Sirleaf said.
"I was there in the early 1970s, a decade after the independence movement had swept across Africa. Back then, the future appeared full of endless possibilities. But I also witnessed the gradual descent into militarism, sectarian violence, and divisive ethnic politics. I witnessed our country engulfed in the fires of a civil conflict that raged for almost two decades," Sirleaf said. "But … I have also been blessed with the opportunity to watch and participate as the nation rises out of the ashes of war to become a force for peace in West Africa."
Sirleaf said the self-confidence and perhaps even arrogance she felt after graduating from the Kennedy School, which she attended through the Edward S. Mason Program, got her into hot water with her government. Delivering a commencement address at her high school after returning to Liberia, she questioned the government's failure to address inequities in society.
"This forced me into exile and a staff position at the World Bank. Other similar events would follow in a life in and out of the country, in and out of jail, in and out of professional service. There were times I thought death was near, and times when the burden of standing tall by one's convictions seemed only to result in failure. But through it all, my experience sends a strong message that failure is just as important as success," Sirleaf said.
Sirleaf said that in just the last decade, technology has hastened history, increasing the speed of change and leading to transformations such as those happening in North Africa and the Middle East. However change occurs, Sirleaf said, Harvard and those with ties to the University are often involved. She cited U.S. presidents John Kennedy and Barack Obama, Microsoft founder Bill Gates, and Secretary of State George Marshall, the 1947 Commencement speaker, who announced plans to rebuild post-World War II Europe.
Sirleaf concluded by urging students to dream on a grand scale and said her own optimism for the future was largely due to them.
"If your dreams do not scare you, they're not big enough," Sirleaf said. "The size of your dreams must always exceed your current capacity to achieve them. … If you start off with a small dream, you may not have much left when it is fulfilled because, along the way, life will … make demands on you. I am, however, bullish about the future of our world because of everyone in this Yard and because of those who graduated today."