Harvard's first official Commencement act of 2011 unfolded outside Harvard Hall today (May 24) when a select group of seniors in black caps and gowns gathered for a fife-and-drum procession to Sanders Theatre for the annual Phi Beta Kappa ceremony.
"I feel very honored," said senior Fernando Racimo. The organismic and evolutionary biology concentrator, who is headed to Germany after graduation to study Neanderthal DNA, said he won entrance to the academic honor society through hard work. "I was definitely busier than I have ever been."
Induction into Alpha Iota of Massachusetts, the Harvard College chapter of Phi Beta Kappa, requires a "record of outstanding scholarly achievement, showing both depth of study and breadth of intellectual interest."
At Harvard, 24 juniors are elected to Phi Beta Kappa in the spring, and 48 seniors in the fall, with another group of seniors elected in the weeks prior to Commencement. Membership cannot exceed 10 percent of the graduating class.
Held annually on the Tuesday of Commencement week, the society's Literary Exercises have been a regular Harvard ritual since the 18th century. The first exercises took place at Holden Chapel in 1782, but have been held at Sanders since 1876. The program centers on two presentations, by a poet and an orator invited by the chapter.
This year, orator Joyce Carol Oates, Roger S. Berlind '52 Professor of the Humanities and professor of creative writing in the Lewis Center for the Arts at Princeton University, delivered an oration titled "Inspiration." Poet Henri Cole, professor of English at Ohio State University, read his work "Swimming Hole, Buck Creek, Springfield, Ohio."
The Harvard-Radcliffe Collegium Musicum provided music for the event including the Commencement hymn "Fair Harvard" by Samuel Gilman.
The author of seven poetry collections, Cole employs a range of emotion in his work. He said his poem for the ceremony, what he described as one long sentence, "flashes back to remembered terrain from adolescence."
"In the poem there are some young swimmers referred to as 'blossoming buds,' and it occurred to me that is what all of you graduates are," said Cole, adding that everyone is "striving toward being, like you. It's a process that must never cease."
A prolific and multitalented writer, Oates has mastered many genres. She is known for her psychological realism, gothic, and suspense novels, as well as family sagas. With more than 50 novels to her credit, she is also a playwright and essayist and has written many volumes of short stories, works of young adult fiction, poetry, and nonfiction.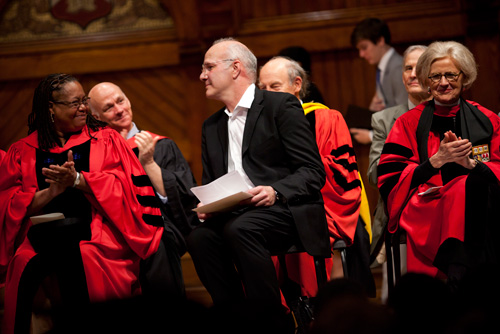 In 1969 her novel "them" received the National Book Award.
Inspiration can take many forms, an "image, phrase, emotion," said Oates. Calling to mind past literary greats, she spoke of Herman Melville's attraction to the "power of blackness" in his contemporary Nathaniel Hawthorne, which had an "immediate and profound" influence on Melville's masterpiece, "Moby Dick."
For Melville, she said, Hawthorne was like "a great comet sailing into your orbit that changes your life completely."
The idea for author Mary Shelley's "Frankenstein" came to her as a sort of dream, one that "possessed" her, said Oates, while the city of Dublin was the driving force behind the works of Irish author James Joyce.
Oates also invoked the visual arts as inspiration. To the early surrealists, she said, the world was "a vast forest of signs to be interpreted by the individual artists."
"There is to me something thrilling about the surrealist adventure. Moving out into the world to discover what awaits us … from this perspective, inspiration is anywhere and at any time … we have only to go out and to see."
The ceremony also included the Alpha Iota Prize for Excellence in Teaching awards. This year's recipients were David Ager, lecturer on sociology; William Clark, Harvey Brooks Professor of International Science, Public Policy, and Human Development; and Dudley Herschbach, Frank B. Baird Jr. Professor of Science Emeritus.