Two years ago, a musician appeared on the steps of the Memorial Church during Harvard's Commencement Exercises. He stood, calmly took a trumpet in hand, and silenced the thousands in attendance with an unforgettable version of "America the Beautiful."
The trumpeter was Wynton Marsalis, who was receiving an honorary degree. His visit led to a two-year performance and lecture series at Harvard that kicked off Thursday night (April 28) with an event that took Sanders Theatre by both quiet and storm.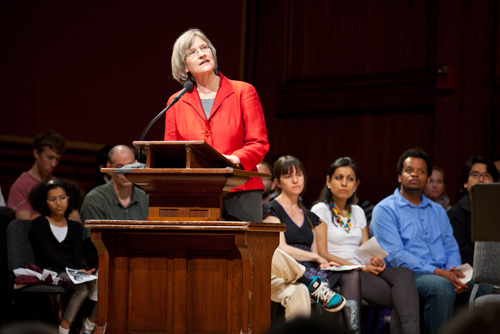 The six-part series "Hidden in Plain View: Meanings in American Music," presented by Harvard President Drew Faust, began with a program titled "Music as Metaphor."
"Wynton Marsalis is both an internationally acclaimed musician and a leader in educating people about the importance of arts and culture," said Faust in announcing the program earlier this month. "We are fortunate to have an artist and performer of his caliber on campus to enhance the University's vibrant arts scene and engage our students, staff, and faculty."
At various moments a poet, preacher, musician, teacher, sage, comic, and conductor, Marsalis was a consummate entertainer throughout the evening. During a discussion punctuated by emotion-filled performances, the trumpeter traced the history and evolution of jazz and the blues, revealing how the truest of American art forms were vital to both the development of the nation's collective history and its soul.
"Music is the art of the invisible," Marsalis told the crowd. "It gives shape and focus to our innermost inclinations, and can clearly evidence our internal lives with shocking immediacy. … Every listening provides an opportunity for deeper insights into what it means to be American."
During intermission he added to that sentiment.
"What [music] tells you is meaningful," he said. "It's the meaning."
Backed by a superb band that included a pianist, violinist, guitarist, drummer, saxophonist, and bassist, Marsalis played through a musical history using jazz and blues, popular tunes, and beloved melodies ingrained in the American consciousness to illustrate his points. Together, the musicians and compositions like "Autumn Leaves," "Sweet Georgia Brown," "Happy Birthday," and the theme to "Sesame Street" played vital parts in the program.
Marsalis' appointment is the latest example of the University's closer embrace of the arts, in the wake of a presidential task force that called in 2008 for a concerted effort to augment the arts on campus. Since then there has been a renewed focus on bringing prominent artists to campus who can engage students and the wider community in imaginative and innovative thinking.
Those attending seemed almost stunned by the seamless mix of prose and poetry, performance and pronouncements about music, the past and present, and the condition of American democracy. The event, people agreed, was special.
"After we leave tonight, the little things that he has taught us, [we] are never going to listen to music the same way again … he is opening up our ears, our minds," said Suzanne F. Dossous-Verdier, who works in IT support for University Information Systems.
"I am really happy I came. I have a paper due tomorrow, and I set that aside, and I came here, and I am so glad I did," said senior and Quincy House resident Jean-Louis Rochet. "It's great that Harvard is putting on these kinds of events, and bringing people of this stature, Wynton Marsalis, and integrating the arts more into the life of the community."
The talk was full of life's lessons. Rhythm and time, collaboration, cooperation, and improvisation are as important on the stage as they are in our everyday lives. According to Marsalis, no one knew that better than jazz legend Duke Ellington.
"He realized that centralized power must be balanced with the freedom to dissent. So his band was known to be the most undisciplined and free-spirited musical organization in the world … except when it came time to play Duke's music. They understood that music was what mattered most. And because Duke exercised no control over their right to be themselves, they attacked his music with the ferocity of the free. You see, playing jazz mandated a desire to achieve balance. So does democracy."
In the spirit of great jazz musicians, the night was just getting started by 11 p.m. for Marsalis, who happily agreed to continue the evening and take questions from the crowd. He discussed practicing and performing with Willie Nelson and Eric Clapton, and his distaste for popular music that he thinks relies too heavily on computerized sound.
He also described one of his earliest solo performances. Invited to join a group in New York City as a teen, Marsalis struggled through his first big solo with a piece in the unfamiliar key of C-sharp minor. Later, he looked to his father for advice.
"He said," Marsalis recalled, " 'Get up tomorrow morning and start working on C-sharp minor.' " The crowd roared.
In addition to the performance at Sanders, Marsalis, who has made the promotion of jazz and cultural literacy to young audiences one of his hallmark causes, took part in a master class with students from the Cambridge Rindge & Latin School on April 29.
"It was such a surprise to hear that he was coming," said Conor Paterson, a Rindge junior who plays the saxophone. "But it was even better to know that someone cared about us enough to tell Wynton that we were worth playing with. That was really cool."
The program was presented in cooperation with the Office of the Provost, Office for the Arts at Harvard, Harvard University Department of Music, and Harvard Public Affairs and Communications.