Tina Tchen '78, chief of staff to first lady Michelle Obama, encouraged young women to be part of a "vanguard of change," and Harvard College senior Madeleine Ballard touted everyday leadership during the 2011 Women's Leadership Awards Wednesday (April 20) at the Charles Hotel in Cambridge. The two women were recipients of this year's awards.
They were honored at a dinner coordinated by the Harvard College Women's Center, which promotes awareness of women's and gender issues, and supports "contributions by women that challenge, motivate, and inspire."
Tchen, the recipient of the Women's Professional Leadership Award, took to the podium and remembered her years as a student in the last class of women to be admitted solely to Radcliffe College. "That was a class of 400, versus 1,200 slots for men at Harvard," she told a crowd of students, staff, and alumni. "Then the admissions offices merged and that 3:1 ratio went down very fast!"
Tchen spoke about the progress that women had made at Harvard and in the world since then, marveling that the University now has a female president, dean of the College, and dean of the School of Engineering and Applied Sciences. She referenced a recent report released by the White House that said women ages 25-54 were more likely than men to have college degrees. Even so, Tchen said that there was still much to do to create a society where women have equal opportunity. She noted that women garnered less than 20 percent of the degrees in science and engineering and earned only 77 percent of the wages received by men.
"Women are still only 19 percent of partners in major law firms," said the former corporate litigation partner at the Chicago firm of Skadden, Arps, Slate, Meagher & Flom LLP. "But one of the achievements [of the Obama Administration] has been that, of the president's nominations to the federal bench, 49 percent have been women, and about half of those are women of color."
Tchen urged female students in the audience to "be part of the vanguard that will change the way things are."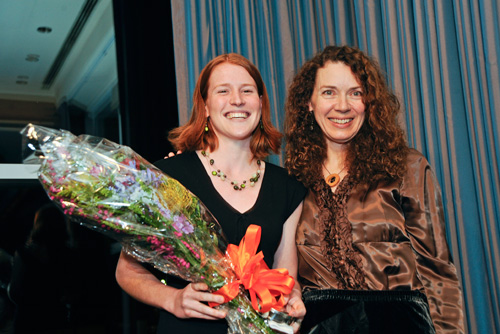 Luciana Herman, adjunct lecturer in public policy at Harvard Kennedy School and fellowships adviser in Quincy House, introduced Ballard, recipient of the undergraduate Women's Leadership Award. Herman ticked off Ballard's academic record: finalist for a Rhodes Scholarship; Harvard College scholar with a 3.85 GPA; and senior thesis on the role of poets and truth tellers in West Africa who are instrumental in slowing the advance of AIDS. Herman said Ballard had shown "exemplary" leadership outside the classroom in her work with the Harvard College Peer Health Exchange, the Harvard Square Homeless Shelter, and the Harvard College Global Health and Aids Coalition.
"Through her commitment to providing resources for the underserved, Madeleine has made a difference for so many," Herman said. "She has embodied the spirit of her own moral compass."
Ballard said that she felt a little uncomfortable giving a speech because "I think that leadership is something you do, not something you talk about." She said leaders are often thought of as people who embody values to the extreme: the sports star whose boldness inspires her team to win championships, for instance. But Ballard urged people to recognize the remarkable leadership that occurs around them every day. As an example, she told the story of her family's Saturday cocktail parties at home in Montreal during the summer.
"After a while, the conversation would turn to other family members — usually the ones who weren't there," she said. "I noticed one day that my grandfather was not in the circle when this happened. When the gossip started, he would leave quietly, discreetly, and without admonishing others. But his absence spoke volumes."
Ballard said leadership was about understanding that what we do and say has an impact. Our behavior can influence the people in our lives for good, or ill.
Earlier in the evening, Harvard College Dean Evelynn M. Hammonds kicked off the dinner by praising this year's honorees for their "strong commitment to public service."
"These leaders represent the kind of personal integrity and selfless leadership that the College is committed to instilling in its students," she said. "I hope we all leave here inspired by them and personally committed to the ways that each of us can have an impact on the world."
Hammonds also thanked Terrie Fried Bloom, A.B. '75, M.B.A. '81, who established the awards in 1997 with an endowment in her name. Over the past 14 years, honorees have included astronaut Stephanie Wilson '88, University of Chicago President Emerita Hanna Holborn Gray, and Boston Globe columnist Ellen Goodman. Bloom said that this year's recipients fit in with their distinguished predecessors.
"Tina has a big impact with her work at the White House, but also as a role model for single parents and women of color," she said. "Madeline has had an impact on many different facets of College life, from sports to academics to service. This award has been validated by the fact that we've recognized role models that so many undergraduates can identify with and that will hopefully have a positive impact on the direction of students' lives."