Harvard President Drew Faust gathered Monday (April 25) with faculty, staff, students, and other members of the University community to celebrate the largest gift dedicated to the study of the humanities in Harvard history.
Anand Mahindra '77, M.B.A. '81, made the $10 million donation in October in honor of his mother, Indira Mahindra. Monday's three-part event included a concert with Yo-Yo Ma '76, a dedication of the Mahindra Humanities Center at Harvard, and a dinner and witty cabaret performance with Harvard faculty.
For Mahindra, the humanities offer "the freedom to think, to imagine, to challenge, and to change," said Faust at the afternoon opening ceremony and concert in the Faculty Room at University Hall.
"Today we celebrate the freedom this gift will provide for so many at Harvard," Faust continued. "The freedom to explore together — to argue, to debate, to follow our curiosity, to ask questions that transport us beyond the immediate, to take the critical perspective, to see how the world has been and can be different."
Mahindra's donation also offers Harvard the opportunity to explore the "potential for inquiry beyond our own areas of deepest concern, to unite with other fields and disciplines and to nurture our creativity," said Faust.
The gift will allow the Humanities Center to build on its achievements, enabling it to sponsor further interdisciplinary discussions among Harvard faculty, faculty from other institutions, graduate students, undergraduates, and the public. With the gift, the center will sponsor more panel discussions, lectures, readings, conferences, performances, workshops, and seminars, as well as graduate and postdoctoral fellowships. The center will also foster further collaborations among the humanities, social sciences, and sciences in the belief that the humanities make a unique contribution to the exchange of ideas among scholars throughout the University, and across various fields of knowledge and study.
The donation reflects Mahindra's own educational path. He arrived at Harvard with thoughts of studying engineering but chose instead to pursue a degree in film. He went on to receive an M.B.A. at Harvard Business School in 1981. Today he is vice chairman and managing director of Mahindra & Mahindra Ltd., the flagship company in his family's Mahindra Group.
Mahindra described poring over Harvard's course catalogue while in India as a teen, calling its wealth of liberal arts offerings "a candy store to a confused kid."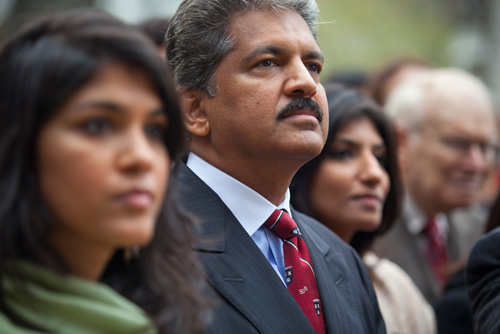 "As I stand here before you today it is from a deep desire to repay this extraordinary act of liberalism and generosity by this University so many years ago," he said, referencing Harvard's decision to offer him a full scholarship.
Mahindra told the crowd his gift was inspired by his mother, who had a "passion for life and all its offerings." He recalled how she supported his decision to pursue a concentration in film in Harvard's Department of Visual and Environmental Studies.
"That is when I realized that the nourishment and the faith of a parent are probably at the heart of the survival of the liberal arts and indeed the humanities."
Homi Bhabha, the center's director and Harvard's Anne F. Rothenberg Professor of the Humanities, said such a donation helps define an institution's narrative and "create conditions for a sustainable and transformative future."
"You have quite literally provided us with the most precious of all gifts: time — time to think, to plan, to congregate, to confer, to map the present, and to project our ideas into the future; time to create new communities of teaching and learning."
The afternoon included performances of Beethoven and Astor Piazzolla with Harvard alumni Ma and Lynn Chang '75, sophomore Charlotte Nicholas, and junior Bryant D. Wright. Sandeep Das of Harvard's Silk Road Ensemble made the trip from India to perform his recently composed percussion piece "Shristi" with Shane Shanahan, also from the Silk Road Ensemble, and Harvard juniors Noam Hassenfeld and Carl Pillot.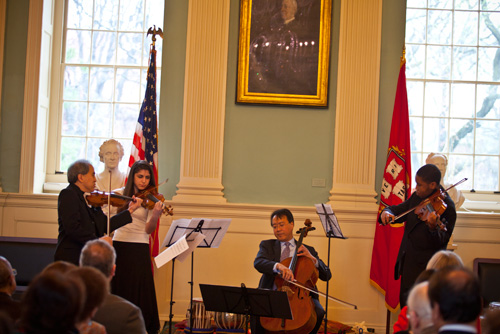 Dean of the Faculty of Arts and Sciences Michael D. Smith offered a champagne toast during the dedication ceremony at the Barker Center.
"Mr. Anand Mahindra has said that the greatest gift America has given to the world is a liberal arts philosophy. He aptly describes it as a giant sandbox that allows a person to explore every facet of his or her character," said Smith. "Through the Mahindra Humanities Center at Harvard, Mr. Mahindra has strengthened exactly those experiences he values, and in turn he has strengthened Harvard."
Following the toast, Mahindra's wife, Anuradha Mahindra, removed a bright purple covering to reveal a tall block of granite engraved with the new name of the center.
At a dinner and cabaret celebration in the Radcliffe Gymnasium following the dedication, Bhabha screened a brief film featuring Harvard faculty who talked about the important role of the humanities at Harvard. The night also included a cabaret performance titled the "Humanities Revue?" emceed by Bhabha and featuring six faculty members who read works by Sappho, Rabindranath Tagore, Lucretius, and Pablo Neruda.