When Tom Everett arrived at Harvard in 1971, he was wide-eyed to find that the University lacked a connection to one of America's greatest art forms.
"I was so surprised that there was no jazz activity at Harvard," Everett said during an interview in his basement office, surrounded by music scores and hulking marching band instruments.
For Everett, jazz, with its rich musical traditions, was too important for Harvard to ignore. As the new director of the Harvard University Band, he made it his mission to fill that musical hole with expressive sound, and more. For the past four decades, Everett, Harvard's Office for the Arts (OFA), and the Harvard Music Department have made jazz an important part of University life.
To honor that legacy, OFA and the Music Department are sponsoring "40 Years of Jazz at Harvard: A Celebration" today (April 7) through April 10. The event will include a discussion, an alumni reunion, and an exhibition at the Loeb Music Library that opens today. The collection, donated by the Harvard Jazz Bands and OFA, includes jazz scores, photographs, and ephemera over time.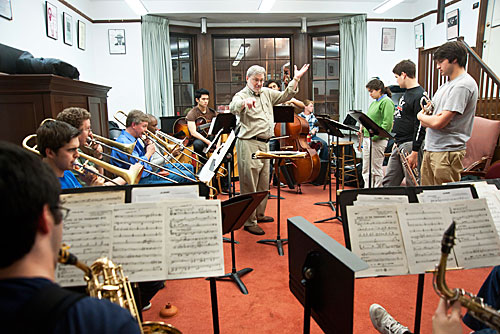 The celebration will also feature a "Harvard All-Stars" concert on April 9 with the Harvard Jazz Bands and saxophonist Benny Golson, pianist Eddie Palmieri, drummer Roy Haynes, bassist Cecil McBee, trumpeter Brian Lynch, and saxophonist Don Braden '85.
In his first year, Everett created Harvard's original jazz band, with 10 recruits from the marching band. By the end of that school year, he had a full complement of musicians. The next year he formed a second jazz ensemble. In 1973, he taught the first jazz history course, at Harvard Extension School. Five years later, he introduced an undergraduate jazz course at Harvard College. In the mid-'70s, OFA began supplying funding and support for jazz concerts and other programs. With its help, said Everett, "the program took off."
Everett has been instrumental in securing visiting artists for the annual Jazz Masters in Residence series sponsored by the Harvard Jazz Bands and OFA. Jazz greats such as Slide Hampton, Illinois Jacquet, Benny Carter, Red Rodney, and J.J. Johnson have graced Harvard's stages, always accompanied by undergraduates from the jazz bands. In 1980, a special concert with the Bill Evans Trio and John Lewis featured the premiere of Lewis' "The Gates of Harvard," a work commissioned by OFA.
Signaling its commitment to the importance of jazz in the curriculum, Harvard in 2001 hired jazz authority Ingrid Monson, Quincy Jones Professor of African-American Music.
"We've developed a presence," said Monson, who has taught several jazz courses and is currently the interim dean of Arts and Humanities. She will take part in a discussion with Everett at the Barker Center on April 8 at 4 p.m.
As a testament to how jazz has blossomed at Harvard, the University announced Monday that Wynton Marsalis, the accomplished musician, composer, bandleader, and educator, will launch a two-year performance and lecture series on April 28, with a session at Sanders Theatre.
As part of that series, Everett is helping to oversee members of the jazz bands who are mentoring students at Cambridge Rindge and Latin School in preparation for a visit there by Marsalis on April 29.
Important lessons in history, creativity, and life are nestled among jazz's blue notes and syncopation. The improvisational nature of the music helps students to experiment and "think outside the barrel," Everett said, adding that jazz encourages interaction and challenges students to bring something more to the music "than what was there to start with."
"With jazz there are principles or insights or passions that someone is exposed to … that stay with them throughout their lives."
Visiting jazz masters have shared their experiences with students at Harvard, offering a glimpse of what they themselves learned from jazz legends such as Count Basie, Duke Ellington, and Dizzy Gillespie. But they shared other things, too, including their battles with racism.
The social history of jazz is "very much rooted in the American history of race relations in the United States," said Monson. "Those are always key issues that come up when we talk about the history of the music, and students are very interested in learning about that."
Over the years, many talented student jazz players have attended Harvard, including some who have made the music their careers, including saxophonists Joshua Redman '91, Fred Ho '79, and Braden.
With a strong mix of talent at hand, Everett said that at times he has had to figure out how to keep everybody interested.
"An exciting thing for me was to put together an environment that would challenge them or expose them to something new while not losing everyone else. …  You keep everyone involved, and you challenge everyone."
Everett's musical training began with the cornet, an instrument similar to the trumpet. Later, he took up the trombone. His best friend in high school, also a trombonist, introduced him to jazz.
"He played these things without the music in front of him, and that always amazed me. … I just found the music communicated to me."
For 40 years, Everett and Harvard have helped to communicate the meaning and importance of jazz.
"The most rewarding thing is looking and seeing that saxophone player — you watch their eyes while they are playing something, and you see little light bulbs go off … you see these things ticking."