There were no children at a ribbon-cutting ceremony celebrating the reopening of two child care centers on Harvard's campus in late April, but there was plenty of evidence of them: kids' colorful artwork lines the walls and sand toys dot the playgrounds at Harvard Yard Child Care Center (HYCCC) and Oxford Street Daycare Cooperative (OSDC), which happen to be neighbors on Francis Avenue.
Instead of infants, toddlers, and preschoolers, dozens of adults filled the centers' new classrooms. Members of the Harvard community were there to tour the renovated child care centers and to hear Marilyn Hausammann, vice president for human resources, and Katie Lapp, executive vice president, join the project team in formally inaugurating them.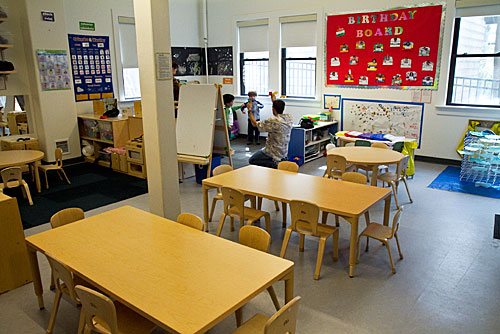 "These centers are illustrative of the University's understanding that a whole person walks through the gates each day," said Hausammann. "Our support of high-quality child care is really an investment in our families' well-being, their engagement, and their productivity."
Driven by the need to make significant engineering and plumbing upgrades, the Harvard-financed renovations were also an opportunity to bring both centers up to the standards of contemporary best practices for child care. For example, offices and kitchens were reconfigured to facilitate supervision and improve the flow of activities.
The reconfiguration also allowed for an additional classroom at HYCCC, adding new slots in the high-demand young-toddler-age group. "This is an exciting event not only because we are serving the needs of more families," said Lapp, "but also because this event has been made possible through the spectacular support of Harvard's community." Lapp went on to thank the multiple units across the University that contributed to the success of the renovation.
"This renovation has transformed our old space that was initially not intended for child care into a space that meets and exceeds all the state regulations and accreditation guidelines," said Kaori Hattori, director of HYCCC. "And it beautifully reflects our center's mission: a diverse, lively, and nurturing place to foster children's growth as whole human beings, where parents and child care professionals work together. We are eternally grateful for what Harvard University has done for us."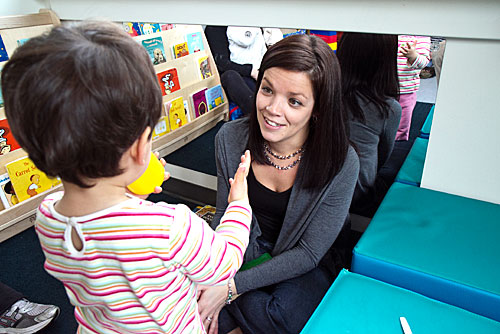 Six independent nonprofit child care centers operate on Harvard's Cambridge and Business School campuses, together offering approximately 380 slots. In exchange for providing space and utilities, Harvard receives priority enrollment for children of faculty, staff, and students.