It's a surprisingly warm and sunny morning in late February, and no one is happier about that than Paul Smith.
Sure, Smith is ready for this year's particularly brutal winter to end. Like any New Englander, the Franklin, Mass., native has a hardwired aversion to shoveling. But the long-awaited thaw also means the end of a season-long test for the new associate manager of Harvard's landscape services, aka the snow guru.
Smith oversees the University's snow removal team. In a winter that saw week after week of seemingly endless snowfall, totaling more than 70 inches thus far, that task requires a lot of patience, a good working relationship with his crew, and a dedication to keeping the University community safe. A 520-ton hill of salt doesn't hurt, either.
"This year was almost a month straight of plowing, salting, and moving snow," he said. "That's the most salt we've ever used since I started keeping track."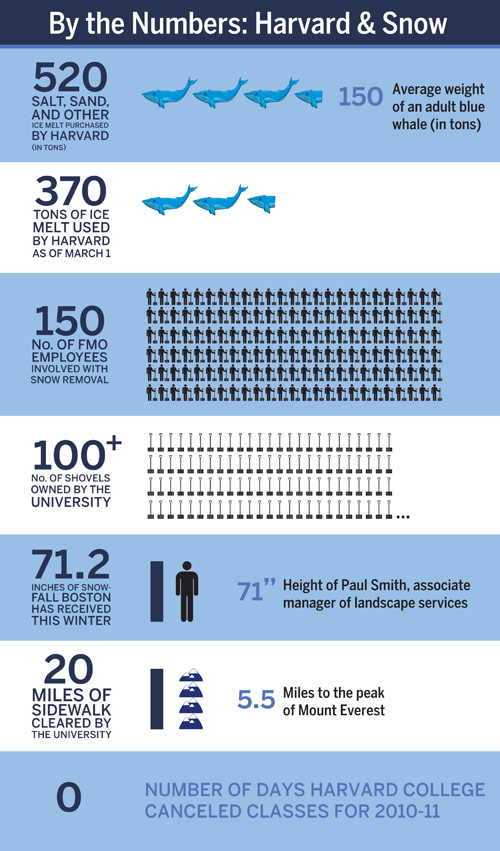 Smith has been working in Harvard's Facilities Maintenance Operations since 1991, when he left his own landscaping business in Wrentham, Mass., to join the Landscape Services team as a horticulturalist and arborist.
"I like working outside and interacting with people," he said. "I didn't want to be in an office all day."
Ten years ago, he became a supervisor in Landscape Services, overseeing the South Yard, Harvard Kennedy School, and student housing along the Charles River. Last year he was promoted, and this winter managed snow removal for the entire campus for the first time.
It's his job to make sure everything runs smoothly when weather emergencies strike. He coordinates with faculty and building managers around campus, addressing complaints about fallen tree branches or icy walkways. He manages a fleet of seven Bobcats, two front-end loaders, and 12 plowing trucks. And in winters like this one, he calls in 18-wheelers to transport huge piles of snow to Harvard's vacant lots in Allston.
Then again, this winter isn't that bad compared with others Smith has faced. He was at Harvard for the 1995-96 academic year, which saw 107.6 inches of snow, a state record according to the National Weather Service. "I've been here for five of the worst 10 snow years on record," he said.
While many of Harvard's graduate schools declared snow days at one point or another during this year, Harvard College has not canceled classes for snow since the infamous Blizzard of '78. That decision wouldn't be possible without Smith and his crew.
"They know how important it is for the faculty and students to be able to walk around," Smith said of the landscape team.
From December through March, the 40-hour workweek goes out the window. Smith and his crew can report anytime between midnight and 6 a.m. to get a jump on an overnight snowfall before the normal workday begins. If a snowstorm starts in the evening, "we could be here all night," he said.
The hardest part of responding to inclement weather in real time, he said, is bearing the "bad news." His 21 employees must be available for emergencies, and Smith is the person who winds up asking them to cancel their ski trips or stay an extra five hours.
"This year was pretty taxing on all the guys," he said. "They put a lot of hours in and sacrificed a lot of weekends to be here."
When Smith's wife and their two sons, 11 and 13, had to travel to Lake Placid recently for a hockey tournament, Smith didn't make the decision to go with them until the day before. "I was checking weather reports right up until we left," he said.
"Every snowstorm, every hurricane, every tree that comes down — if there's an emergency outside our buildings, he's on campus directing people and solving problems and making sure all the issues are taken care of," said Wayne Carbone, manager of Facilities Maintenance Operations' Landscape Services, and Smith's boss.
Without Smith's dedication to keeping his team safe and motivated through rough weather, he added, snow cleanup couldn't run so efficiently.
"He's compassionate, he listens, and he does what's best for the University," Carbone said.
As Harvard thaws out, Smith can pause to enjoy the sunshine, but only briefly. There's not much time before he and his crew will have to tackle another seasonal beast: Commencement. As the snow melts, Smith will start plotting out the crew's plan for laying down plant beds, grass, and mulch and tackling construction projects such as re-asphalting roads and repairing sidewalks.
"We've got to get some green before Commencement," he said. But Smith said he'd take the challenge of beautifying the campus over dealing with snow without hesitation.
"I like to work with plants and see things actually develop," he said. "We don't get much of that this time of year."