Over here is the Earthwatch Institute, a leading environmental organization supporting scientists in the field. And over there is Yo-Yo Ma's Silk Road Project, whose nonprofit work supports artistic, cultural, and educational activities.
Nearby, the Harvard Allston Education Portal is getting rave reviews from neighborhood residents who come for mentoring and other activities, including lectures about current topics by Harvard's top faculty members.
There's also a new family-style restaurant, Stone Hearth Pizza, smack in the heart of Barry's Corner, which will have a plum spot in the space formerly occupied by a Citgo station, and whose renovations will include landscaping and outdoor seating. Then there is Maki Maki, a sushi restaurant and another new lessee up the street in the Brighton Mills Shopping Center, which offers low prices (for sushi, anyway), an all-you-can-eat sushi buffet, and seating for 178. Together, they'll provide roughly 60 jobs and bring paying customers into the area.
"It should really transform that corner," said Stone Hearth owner Jonathan Schwarz.
Up and down Western Avenue and throughout Allston, Harvard's once-vacant properties are reawakening after three years of navigating the nation's economic doldrums, the resulting market crash, and the ongoing realignment of the University's priorities.
While Harvard's Allston Work Team — announced last year to examine University plans and programmatic aspirations — continues its work toward midyear recommendations, Harvard hasn't waited for the bigger picture to emerge.
Instead, it has delivered on the first phase of a three-phase approach toward its Allston properties, outlined a year ago by Harvard President Drew Faust, focusing on property stewardship and community engagement.
In the past year, the University signed 11 new leases for more than 118,000 square feet of once-vacant commercial space, bringing Harvard's commercial tenants to 59 companies employing almost 900 people. On March 10, Harvard signed its latest lease with Swiss Bakers, which makes breads, pastries, and other foods. It will occupy the former VW dealership at 168 Western Ave. and employ 30 people. That deal completes the leasing of all but 2,000 square feet of Harvard's available, marketable retail space. Harvard also has leased most of its other available commercial square footage, including 78 percent of its warehouse space and 81 percent of its office space.
"Even amidst a challenging real estate market, our enhanced efforts have yielded significant progress in leasing our properties over the past year. We will continue to seek tenants in the marketable spaces that remain," said Executive Vice President Katie Lapp, who oversees the University departments in charge of leasing and real estate. "Stone Hearth, Maki Maki, and Swiss Bakers are just the latest examples of the University's ongoing efforts to further animate Western Avenue through leasing, greening, and property stewardship."
Several large chunks of real estate still await new purposes. Land and buildings have been set aside for the new Charlesview development in Brighton Mills, expected to begin construction this spring. Several other buildings are either unfinished or are in poor condition and can't be leased. Other land has been set aside to support construction.
In addition to its leasing efforts, the University has worked to energize the community by undertaking or financing several community improvement projects.
A new urban oasis will open this summer behind the Honan-Allston Branch Library. Designed by award-winning landscape architect Michael Van Valkenburgh, Library Park is a tree-filled plot of almost two acres that used to support a cement factory.
The greening has extended to Allston's streets as well. Harvard has replaced 35 trees along Western Avenue, constructed "learning gardens" in front of the Harvard Allston Education Portal, and financed, out of its Harvard Allston Partnership Fund, new landscaping, benches, and permeable sidewalks along Everett Street. The Everett Street project, led by two of Harvard's several community partners, the Allston Brighton Community Development Corp. and the Charles River Watershed Association, created Allston's first public "green street."
All together, the Harvard Allston Partnership Fund has provided $300,000 in grants to 17 local nonprofits over the past three years, with an announcement just last month of $100,000 in grants to eight local nonprofits.
The Harvard Allston Education Portal, which opened in 2008, provides mentoring to 120 neighborhood schoolchildren and has 1,200 residents registered as members. It has been so successful that Harvard is in conversations with the Ed Portal Advisory Board about expanding the facility.
Allston revitalization received another boost on March 10 when the Boston Redevelopment Authority approved renovations to the former WGBH building on Western Avenue for the proposed Harvard Innovation Lab.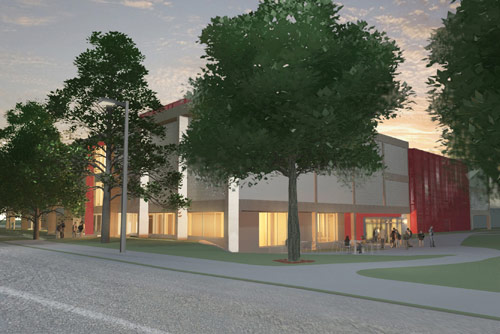 Slated to open in September, the Innovation Lab will provide a gateway to innovation and entrepreneurship for the University and the Allston community. The lab is a University-wide initiative that will provide work space, advice, and programming intended to foster an entrepreneurial spirit and provide early support for fledgling ventures. It will provide work space, meeting rooms, evening lectures open to the community, and a small café for informal gatherings. It will also offer development resources for small businesses, nonprofits, entrepreneurs at Harvard, in Allston, and in the surrounding area.
As a University-wide facility, it aims to embrace and encourage entrepreneurship and innovation from Harvard College, the Faculty of Arts and Sciences, Harvard Business School, Harvard Law School, the School of Engineering and Applied Sciences, the Harvard Kennedy School, and others.
Faust has sought to keep communication lines open, and outlined many of these recent developments in her third letter to the Allston community. Though Harvard operates internationally, it is nested in its host communities, and its future is tied to their health, she said.
"Ours is a common future," Faust wrote. "Harvard is an institution whose vitality depends on new intellectual connections, new spaces in which to work and live, new ways of engaging each other and our neighbors. We are working toward that future, and, along the way, we will be investing in the health and well-being of this unique, historic neighborhood and the city of Boston."