Leah Seifu '11 loves to dance. She shares that passion with young people through CityStep, an organization that pairs Harvard undergraduates with students from Cambridge public middle schools. When her group needed a practice space big enough for classes, the Student Organization Center at Hilles (SOCH) was a perfect fit.
"This space is absolutely perfect for us," she says. "We have the bathroom and the water fountain over here, so students never need to leave. There are huge windows and people are constantly passing by outside, which you think might be a distraction, but it's actually good for students to get used to people watching them dance!"
When undergraduates like Seifu want to get together for an activity — from a small study session to a large conference for international students — they can usually find a place at the SOCH. The facility offers student organizations more than 50,000 square feet of the most versatile and functional space on campus, free of charge.
"We try to make our spaces as flexible as possible to accommodate any type of event," says Doug Walo, manager of the facility. "The SOCH is dedicated for extracurricular activity, as opposed to classrooms, which are in high demand for academic use. We can serve student groups right away and get them assigned to a space."
Built in 1965 as Hilles Library, the interior of the Bauhaus-inspired building was redesigned last decade and rededicated as the SOCH in 2006. In so doing, the College not only created thousands of square feet for student activities, but also freed up space in the freshman dorms for common areas, the Harvard College Women's Center, a resource center for the Harvard Bisexual, Gay, Lesbian, Transgender, and Supporters Alliance, and prayer rooms for Hindu and Islamic students.
"The SOCH provides undergraduates with resources to create and sustain student organizations," says Paul J. McLoughlin II, associate dean of Harvard College and senior adviser to the dean of Harvard College. "It also makes it possible for us to offer additional social space in the Yard and to find a place for groups and activities that are central to the lives of our students."
The SOCH's sun-drenched penthouse floor features panoramic views of Cambridge and Boston, a large performance-rehearsal space, conference rooms, a recording studio, a lounge with DirecTV on flat screens, and a coffee bar. Wireless Internet access is available throughout the building.
"You could hold an entire conference just on this floor," Walo says. "The multifunction room has space for 175. There's plenty of breakout space for smaller groups. The coffee bar can be used for lunches and more casual gatherings."
In early February, the Harvard College in Asia Program (HCAP) held its annual winter conference at the SOCH. Maeve Wang '11, a member of the group, says that Hilles has become the hub of the event, which convenes dozens of delegates from HCAP's partner schools in Asia.
"Without the SOCH, it would be difficult to make our conference centralized," she says. "We attempted to arrange many of the venues in Harvard Yard, but it was just simpler and more efficient to hold it here. It's made everything more organized."
HCAP is also one of 100 undergraduate organizations with offices at the SOCH. Wang says that the space makes it possible for her group to continue when its members graduate and move on.
"Our office is a place to store many of the things we use each year," she says. "So, when leadership changes, we can hold on to some sort of institutional memory."
Student organizations make good use of the SOCH's self-serve copy and printing center, where they create and produce their own publications. Julian Gewirtz '13 came to the Quad to work on the program for the Dunster House Opera's production of "Die Fledermaus"— and to take advantage of the SOCH's 11-by-17 color copies. (A bargain at 6 cents.)
"Economic calculations brought me up here," he says. "My laptop's out. The printer's going. The whole thing."
Though Gewirtz is grateful for the discount on printing and calls the SOCH "a versatile space," he wishes it were closer to Quincy House, where he lives.
"The space is, unfortunately out of the way for any student who doesn't live in the Quad," he says. "It's quite a schlep."
Walo acknowledges students' perennial gripe about location, but says that the Quad is closer than they think.
"Hilles is about as far from Harvard Yard as Mather House is," he says. "But students walk up Garden Street past Cambridge Common and through residential neighborhoods, so it just feels different."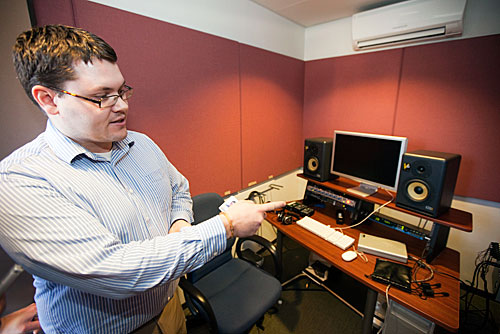 The SOCH's placement certainly hasn't hurt usage. Since the beginning of this academic year, the center has hosted 54 large events, including 34 conferences, retreats, and trainings, eight late-night social events (dance parties, balls, formals), and seven performances. Dozens of meetings and rehearsals take place at the SOCH on a weekly basis.
Walo and his staff are always working to draw more undergraduates to the Quad. One powerful enticement is the SOCH grant fund, which offers reimbursement to student groups for events held at Hilles. Grants typically range from $250 to $500 and are "open to all undergraduates and student groups that align with the mission of the SOCH."
"Right now, students come to the SOCH when there's a specific activity or event," Walo says. "We will always support student organizations — and there's more that we can do in that regard — but we also want to see more casual, alternative social programming. Through the SOCH grant program, student groups can get funding to create events and activities that facilitate collaboration, foster community, and of course are fun!"
Walo says that student participation and leadership are crucial to the SOCH's success. To that end, the SOCH team will soon include a recording studio coordinator who will turn the space into a hub for student bands; an art exhibit curator who will transform the halls of the penthouse into a gallery space for student art; and a marketing and communications coordinator who will connect students with events. Furthermore, the new staff members will themselves be Harvard undergraduates.
Ask Walo about what's ahead for the SOCH and his eyes light up.
"There's so much potential in the SOCH," he says, "We're reaching out to students to invite their feedback on what they'd like to see and do here. Should we have acoustic nights in the coffee bar? How about Glee TV nights in the cinema? Whatever it is, the inspiration for successful programming is going to come from the students. Our job is to get their input and to empower them so that they can make their ideas happen."
The SOCH is open daily from 7 a.m. to 4 a.m. Shuttle service operates seven days a week from Harvard Yard and the River Houses. Follow the SOCH on Facebook and for information on events and activities. Contact Doug Walo for more information and to share ideas for SOCH programming.