Ten of Harvard's great minds gathered at Sanders Theatre on Thursday (Feb. 17) for the second annual Harvard Thinks Big, a student-organized discussion in which 10 speakers each took 10 minutes to explore a topic near and dear to their hearts.
The night included discussions of everything from democracy to the dimensions of the universe to moral reasoning to music.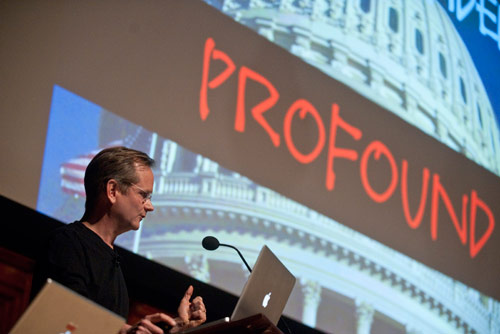 Professor of Law Lawrence Lessig discussed his fears for the future of American democracy. He worried that members of Congress are neglecting their constituents, spending too much time raising money for re-election. In the words of President Franklin D. Roosevelt, he told the crowd, we have to "convince a reluctant nation to wage a war to save democracy."
Lecturer on music Richard Beaudoin urged students to stop and listen to songs. He explored musical time, demonstrating how two musical lines can exist together, with a piece by Johann Sebastian Bach.
Lisa Randall's work resembles something out of "Star Trek." A theoretical physicist, she studies the building blocks of matter and the makeup of the cosmos. During her time, the Frank B. Baird Jr. Professor of Science said there might be extra dimensions to the universe.
"It could be that we are only seeing some small plane inside a higher visual world."
Joshua Greene compared the human brain to a camera during a discussion titled "Beyond Point-and-Shoot Morality." The assistant professor of psychology and director of Harvard's Moral Cognition Lab studies the moral dimensions of decision-making. He said the brain is designed with an automatic mode, like that on a camera, that is set to respond to certain moral dilemmas. The trouble, argued Greene, is that the ingrained automatic responses that guide some judgments may not be as effective in addressing modern complex moral problems, such as global warming.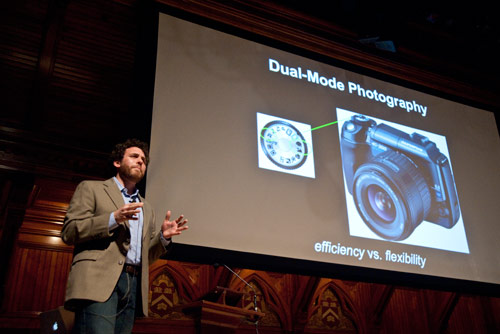 "It may be time to put ourselves, put our moral values, in manual mode."
Harvard Thinks Big 2 included a new twist, a brief video in which several students presented their own big ideas to the crowd.
One discussed creating a class on modern day slavery and spurring academic activism. Another hoped to develop a Facebook page to allow teachers to share resources. An undergraduate, concerned with reducing stress for students, proposed creating a space on campus where they can play with toys. A native of Zimbabwe spoke about founding a nonprofit in his homeland aimed at jump-starting leadership in his country.
"We want this to be a festival of Harvard ideas and an inspiration to the people in the crowd that big ideas drive our world forward, and that discussing them, thinking about them, coming up with your own, testing them out, implementing them, are really … what we should be doing," said Peter Davis '12, who founded the event along with Derek Flanzraich '10.
The popular program is modeled after the Technology, Entertainment, Design (TED) talks, the brief lectures delivered at the annual TED conference devoted to "ideas worth spreading."
Like last year, organizers polled the undergraduate community in the fall, looking for speaker nominations. While familiar Harvard luminaries rose to the top, lesser known professors and lecturers also generated a buzz.
"There are cult figures within these departments that many people don't know about outside of the department," said Davis, referencing as examples Beaudoin in the Music Department and scientist and dark matter guru Randall in the Department of Physics. "It was great to discover them. If there was a lot exclamation marks [on the surveys], we usually took a look at the professor."
Davis and Zachary Richner '11 co-directed this year's event, which was produced in collaboration with Harvard Undergrad TV (HUTV) and Harvard's Office of Student Life's College Events Board, with help from Randa Dreznick '12. To view Harvard Thinks Big participants.