Kwee Boon Brandon Seah '11 wants to teach his classmates a new way of listening. The Winthrop House senior practices the art of overtone singing, a technique that enables a performer to vocalize two notes at once. This week, Seah will give a class on the technique and says he hopes to pass on an appreciation of this central Asian vocal music to his fellow undergraduates.
"In other cultures, people are aware of overtones in daily life," he says. "I hope the participants in the class come away with different ears and learn to think of music in a different way."
Soundbytes: A sample of overtone singing
Seah and his pupils are just a few of the undergraduates participating in nearly 100 activities —from stand-up comedy to public service — during Harvard's inaugural Optional Winter Activities Week (OWAW), Jan. 16-23. Erin Goodman, manager of Winter Break operations for the College, says that OWAW is a response to the new academic calendar and to student interest in programming during the downtime between fall and spring semesters.
"The calendar change implemented in 2009-10 offered students a broader set of possibilities for Winter Break," she says. "Many undergraduates said that they wanted to pursue activities that they wouldn't ordinarily have the chance to participate in during the school year. They also wanted an opportunity to build community and prepare for the spring term and the summer."
While many undergraduates will explore an area outside their regular studies, some are using OWAW to continue work begun in the classroom. Eric Hysen '11 leads Hack Harvard, an "incubator for student life web applications," most of which started as final projects for the Computer Science 50 (CS50) course. Hysen and his classmates hope that undergraduates who want an easier way to fill out financial aid forms, create study groups, or meet new people over lunch will soon find that "there's an app for that."
"We provide resources, work space, and training for students who are working on web apps that improve student life," Hysen says. "Participants are working in a collaborative work space that we designed after how companies like Google and Facebook set up their offices. The program will end with a public showcase of our work on Sunday, Jan. 23, at 2 p.m. in Fong Auditorium. During the spring semester, the Undergraduate Council will help promote the completed apps to the entire campus."
Most OWAW activities take place on the Harvard campus, but not all. Undergraduates in Phillips Brooks House Association's alternative January break are on a Navajo reservation in New Mexico to help doctors from the Indian Health Service screen for hearing and vision problems, compile medical records, and pass on important information about clinics and resources. Organizer Angela Primbas '12 says that she hopes not only to do some good for a chronically underserved population, but also to inspire a passion for service among her classmates.
"We want to get students involved in domestic service," she says of the trip, which receives some support from President Faust's Public Service Fund. "We hope they see that inequality, social, and health problems don't start at the United States border. There are people who need help here at home as well as abroad."
College officials say that it's important to let students take the lead during OWAW because they drive the demand for Winter Break programming. At the same time, Harvard is offering classes and activities, in addition to those organized and led independently by undergraduates, faculty, and staff.
"OWAW gives individual students a new forum to share some of their own interests, knowledge, and talents with their peers," says Paul J. McLoughlin II, associate dean of Harvard College and senior adviser to the dean of Harvard College. "That said, the College and some departments across the University are planning courses, workshops, and other programs for students during OWAW. There are several courses being offered, some of which are supported by the President's Innovation Fund, as well as arts intensives in theater, dance, and creative writing sponsored by the Division of Arts and Humanities in the Faculty of Arts and Sciences and the Office for the Arts."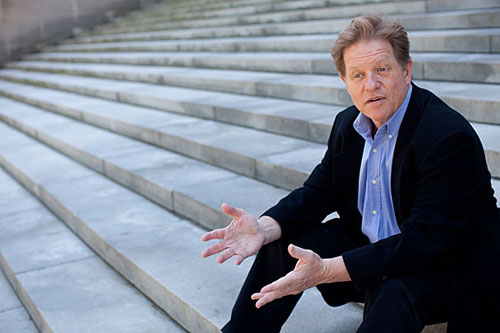 Among the programs funded by the College during OWAW is the Stand-up Comedy Intensive, a series of classes led by nationally renowned political satirist Jimmy Tingle and comedian Jane Condon, named audience favorite during the 2007 season of NBC's "Last Comic Standing." Tingle says that the hands-on approach of the course — students write and perform their own routines throughout the week — will build confidence and teach skills valuable at Harvard and beyond.
"Stand-up comedy is really an extreme form of public speaking, which is one of the most terrifying things to people, but also one of the most important," he explains. "Our class will help anybody to present themselves in school, at work, or whatever capacity moving forward. And unlike an open mic night, students have the support of teachers and like-minded individuals to help them develop and improve."
Tingle says that he and Condon also hope to help students understand the role that comedy plays in life and society.
"Look at Stephen Colbert. Look at Jon Stewart. Look at Jay Leno or Conan O'Brien," he says. "Their work has a big influence on our culture. Pardon the pun, but the power of comedy is not something you can laugh at."