One hundred dollars may seem like a lot of money in these economic times, but broken down into increments — say, $5 per paycheck — and that's like buying a coffee and a scone. Add it up over the course of a year and it shows how little by little the generosity of the Harvard community can have a big impact.
Thanks to Harvard's annual Community Gifts campaign, donating to service agencies and charities has never been easier. This year, all faculty and staff received pledge cards featuring 50 favorite organizations from previous campaigns. (This list is provided as a convenience only; donations can be made to any nonprofit organization.)  Staff and faculty may also participate via payroll deduction, with the additional option of donating a specified amount over the course of a year.
Pledges can also be made using an easy online form, which includes 100 organizations.
"This year's theme, '100 Reasons To Give,' reflects the many ways your contributions can make a difference, and we invite you to find the reasons that inspire you," said Christine Heenan, vice president for public affairs and communications.
"The Harvard Community Gifts campaign welcomes donations at any level — when we give as a community, even a dollar or two or five from each paycheck can have a dramatic effect," said Harvard President Drew Faust.
Not sure where to donate? Community Gifts is holding the first-ever Giving Fair on Dec. 10 from 10 a.m. to 4 p.m. in the Radcliffe Gymnasium. There you can learn more about the important work and volunteer opportunities at charities serving people in need. You can also pick up or drop off pledge cards at the fair or use a convenient kiosk for making an online donation. Visit Harvard Community Gifts for more information.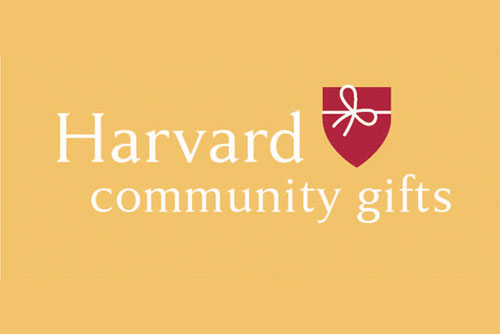 Check out these worthy organizations below, and see what a $100 contribution can provide for them.
Breakthrough Cambridge
Founded in 1992 as Summerbridge Cambridge, Breakthrough Cambridge is the only year-round, tuition-free academic program in Cambridge that serves at-risk and underresourced middle and high school students. Breakthrough Cambridge is a six-year program composed of an academically intensive two-year middle school program and a high school support program that work with students until college matriculation. Unique to the program is the "students teaching students" model that inspires the next generation of educators by offering talented high school and college students the opportunity to teach. Following six years in the program, more than 90 percent of students enroll in four-year colleges. After working at Breakthrough, 72 percent of student teachers go on to pursue careers in education. Learn more at www.breakthroughcambridge.org.
$100 could buy Breakthrough Cambridge all this:
One day of a college student's summer stipend as a Breakthrough Cambridge teacher
The SAT test prep book needed for each student in the College Access Program
Books such as "Othello" and "A Raisin in the Sun" for one student, who will read these in a summer literature class
MSPCA-Angell
The MSPCA-Angell is a national and international leader in animal protection and veterinary medicine and provides direct hands-on care for thousands of animals each year. Founded in 1868, it is the second-oldest humane society in the United States. Services include animal protection and adoption, advocacy, humane education, law enforcement, and world-class veterinary care. The MSPCA-Angell is a private, nonprofit organization located in Jamaica Plain, Mass. It does not receive any government funding nor is it funded or operated by any national humane organization. The MSPCA-Angell relies solely on the support and contributions of individuals who care about animals. Learn more at www.mspca.org.
$100 could buy MSPCA-Angell one of these:
Nearly 1,000 pounds of hay at Nevins Farm in Methuen, Mass., for homeless horses
Nearly 1,000 pounds of cat litter for the thousands of homeless felines annually
Various vaccinations, food, minor surgeries, and assisting with day-to-day care of animals