Three Harvard College seniors and a first-year Harvard Medical School student are among the 32 American men and women named as Rhodes Scholars on Saturday (Nov. 20). Each will begin study next fall at the University of Oxford in England.
Harvard's newest Rhodes Scholars are Zachary Frankel '11 of Brooklyn, N.Y, Daniel Lage '11 of Miami, Baltazar Zavala '11 of El Paso, Texas, and medical student Aakash Shah of Cliffside Park, N.J. They were chosen from among 837 students nominated by 309 colleges and universities nationwide.
"I'm very proud of these outstanding young people," said Harvard College Dean Evelynn M. Hammonds, who is also the Barbara Gutmann Rosenkrantz Professor of the History of Science and of African and African American Studies. "The characteristics that Harvard seeks in its students — which include academic excellence, leadership, and a commitment to service — are those that the Rhodes Trust values highly as well. I'm delighted to hear that they will have an opportunity to further their education at Oxford."
Created in 1902 by the will of British philanthropist Cecil Rhodes, the scholarships cover all costs for two or three years of study at Oxford. Winners are selected on the basis of high academic achievement, personal integrity, leadership potential, and physical vigor, among other attributes.
This year's recipients bring Harvard's total number of Rhodes Scholars to 332 of the 3,228 Americans who have received the scholarships since 1902.
Following are profiles of the winners: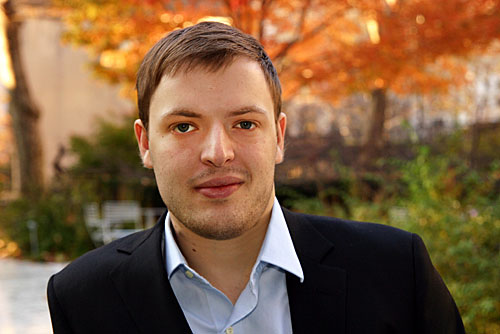 Zachary Frankel, a physics and mathematics concentrator, already has completed advanced graduate coursework in quantum field theory. He is fluent in Japanese, is an accomplished debater, and took a semester off from Harvard to work at the Global Viral Forecasting Initiative, developing mathematical models to help public health organizations and governments to predict pandemics.
For all his wide-ranging achievements, he said he still wasn't expecting to win a Rhodes.
"I was definitely surprised," Frankel said. "It still has not set in. I'm just extremely thankful to have had so many terrific mentors, advisers, and friends support me throughout both this process and my entire Harvard experience."
At Oxford, Frankel plans to study the mathematics of pandemics, pursuing a D.Phil. in infectious diseases. He hopes the Rhodes will provide an opportunity to build on his systematic, analytical, and quantitative grounding from his physics and mathematics courses to help model infectious disease.
"My goal is to work on complex problems with applications to our species' most pressing issues," he said. "I think the question of infectious disease, and pandemics more specifically, is particularly interesting and important, and I think the Rhodes will give me the resources to begin making contributions to its solution."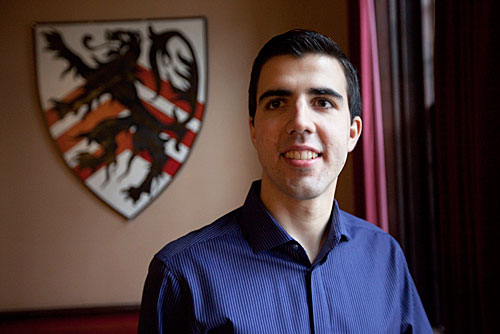 Like Frankel, Daniel Lage wasn't really expecting to win.
"All I was expecting this weekend was to meet incredible people and maybe get a book recommendation or two," said the history of science concentrator, who will graduate in May with A.B. and A.M. degrees.
Lage, who spent last summer studying France's health care system and its provisions for the elderly, will pursue an M.Sc. in comparative social policy at Oxford, focusing on different nations' approaches to caring for the chronically ill and those at the end of life. After study at Oxford, he hopes to become both a physician and a policymaker.
"I believe that no one nation has found the solution to curbing health care costs. But by studying comparative social policy, I can try to learn what policies and practices work best in different countries and bring those ideas back to the U.S.," he said.
On a more personal level, his passion for geriatric medicine also reflects the experience of his grandfather, recently diagnosed with Alzheimer's disease.
"My life goal is to improve the way our society cares for the elderly, especially for the chronically and terminally ill," said Lage, the son of Cuban immigrants. "My family background has fueled my commitment to public service in the health care field, in appreciation for all that this country has given me."
While at Harvard, Lage has co-authored research papers on the effects of age and socioeconomic status on the clinical management of disease, and on diversity issues in medicine. He has been active in the Phillips Brooks House Association, has partnered with the Alzheimer's Association to advocate for long-term care reform, and has led several Cuban-American and Latino organizations.
"The fact that two of Harvard's Rhodes scholars are of Hispanic background is a testament to Harvard's commitment to diversity and ensuring that where you come from shouldn't limit your success," Lage said. "At Harvard, every door that I have knocked on has been answered with welcoming arms.
"When I reflect on what past scholars have gone on to do in the world," he added, "it is an honor to be chosen to walk in their footsteps and make an even bigger difference in the years to come."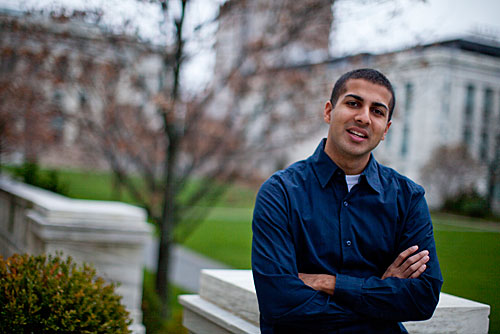 First-year Harvard Medical School student Aakash Shah was nominated for the Rhodes by his undergraduate alma mater, Ursinus College, becoming that institution's first Rhodes Scholar. He graduated from Ursinus in May with bachelor's degrees in biology, neuroscience, and inequality studies, and minors in chemistry and sociology.
"I was able to pursue my passion for medicine from multiple perspectives — the basic sciences, the social sciences, and the humanities — at Ursinus," Shah said. "As a Rhodes Scholar, I want to synthesize the insights from my various experiences and learn how to translate them into effective health policy solutions."
Shah was on the varsity track team at Ursinus and addressed his classmates as a commencement speaker. Off campus, he worked with United Students Against Sweatshops in Mexico and studied environmental health problems in Indian slums.
"During college, several of my mentors encouraged me to apply for the Rhodes," he said. "After looking over all that the scholarship had to offer, I was excited and decided to throw my name into the hat."
Upon receiving word that he had won, Shah said: "I reacted to the news with a rush of emotions — I was at once surprised, humbled, grateful, and excited."
At Oxford, Shah plans to complete either a master's in comparative social policy or a second bachelor's in philosophy, politics, and economics. He hopes ultimately to work at the interface of medicine, academia, and policymaking to help construct more equitable and efficient health care policies.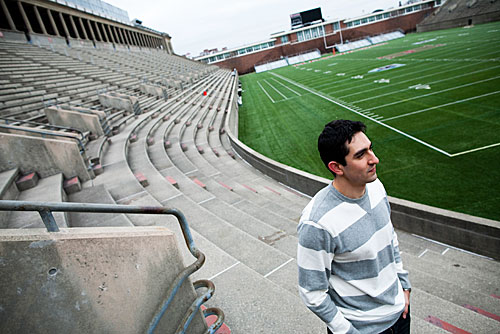 Baltazar "Zar" Zavala, a receiver on Harvard's varsity football team, was unable to take the Rhodes Trust's call on Saturday. The reason: He was playing in the Harvard-Yale game.
"So they sent me a text instead," he said. "When I met my family on the field at the end of the game, my fiancée gave me the phone, and when I turned it on I saw the text: 'Congratulations.' "
Zavala had arrived at the stadium from Houston, where he spent Friday interviewing for the Rhodes. Word of his win quickly spread along the sidelines among teammates who knew he was waiting to hear the results.
"Our football captain, Collin Zych, was standing next to me," Zavala said. "We both jumped for joy, then a whole bunch of the team members came up, and it was just one big celebratory hug."
Born in Mexico, Zavala immigrated to El Paso with his mother as a child. He has been on three trips to the Dominican Republic with Engineers Without Borders to develop clean water systems, and has worked as a research assistant in neuroscience labs at Harvard and in Shanghai.
An engineering sciences and neurobiology concentrator, Zavala was initially encouraged to consider applying for the Rhodes by his freshman proctors, a message reinforced last year by his fellowship tutor in Kirkland House. He ended up applying for — and winning — not only a Rhodes but also a Marshall Scholarship, which he will now decline.
Zavala said he hopes his experience at Oxford, where he will pursue an M.Sc. in neuroscience and clinical neurology, "will teach me how to take the knowledge and skills I have learned in the class and the lab and start applying them to studying and treating disease."
Between his Rhodes win and Harvard's come-from-behind, 28-21 victory over Yale, Zavala said Saturday "definitely was the best day of my life. It was a blessing."